Cinco Ranch Personal Injury Lawyer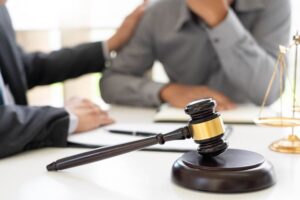 A sudden injury can leave you with serious pain, a growing stack of medical bills, and a shrinking bank account from time missed at work. These consequences can take a severe toll on your relationships, your mental health, and your ability to enjoy life. So why should you have to pay for an injury someone else caused?
You shouldn't – and working with our experienced Cinco Ranch personal injury attorneys can help you hold the at-fault party accountable and recover the compensation you need to start rebuilding your life.
The Cinco Ranch personal injury attorneys at Fleming Law understand the challenges you're struggling with at this time. We are ready to fight to make things right. With over 30 years of experience successfully helping injured people in Texas, we have the skills and resources to maximize your compensation by aggressively pursuing personal injury claims.
Contact us today for a free consultation with an experienced Cinco Ranch personal injury lawyer and learn more about your legal options.
Car Accident Lawyers
Car accidents are one of the most common causes of preventable injuries in Fort Bend and Harris Counties, killing more than 600 and injuring tens of thousands more in a single recent year. If someone hit you because they were texting, driving aggressively, under the influence, or negligent in any other way, you have a right to hold them accountable for your injuries.
Truck Accident Lawyers
Truck accidents can cause more severe injuries and damage than accidents involving only passenger cars. That is because the massive size of commercial trucks creates a much larger impact force in a collision. The consequences for occupants of the smaller vehicle can be catastrophic and even fatal. Moreover, these personal injury cases are often particularly complicated because of the many potentially liable parties and the complicated regulations involved.
Motorcycle Accident Lawyers
Many people in Cinco Ranch enjoy the thrill of riding motorcycles. However, the lack of protection and low visibility make motorcyclists vulnerable to life-threatening injuries. In fact, motorcyclists are four times likelier than car occupants and eight times likelier than light-truck occupants to be injured in an accident. If you were hurt because a driver did not see you or failed to yield the right-of-way, you can file a claim against them for your medical bills, lost income, pain, suffering, and more.
Bicycle Accident Lawyers
Bicycles offer a fun and planet-friendly way of commuting and exercising. Yet many motorists in Cinco Ranch neglect to honor the fact that bicyclists have the same rights on the road as everyone else. The lack of attention and respect can be deadly. Bicycle accidents can lead to injuries such as brain trauma, spinal cord injuries, and organ damage. Survivors often require swift medical interventions involving high costs and long recovery times.
Pedestrian Accident Lawyers
Traffic laws include extra protections for pedestrians because they are so vulnerable to injury in a collision. However, many drivers do not take the time to look out for people on foot, even in areas with high foot traffic, such as parking lots, intersections, and places where children may be playing. Pedestrians who suffer injuries in accidents can often recover significant compensation in insurance claims or lawsuits.
Slip-and-Fall Accident Lawyers
When a property's owner or manager fails to keep their premises free of hazards, they put innocent visitors at risk. As a result, visitors can trip over loose cables, slip on spilled liquids, or stumble over loose floorboards. Depending on the severity of the fall, the individual may suffer a concussion, broken bones, or spinal cord damage, for example. More severe falls, such as those involving stairwells, can even be fatal.
Medical Malpractice Lawyers
Doctors, nurses, and other medical professionals must provide care that meets accepted medical standards. The consequences of their failure to do so can be devastating to patients. Medical malpractice can involve misdiagnoses, delayed treatment, surgical errors, medication errors, and more. The results may include worsened illnesses, permanent disabilities, addiction to prescription drugs, or even death. Our Cinco Ranch medical malpractice attorneys can help you pursue compensation to pay for additional medical bills, loss of income, and pain and suffering resulting from the provider's negligence.
Wrongful Death Lawyers
The loss of a loved one is always a tragedy, but when it occurs due to someone else's negligence or misconduct, the pain is mixed with a sense of injustice – one which can be addressed through a wrongful death claim. Such cases arise in situations such as car accidents, medical mistakes, slip-and-falls, and more. Successful wrongful death claims can provide compensation to help surviving family members with funeral and burial expenses, grief counseling, lost future income the deceased could have earned, and loss of companionship.
About Cinco Ranch, Texas
Cinco Ranch is an upscale master-planned community in Greater Katy, Texas, approximately 25 miles west of downtown Houston. The population is around 18,000. Cinco Ranch spans over 8,000 acres and includes residential neighborhoods, retail centers, office parks, and recreational facilities like swimming pools, parks, jogging trails, and tennis courts. The area provides easy access to the Energy Corridor along Interstate 10, as well as Houston's major business centers. Its convenient location, beautiful natural setting, excellent schools, and family-friendly amenities make Cinco Ranch a highly desirable suburb for professionals and families.
Contact Our Cinco Ranch Personal Injury Lawyers Now
Some people wonder if they can file a personal injury claim without the help of a lawyer. Insurance companies often encourage this approach because they know that unrepresented claimants are less aware of their rights, easier to intimidate, and likelier to accept low settlement offers. All this makes them great for the insurer's bottom line. Don't make this mistake.
Working with a Texas personal injury attorney from Fleming Law sends a message to the insurance company that they should take your claim seriously. Our lawyers are skilled negotiators, and we will not settle for less than you deserve. If the insurance company is unwilling to offer you a settlement that covers the full extent of what you've suffered, we will be ready to file a lawsuit and seek justice in court.
Our personal injury law firm works on a contingency fee basis, so you will pay us only when we have successfully recovered compensation for you. Contact us today for a free consultation with a personal injury lawyer in Cinco Ranch, TX, and let us get started on your case.