Electrocution & Electrical Injury Law Firm in Houston, TX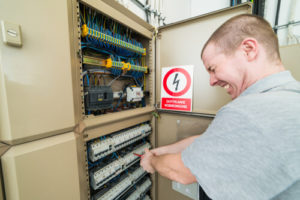 In Houston electrical injuries are often the result of workplace accidents. In many instances they are caused by negligent activities.
Contact the Houston personal injury attorneys at Fleming Law, P.C., for a free consultation to discuss your claim.
Injuries Caused by Contact With Electricity
Almost all contact with electricity can cause severe injuries including:
Death due to cardiac arrest.  This is quite common when contact is made with high-voltage wires.
Tissue damage. This can include permanent injury to the muscles and nerves.
Burns.  These can range from minor burns to the skin to burns so severe that limbs are lost.
Damages to Internal Organs.
Compensation for Electrical Injuries
Because electrical injuries are usually severe and permanent, victims are entitled to significant compensation to cover not only their pain and suffering but the consequential damages caused by the injury such as inability to work and participate in the same life activities as before the accident.
When an accident has permanently affected your ability to earn a living, you need to make sure you are awarded enough money to cover your future expenses.
Electrocution Injury Statistics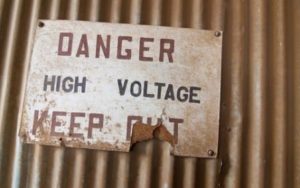 The Electrical Safety Foundation International (ESFI) estimates that in the United States, 400 people die from electrocutions and 4,000 are injured each year because of electrical hazards. In addition, the ESFI reports that electricity causes over 140,000 fires each year, resulting in 400 deaths, 4,000 injuries and $1.6 billion in property damage. Total economic losses due to electrical hazards are estimated to exceed $4 billion annually.
According to the National Safety Council, electrical hazards also cause nearly one fatal workplace injury every single day, with construction workers suffering 44 percent of these electrical fatalities annually. The leading cause of fatal electrical incidents while on the job is contact with power lines. Electrocution is currently ranked sixth among all causes of occupational injury in the United States.
Electrocution Injuries Can Be Devastating!
Where can electrical injuries happen?
Since electricity is everywhere, electrocutions can occur anywhere in Houston, including at home, school, work or even daycare. Electrocutions most often occur due to faulty or exposed wiring, or through contact with power lines, both above and below ground.
Faulty rental equipment can have bad wiring that causes electrical injuries when the machine is turned on.  Likewise, improper instructions or actions by a contractor can put people in danger of being electrocuted. If you or a loved one has suffered injuries from an electrocution in Texas, you may be entitled to monetary damages from an at-fault party.
Electrical injuries are a serious matter, and an experienced attorney can help make sure you receive the maximum amount of compensation that you deserve. Call the lawyers at Fleming Law, P.C., today to get started.