Galleria Personal Injury Lawyer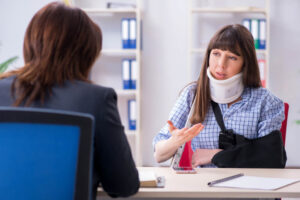 With an area of three million square feet, the Galleria is the largest shopping center in Texas. It offers Houstonians and visitors a wide variety of options for shopping, entertainment, and even year-round ice skating. With three office towers housing various financial institutions and other businesses, the Houston Galleria is a core part of the city. The center attracts shoppers and workers from throughout southeast Texas and around the world. However, with all these crowds and distractions, the potential for accident-related injuries is significant.
If you have suffered an injury in the Houston Galleria, you may be owed compensation for your medical expenses, lost wages, pain and suffering, and other losses. The experienced team at Fleming Law can help you understand your rights and fight for the money you deserve. Contact one of our Galleria personal injury lawyers today for a free consultation to learn more about your legal options.
What Is a Personal Injury?
A personal injury is any physical or psychological harm a person suffers due to another party's negligent or deliberate actions. Texas tort law allows anyone who has suffered a personal injury to demand compensation from the responsible party. In most cases, the injured party starts by filing an insurance claim with the at-fault party's provider. They may agree on a settlement that will pay them for their injuries and release the insurer from further liability. If the insurer does not offer a sufficient compensation package, the injured person can file a lawsuit and put their case before a judge and jury.
Insurance claims and lawsuits are complex processes for those who are not thoroughly familiar with personal injury law. Anyone who has suffered a personal injury should work with a qualified attorney to maximize their chances of receiving full and fair compensation.
What Personal Injury Accidents Often Occur in the Galleria Area?
With thousands of visitors every day, the Galleria sees its fair share of accidents and injuries. Some of the most common personal injury accidents in the Galleria area include:
Slip and falls – Wet floors, uneven sidewalks, and other tripping hazards can cause painful and debilitating falls. Property owners may be liable if a visitor is hurt because they failed to address potential hazards.
Motor vehicle accidents – Busy roads and parking lots around the Galleria lead to frequent auto collisions. The drivers to blame for these accidents may be required to pay for accident victims' injury-related losses.
Assault – Though rare, acts of violence are sometimes committed in Galleria common areas, bathrooms, or parking garages. In addition to pressing criminal charges, victims can pursue claims against their attackers.
Defective products – When a defective product purchased from a Galleria retailer causes injury, the victim may have a claim against the manufacturer and possibly the retailer.
Food poisoning – Diners who become ill due to contaminated food served in a Galleria restaurant may have grounds to pursue compensation from the eatery.
Regardless of the specific cause of your injury, if someone else is to blame, you have a right to seek compensation from them.
What Are the Most Common Types of Injuries from Accidents in Galleria?
Accidents at the Galleria can leave victims with an array of serious injuries, including:
Head injuries, including concussions, skull fractures, and traumatic brain injuries
Spinal cord injuries, including herniated discs and paralysis due to spinal cord trauma
Broken bones, including fractures requiring surgery and extensive rehab
Soft tissue injuries, including sprains, strains, and tendon or ligament tears
Lacerations and abrasions, including deep cuts resulting in disfigurement or scarring
Joint injuries, including dislocated shoulders and knees and cartilage tears in joints
Emotional trauma, including anxiety, depression, and PTSD
An experienced personal injury attorney can help Galleria accident victims seek compensation for medical expenses to treat these types of injuries and more.
How Do I Prove the Other Person Was At Fault for the Accident?
Proving fault for an accident is a challenging process. The most effective way to determine who was at fault for an accident is to hire a Galleria personal injury attorney. They will thoroughly investigate the incident that led to your injuries, evaluating evidence such as:
Galleria security footage
Eyewitness statements
Expert testimony
Physical evidence from the accident scene
Photos of the scene after the incident
The police report, if applicable
In some instances, multiple parties may be liable. These cases can be particularly complex, especially if any of the at-fault parties is a commercial entity. A knowledgeable Texas personal injury attorney knows how to handle these complicated claims and demand the compensation you deserve.
Can I Be Compensated for My Injuries?
Depending on the circumstances, you may be eligible to recover compensation for:
Medical expenses, including ambulance rides, ER visits, doctor's appointments, and surgical procedures
Lost income from missed time at work due to your injury
Reduced earning capacity if a disability prevents you from returning to your previous job
Physical and psychological pain and suffering
Your attorney will calculate the total value of your losses and seek maximum compensation from all available avenues.
Do I Have A Limited Amount of Time to File a Personal Injury Lawsuit in Texas?
The statute of limitations on most personal injury cases in Texas is two years from the date of injury. In some cases, this deadline may be longer or shorter. Filing within this timeframe is essential, as you can lose your right to compensation if you don't. A knowledgeable attorney can file your claim on time to avoid jeopardizing your rights.
Contact Our Galleria Personal Injury Lawyers Now
Are you feeling overwhelmed by the pain, financial repercussions, and sense of injustice from your injuries? Then you should know that the experienced Galleria personal injury attorneys at Fleming Law have been helping people like you for 30 years. Our track record of success demonstrates that we have what it takes to demand the compensation you need to get your life back on track. Contact us today for a free consultation to find out what we can do for you.