Galleria Car Accident Lawyer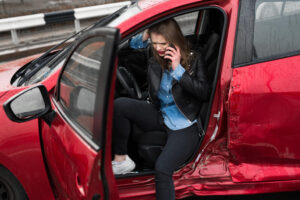 The Houston Galleria is a popular location for residents and visitors alike. With an abundance of shopping and entertainment opportunities, as well as massive office towers where thousands of people work, traffic in and around the Galleria can get hectic. All these people and vehicles make the area a hotspot for traffic accidents – and for serious injuries.
Were you hurt in a car accident near the Galleria? You're likely feeling overwhelmed about how to pay for your medical expenses and the consequences of missing time at work. But you don't have to face these challenges alone. The experienced car accident attorneys at Fleming Law can pursue compensation from the person who caused the collision. Contact us today for a free consultation with a Galleria car accident lawyer and learn more about your legal options.
What Are the Most Common Types of Car Accidents in the Galleria Area?
The most common types of accidents in the Galleria area include:
Rear-end collisions – These often occur due to distracted or impatient drivers. Stop-and-go traffic around the mall and parking lots contributes to these crashes.
Sideswipe accidents – There's a lot of merging traffic around the Galleria as drivers enter and exit shops, parking garages, and offices, increasing the risk of vehicles clipping each other.
Parking lot accidents – Galleria parking lots have heavy pedestrian traffic, and drivers may not see people walking through the aisles. Backing out of spaces can also lead to collisions.
Multi-vehicle pileups – Exits from Loop 610 onto feeder roads near the Galleria are accident-prone zones. One collision can easily cause a chain reaction.
What Are the Most Common Causes of Car Accidents?
While many factors contribute to car accidents around the Galleria, the common thread is driver negligence. Many Galleria crashes occur due to the high number of inexperienced teenage drivers and out-of-towners who visit the shopping complex. Other accidents happen when drivers exceed the low speed limits in parking garages or fail to recognize road users with the right of way. Many others happen because people are texting behind the wheel or otherwise distracted.
Whatever the cause, you have a right to file a compensation claim for your injuries if another driver was at fault for the crash. A skilled attorney can determine what factors contributed to the collision and present evidence to the insurance company or the court.
What Injuries Occur Most Often in a Galleria Car Accident?
Some of the most common Galleria car accident injuries include:
Whiplash and neck injuries from rear-end collisions
Broken bones from direct impact
Lacerations from broken glass
Traumatic brain injuries from violent collisions
Spinal cord damage if you are crushed or thrown from your vehicle
Are Some Roads and Intersections More Dangerous Than Others in Galleria?
While traffic accidents can happen on any road or intersection, the most dangerous junctions around the Galleria include:
Loop 610 exits 11A and 8C
Post Oak Blvd and Westheimer Rd
Post Oak Blvd and Hidalgo Rd
Sage St and Westheimer Rd
These major intersections have heavy traffic. Motorists are often eager to enter or exit the Galleria and may pay less attention to the actions of road users around them.
Accidents are also common in parking lots, as those entering and leaving parking spaces may be less alert.
What Can I Do to Reduce My Chances of Being in an Accident in Galleria?
Reducing your chances of being in an accident is all about paying attention and making safe choices. Never get behind the wheel after having an alcoholic beverage. Also, remain alert to the possibility that workers may be driving after an exhausting shift, making them less capable of giving their full attention to the road.
While following these guidelines may not guarantee that you will not be in an accident, driving attentively and defensively can reduce the severity of any collision. It can also minimize your chances of being at fault if a crash occurs.
What Should I Do If I Am in a Car Accident?
After alerting the police and seeking medical attention, start preparing a case file. Keep all medical records from your injury and gather all relevant employment documents that can demonstrate your missed time at work. You should also avoid making public statements about the collision.
Most importantly, contact an experienced Houston car accident attorney who can help you demand full and fair compensation. They can take the information you've assembled and use it as a starting point for their investigation.
How Do I Prove the Other Driver Is to Blame for the Accident?
Proving another driver is liable for your accident-related injuries is a complex task, entailing a thorough investigation of the incident. Because these investigations require a wealth of resources, experience, and legal knowledge, the task is best left to a qualified legal professional.
What Compensation Could I Recover for My Damages and Injuries?
A successful car accident claim can recover compensation for losses such as:
Medical expenses
Lost wages
Reduced earning capacity
Pain and suffering
A Houston car accident lawyer can review your case and determine what compensation you may be eligible to receive.
Does Texas Have a Time Limit for Filing a Car Accident Lawsuit?
In Texas, the statute of limitations for personal injury lawsuits gives injured parties two years from the date of an injury to initiate legal action. Working with a skilled Texas car accident attorney can help you meet this crucial deadline.
Contact Our Galleria Car Accident Lawyers
The aftermath of a car accident can cause a great deal of pain, anger, and anxiety. However, you do not need to face these challenges alone. The compassionate Galleria car accident lawyers at Fleming Law understand what you are going through. We want to do what we can to make life less stressful. With our team on your side, you can better position yourself to pursue the total compensation you deserve. Contact us today for a free consultation to learn how our Galleria car accident attorneys can help you.