Jersey Village Personal Injury Lawyer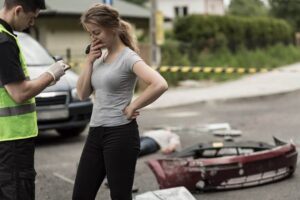 Nobody is ever prepared for the long-lasting effects that come with suffering an injury. Along with the intense pain that can disrupt your life, you may also face overwhelming medical bills and lost wages due to missed time at work. These financial challenges can worsen the emotional trauma that many injury victims experience. But if someone else's negligence caused your injuries, you have the right to file a personal injury claim to pursue money for the losses you have suffered.
The experienced Jersey Village personal injury attorneys at Fleming Law understand how challenging the aftermath of an accident can be. Our compassionate legal team will listen to your story, investigate the accident, and fight to demand every penny of compensation you deserve. Let us take care of the legal heavy lifting so you can focus on healing. Contact our offices today for a free initial consultation to learn more about how we can help you with your personal injury case.
Car Accident Lawyers
Like most of Harris County, Jersey Village residents spend a lot of time in their cars. Countywide, the average commute to work involves about 30 minutes of driving each way. With so many cars on the road, the potential for an accident caused by another driver's negligence is remarkably high. Car crashes can lead to serious injuries that upend your life. A skilled attorney can determine who was at fault for the collision and hold them accountable for their actions.
Truck Accident Lawyers
Trucks are all over the roads and highways of Texas. While they are essential for the state's economy, their large size can cause catastrophic accidents. Many truck accident victims suffer from life-threatening injuries such as internal bleeding, traumatic brain injuries, and severed spinal cords. Survivors often face overwhelming medical bills, and many are never able to return to work.
Truck accident cases present unique legal challenges because the trucker and their employer often share liability. An experienced Jersey Village truck accident attorney can help you file a claim against multiple parties so you can seek the full financial compensation you deserve.
Motorcycle Accident Lawyers
Motorcycles can be a thrilling mode of transportation. However, the combination of high speed and a lack of protection can make motorcyclists vulnerable to catastrophic injuries if they are involved in accidents. Working with a skilled motorcycle accident attorney in Jersey Village can help you pay for the ongoing medical assistance you need and obtain the justice you deserve.
Bicycle Accident Lawyers
Riding a bicycle offers many benefits for your health, your wallet, and the environment. Yet many drivers don't pay attention to cyclists. Others do not yield the right of way to bicycle riders. Either way, the impact between a two-ton passenger vehicle and a person on a bike can cause severe injuries at any speed. The attorneys at Fleming Law recognize that bicyclists have as much of a right to use the road as motorists. We will use our legal skills to fight for your financial recovery after you've been injured in a crash someone else caused.
Pedestrian Accident Lawyers
Pedestrians are the most vulnerable and least visible road users. However, all drivers have a duty to pay attention to pedestrians crossing the street or walking to their cars. When drivers aren't on the lookout, life-threatening accidents can happen. A Jersey Village pedestrian accident attorney will stand up for your rights and pursue the compensation that will cover the full extent of your injury-related losses.
Slip and Fall Accident Lawyers
A person who owns or manages a property is responsible for ensuring that any visitors are safe from harm. When they do not attend to spilled liquids, loose cables, or broken floorboards, unsuspecting visitors can slip and fall. These accidents can lead to broken bones, traumatic brain injuries, strains, and sprains. A slip and fall accident attorney can investigate the incident and hold the negligent property owner or manager accountable.
Medical Malpractice Lawyers
When you put your health in the hands of medical professionals, you trust that they will provide competent care that meets the accepted standards of the industry. However, some healthcare providers fail to live up to those standards and make mistakes that negatively affect their patients. Medication errors, surgical mistakes, misdiagnoses, and delayed treatment are examples of medical malpractice that can lead to avoidable injuries and illnesses.
The attorneys at Fleming Law have extensive experience handling medical malpractice claims on behalf of victims and their families. We will thoroughly investigate your case, consulting with independent medical experts when necessary. Our goal is to prove that your doctor, nurse, hospital, or other provider acted negligently and caused you harm. We can then seek compensation to cover your medical expenses, lost wages, pain and suffering, and other losses.
Wrongful Death Lawyers
Nothing is more devastating than losing a beloved family member, especially when their death could have been prevented. Texas law allows certain family members to file a wrongful death claim when their loved one loses their life due to another party's negligence. Successful cases can recover monetary damages that help surviving family members with their grief and adjustment to a new way of life without their loved one.
At Fleming Law, we know no amount of money can make up for losing your loved one. However, recovering compensation can relieve some of the financial burdens caused by your loss. We will handle all aspects of your wrongful death claim while you focus on healing and honoring your loved one's legacy.
About Jersey Village, Texas
Located in west-central Harris County, Jersey Village is a thriving residential community of about 8,000 residents. It has a small-town atmosphere despite its proximity to Houston. With an easy commute to Houston via Highway 290, residents can enjoy suburban living without going too far from big-city opportunities for dining, culture, and employment. Whether you grew up in Jersey Village or moved here to enjoy its family-friendly vibe, our personal injury attorneys are proud members of this community.
Contact Our Jersey Village Personal Injury Lawyers Now
If you have suffered an injury in an accident someone else caused, you need legal representation with a thorough knowledge of personal injury law in Texas. At Fleming Law, that's all we practice. We are ready to put our knowledge and skills to work for you. Contact us today for a free consultation with a Jersey Village personal injury attorney.