Jersey Village Car Accident Lawyer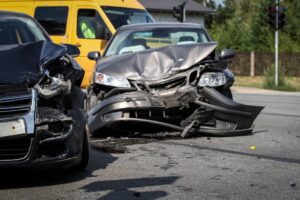 Life after a car accident can feel confusing and overwhelming. Your injury may be causing you severe pain. The bills from your medical treatment can also quickly add unnecessary stress to your life. To make matters worse, you might be unable to afford all your expenses if your injuries have kept you from earning an income at work. If someone else caused the accident, you deserve compensation for these and other accident-related losses. The Jersey Village car accident attorneys at Fleming Law can pursue it on your behalf.
We have been successfully handling car accident claims for more than 30 years and have recovered millions of dollars on behalf of our clients to date. We are ready to put this experience and skill to work for you so that you can focus on healing. Contact us today for a free consultation with a Jersey Village car accident lawyer and learn more about your legal options.
What Are the Most Frequent Types of Car Wrecks in Jersey Village?
The most common types of car accidents in Jersey Village include:
Rear-end collisions – These accidents occur when a driver fails to stop in time and crashes into the back of another vehicle, often due to distraction or speeding.
Intersection collisions – An inattentive or reckless driver might run a red light or stop sign and T-bone another car passing through the intersection. Right-of-way confusion also leads to these wrecks.
Head-on collisions – These devastating crashes happen when a vehicle drives directly into oncoming traffic, often because it crosses the center line or heads the wrong direction on a one-way street or on-ramp. Drunk driving, drowsy driving, and dangerous passing maneuvers on two-lane roads are common causes.
Sideswipe accidents – These crashes occur when two vehicles traveling in the same direction make contact with each other's sides. Lane drifting, failure to yield the right-of-way, and improper merging are often to blame.
Rollover crashes – SUVs and other vehicles with a higher center of gravity are more prone to rolling over if they take a turn too fast or leave the roadway.
What Are the Most Dangerous Roads in Jersey Village?
Several fatal accidents have occurred in Jersey Village, including a hit-and-run crash on the 7000 block of Satsuma Drive, close to FM 529, and another on the 5500 block of Campbell Road. It is always worth taking extra care on roads where accidents have happened, as they may have hazards that make crashes more likely. However, it is essential to remember that car accidents can happen on any road or highway. They even frequently occur in parking lots and driveways. Anytime you get behind the wheel, you should stay alert to possible dangers and inattentive drivers to reduce the risk of accidents.
What Are the Most Common Injuries in a Car Accident?
Some of the most frequently occurring car accident injuries include:
Whiplash and neck injuries – The sudden back-and-forth jolting motion can damage muscles, tendons, and discs in the neck and upper spine.
Broken bones – Fractures often occur in the arms, legs, ribs, collarbone, and wrists during crashes.
Traumatic brain injuries (TBIs) – Collision forces often lead to concussions or more severe forms of head trauma.
Spinal cord injuries – Damage to the vertebrae or spinal cord itself may result in partial or total paralysis.
Internal bleeding and organ damage – The impact can rupture or lacerate organs like the spleen, liver, kidneys, and intestines.
Severe lacerations – Shattered glass and twisted metal inside the vehicle can cause deep cuts and abrasions.
Emotional trauma – Many accident survivors are left with psychological issues like anxiety, PTSD, and phobias.
 What Should I Do If I Am Involved in a Jersey Village Car Accident?
After informing the police about the accident and seeking medical attention, here are the steps you take in the days following a Jersey Village car crash to protect yourself and your rights:
Collect all medical documents relating to your injuries, including invoices, doctor's notes, and test results.
Gather employment information relating to missed time at work, such as your contract, payslips, W-2 forms, and a letter from HR confirming your absences.
Avoid making any public statements about the accident, including to insurance companies, as the other side can use what you say to devalue your claim.
Talk to an experienced Jersey Village car accident attorney who can investigate the crash, calculate the value of your losses, negotiate with the insurer, and file a lawsuit against the at-fault party if necessary.
What Compensation Can I Receive for a Car Accident Claim?
If you suffered injuries and other losses in a crash caused by another driver, you may be entitled to compensation for:
Medical expenses, both current and future treatments
Lost income from missing work while recovering
Reduced earning capacity if disabilities impact your career
Pain and suffering damages
An attorney can help you understand how much compensation you may be eligible to receive in your case.
 Is There a Time Limit for Filing a Car Accident Lawsuit in Texas?
In general, the statute of limitations for car crashes in Texas allows injured individuals to file a lawsuit up to two years after the accident date. However, some circumstances may change this deadline. If you do not begin legal action within the required timeframe, you could lose your right to recover the compensation you deserve. Working with a knowledgeable Jersey Village personal injury attorney can help you avoid jeopardizing your case.
Contact Our Jersey Village Car Accident Lawyers
It's normal to feel exasperated in the aftermath of a car accident. When you choose a free consultation with Fleming Law as your starting point, you can feel confident that all the other steps will fall into place. We want to use our experience, skills, and respect within the legal community to help you pursue the compensation you need. Call us today for your free consultation, and let us get to work for you.