Common Causes of Motorcycle Accidents in Texas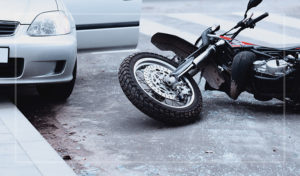 With the largest state highway system in the nation and sunny weather much of the year, Texas attracts many motorcycle enthusiasts who enjoy cruising down open roads. Unfortunately, the exhilaration of motorcycle riding is not without its hazards. More than 400 motorcyclists a year die in crashes in Texas. The state has one of the highest rates of fatal motor vehicle crashes in the U.S.
Motorcycle accidents are common in Texas, and motorcyclists are at serious risk of severe or fatal injuries in crashes due to their lack of protection. Many motorcycle accidents in Texas are caused by negligent automobile and truck drivers who fail to look out for riders on two wheels and share the road.
If you were injured in a Texas motorcycle accident caused by another motorist, you may have grounds to pursue compensation for your injuries and other accident-related losses. Keep reading to learn more about the common causes of motorcycle accidents in Texas. If you have questions about an injury claim, contact the motorcycle accident lawyers of Fleming Law Personal Injury Attorney, for a free consultation. Understanding your legal rights will cost you only a few minutes of your time.
Distracted Driving
Distracted driving is a danger to everyone on the road, but motorcyclists are especially vulnerable when other drivers are not paying attention to the road. When a driver is distracted by a phone conversation, passengers or pets, the distracted driver is more likely to overlook a nearby motorcycle and fail to react in time to prevent a crash. Car drivers are typically on the lookout for other cars and trucks. The narrow profile of a motorcycle makes it easier to overlook in traffic if a driver is even mildly distracted behind the wheel. 
Distracted drivers are more likely to fail to see motorcycle riders in an adjacent lane and merge into them. In many cases, drivers who are distracted fail to notice when traffic slows or stops and cause rear-end collisions. Distracted driving also contributes to sideswiping, T-bones, and even catastrophic head-on motorcycle accidents.
Driving Under the Influence of Drugs or Alcohol
Drivers who are drunk or high behind the wheel do not have the judgment to recognize imminent traffic hazards and react in time to avoid a crash. Drunk drivers are prone to driving erratically, exceeding posted speed limits, and even falling asleep at the wheel. According to the National Highway Traffic Safety Administration (NHTSA), more than 10,000 people were fatally injured in the U.S. as a result of drunk driving incidents in 2019.
Motorcyclists and other motorists who drive while impaired endangers everyone they share the road with, including other motorcyclists. Prescription, over-the-counter, and illicit drugs can have a range of effects on the body. Depressants, for example, can make drowsy drivers slow to react or recognize nearby motorcycles or avoid colliding with them. Stimulants, on the other hand, can make drivers aggressive or disoriented, increasing the likelihood of a road rage accident.
Drowsy Driving
Drowsy driving is a dangerous mix of mental or physical exhaustion. Drivers who have not had enough rest to be fresh and alert cause many drowsy driving accidents. In some cases, sleep disorders, medication side effects, or substance abuse can lead to drowsiness as well. It's hazardous to drive if you haven't had adequate rest because drowsiness can have a negative impact on attentiveness, reaction time, and decision-making ability.
Data from the Centers for Disease Control (CDC) suggest that drowsy driving causes more than 83,000 crashes and 37,000 injuries every year. Drivers who are impaired by drowsiness are particularly dangerous to motorcyclists because they are less likely to see motorcyclists or make safe driving decisions around motorcycles. 
Aggressive Driving
Everyone gets frustrated behind the wheel at some point, but aggressive drivers create hazardous road conditions when they commit high-risk traffic violations in response to frustrating situations. In congested or slow-moving traffic scenarios, aggressive drivers jeopardize the safety of others by doing things like speeding, tailgating, lane weaving, and making improper passing maneuvers. 
In many cases, aggressive driving involves speeding, which can make it much more difficult for a driver to control their vehicle. Drivers who race through traffic, take turns too sharply, or follow other vehicles too closely are especially prone to losing control and swerving into other vehicles, motorcycles, or bystanders. 
Aggressive driving puts motorcyclists at serious risk. When a driver is behaving erratically or aggressively, they are much more likely to overlook motorcyclists on the road, collide with motorcycles during unsafe lane changes, or rear-end motorcycles when they are tailgating and fail to leave enough space to slow or stop.
Ignoring the Rules of the Road
Speed limits, traffic signals, and warning signs all exist to make driving safer for everyone. Drivers who ignore traffic signals and signs can be a danger to themselves and others. 
Many motorcycle accidents occur at intersections. They are caused by drivers who are attempting to make a left turn and overlook an approaching motorcycle in traffic or misjudge the motorcyclist's speed. Motorcycle accidents are commonly caused by other drivers who fail to yield the right-of-way at intersections, especially when making left-hand turns. 
Other common examples of drivers ignoring the rules of the road include drivers who exceed posted speed limits, run red lights, disregard stop signs, and fail to signal their intent before turning or merging. Motorcyclists are at increased risk of accidental injury any time other drivers ignore the rules of the road.
Contact a Texas Motorcycle Accident Attorney Today
No matter how complicated your Texas motorcycle accident claim is, the personal injury lawyers of Fleming Law, P.C., are ready to help. Our firm has more than three decades of experience serving motorcycle accident victims in Houston and the surrounding Texas areas. 
We know what it takes to hold negligent drivers accountable and pursue the full and fair compensation you need to recover. Contact us today for a free consultation.