How Much Is My Motorcycle Accident Claim Worth?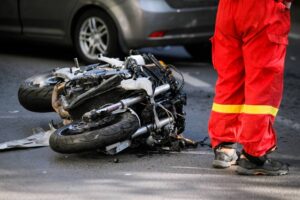 If you were involved in a crash on your motorcycle caused by another motorist, you may have the right to seek compensation for your injuries and losses. With growing medical bills and lost wages, you might wonder how much money you can recover through a motorcycle accident claim. Various factors will affect the value of your claim, including the injuries and losses you've suffered, the financial resources of the liable parties, and the duration and timeline of your case.
An experienced lawyer can calculate the value of your expenses and losses to help determine how much your claim may be worth. Contact Fleming Law today for a free case review with our motorcycle accident lawyers to learn more.
What Types of Damages Can Be Awarded in a Texas Motorcycle Accident Claim?
In a motorcycle accident claim, you may have the right to recover compensation for financial and personal losses you suffered due to the crash. This might include money for:
Medical treatment and rehabilitation expenses
Ongoing and future losses of income or earning capacity
Physical pain from injuries and medical treatment
Emotional distress from the crash, your injuries, and subsequent medical care or disabilities
Loss of quality of life
Costs of motorcycle repairs or reimbursement of the value of a totaled motorcycle
What Can Affect the Amount of the Settlement I Can Receive?
The value of your motorcycle accident claim will depend on numerous factors in your case. Some of the circumstances that may affect the amount of compensation you recover in a motorcycle accident settlement include:
The severity of your injuries
Whether your injuries result in permanent disabilities that affect your ability to work or perform daily tasks
The type and duration of medical care and rehabilitation you receive
Whether you miss time from work due to your injuries or suffer a reduction in earnings due to medical restrictions on your ability to work
The policy limits of applicable insurance coverage
The number of potentially liable parties
Whether other people also suffered injuries in the accident
Whether you share any responsibility for causing the crash
Are There Certain Types of Motorcycle Accident Injuries That Have Higher Settlement Amounts?
Often, the severity of injuries suffered in a motorcycle accident can result in a larger settlement. For instance, a rider may recover more compensation after suffering severe, life-altering injuries that require extensive medical treatment or result in permanent disabilities. Examples of motorcycle accident injuries that may result in a higher settlement include:
Traumatic brain injuries (TBIs)
Spinal cord injuries and paralysis
Traumatic amputation or limb loss
Severe neck and back injuries
Vision or hearing loss
Second- and third-degree burns
How Do You Prove Who Was At Fault for the Motorcycle Accident?
A motorcyclist injured in a crash may need various pieces of evidence to prove that someone else caused the accident. Examples of evidence that attorneys often use in motorcycle accident claims include:
Police crash reports
Accident scene photos and videos
Witness testimony
Post-crash vehicle inspections and vehicle event data recorder logs
Driver cell phone records
Surveillance and traffic camera or dashcam/helmet-cam footage
Accident reconstruction or engineering expert reports and testimony
What Are the Minimum Insurance Requirements for Motorcycle Riders in Texas?
Texas requires all motorists, including motorcycle riders, to prove they can bear financial responsibility for accidents they cause by carrying liability insurance coverage. The minimum policy limits required for motorists include:
$30,000 per person of bodily injury liability coverage
$60,000 per accident of bodily injury liability coverage
$25,000 per accident of property damage liability coverage
What Do I Do If the At-Fault Person Does Not Have Insurance?
If you get hit by a driver who doesn't have liability insurance, you may have other options for recovering compensation for your injuries and losses, including:
Motorcycle accident lawsuit – Your attorney can help you file a motorcycle accident lawsuit against the at-fault driver to demand compensation for your injuries in court.
Your own auto insurance – Optional coverages in your motorcycle insurance policy may compensate you for your injuries and losses. For example, personal injury protection (PIP) coverage can reimburse you for medical expenses and lost income, regardless of who caused the motorcycle accident. If you've purchased uninsured motorist coverage, you can turn to your policy to compensate for your losses due to the at-fault driver.
Health insurance – You might have coverage through your health insurance policy if you've purchased a plan that covers injuries sustained in a motorcycle accident.
A Texas motorcycle accident lawyer can help identify all your possible sources for compensation, even if the at-fault driver doesn't have an insurance policy.
Is There a Time Limit for Filing a Motorcycle Accident Lawsuit in Texas?
In Texas, the statute of limitations typically requires motorcycle riders to file a lawsuit within two years after a crash, with few exceptions. You should speak to a motorcycle accident lawyer as soon as possible after a collision to ensure you file your claims on time. Any lawsuit filed after the statutory deadline may be dismissed by the court.
How Long Can a Motorcycle Accident Claim Take to Settle?
No one can predict how long it will take to settle a motorcycle accident claim. Some cases settle in as little as a few weeks, while others take years. Some of the factors that can influence the timeline of a motorcycle accident case include:
The nature of your injuries and disabilities
The duration of your medical recovery
The complexity of the evidence in your case
The availability of insurance coverage
The number of at-fault parties
If you share any fault for the accident or your injuries
The duration of the insurance company's investigation and how quickly they respond to your communications
Whether you file a lawsuit to pursue your motorcycle accident claim and the trial court's schedule
Contact a Houston Motorcycle Accident Lawyer
If you've suffered injuries in a Houston motorcycle accident caused by another driver, you may have the right to seek compensation for your medical bills, lost income, and pain and suffering. Contact Fleming Law today for a free, no-obligation consultation with a knowledgeable Houston motorcycle accident lawyer. Our team can help you pursue the financial relief and accountability you deserve.