Falling Cargo From Trucks Accident Lawyers in Houston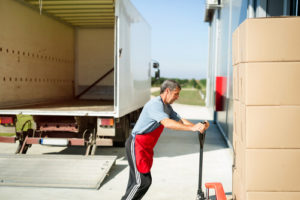 When we think of truck accidents, what immediately comes to mind is the collision of a truck and another vehicle like a sedan, SUV, or pickup truck. However, truck accidents can also occur when falling cargo from the truck ends up on the road and either distracts or directly hits another driver.
According to a study carried out by AAA over a four-year period, falling cargo was a factor in more than 200,000 crashes. Improper securing of the cargo caused about two thirds of these crashes. In all, these accidents caused about 500 deaths and 39,000 injuries. If you have been injured due to falling cargo, contact our experienced personal injury lawyers in Houston.
Duty to Restrain Cargo
In Texas, whether it is a big truck or a pickup truck, if equipment or other items fall out of the back of a truck and causes an accident, the driver and owner or company can be held liable.
Types of Falling Cargo
Unfortunately, falling cargo accidents remain a common occurrence in Texas. This is primarily because there are countless numbers of contractors in and around Houston. They provide many different types of services. For example, landscape companies tow trailers of equipment. These companies have a duty to make sure the equipment is clean, if debris flies from the trailer like rocks or wet dirt this can cause accidents on highways and freeways.
General contractors who do residential and commercial work such as dry-wall, stone-wall and stone masonry often drive around in pickup trucks with the truck's bed full of materials. These materials should be secured with a tarp cover, but you rarely see this. Construction materials flying out of a pickup truck on a highways are incredibly dangerous.
Who can I sue if I was injury by fallen cargo on the road?
The following are some of the most common types of fallen truck cargo that lead to accidents:
Raw materials like sheet metal and lumber;
Rocks, dirt and debris from trucks hauling muddy and dirty front-end loaders;
Pails and other equipment used by residential contractors;
Household goods like mattresses and furniture;
Car parts
There is liability even if you didn't hit the item but swerved to avoid it and had an accident.
Types of Falling Cargo Accidents
A lot of unsecured cargo accidents would not have occurred if trucking companies and contractors had followed standard safety measures. However, due to the unrealistic deadlines that a lot of truck drivers have to operate under, truck drivers do not take these precautions.
Falling cargo accidents can result from the shifting of the load during travel or wear and tear on the securing rope or chain. It is for this reason that the truck driver has to check the cargo regularly. Failing to do this can be termed negligence if an accident occurs.
Holding the Trucking Company Accountable
If you were injured in an accident involving falling cargo, your Houston truck accident lawyer will gather evidence to establish negligence on the part of the truck driver and the trucking company. Negligence means that the trucking company and driver did not exercise their reasonable duty of care in securing the truck's cargo.
There are different levels of liability for the trucking company and the driver. The company could be liable for failing to properly secure the cargo at the time of loading it. The truck driver could also be liable for failing in his or her duty to properly check on the cargo to make sure it remained secured throughout the journey.
Injured in a Falling Cargo Accident? Let a Houston Personal Injury Attorney Help
If you suffered a serious injury in an accident caused by falling cargo that was not properly fastened or restrained by the truck driver, take immediate action and schedule a time to speak to an experienced Houston truck accident attorney. Contact Fleming Law, P.C., today.