Texas Insurance Company Claims Lawyer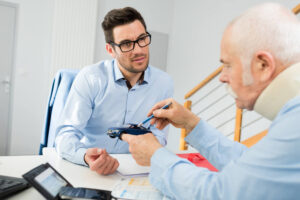 Suffering injuries in a traffic accident can change your life. The physical pain, emotional trauma, and financial turmoil can feel overwhelming. If someone else caused your accident, you have a right to seek fair compensation for the losses you have sustained. However, dealing with an insurance company adds an unwelcome layer of stress and complication to an already challenging situation. Working with a Texas insurance claims attorney can allow you to focus on healing while a dedicated legal professional handles the claims process.
The experienced Texas insurance company claims lawyers at Fleming Law understand the frustration you may be facing in the aftermath of a car accident. For over 30 years, our team has helped injured Texans secure the compensation they deserve. Contact us today for a free initial consultation to learn more about how we can help you, too.
What Types of Insurance Claims Cases Do We Handle?
Many of the terms surrounding different types of automobile insurance in Texas can be confusing, especially when you are trying to recover from an injury. The skilled professionals at Fleming Law have experience handling all types of auto insurance claims, including:
Liability insurance claims
Uninsured/underinsured motorist claims
Personal injury protection claims
Bad faith insurance claims
Understanding each of these forms of insurance can help you know what to expect as you begin the claims process.
What Car Insurance Coverage Is Required in Texas?
Texas requires all registered vehicle owners to carry liability insurance. If the insured person causes an accident, their liability insurance will cover expenses relating to another person's accident-related losses. The minimum amounts Texas mandates for liability insurance are:
$30,000 per injured person per accident
$60,000 in total injury protection per accident
$25,000 in property damage per accident
While these are the minimum amounts, they often aren't enough to cover the expenses resulting from a major car accident. When someone suffers a severe injury, hospital bills can quickly surpass $30,000 due to expenses such as:
Ambulance rides
Emergency room treatment
Scans such as MRIs, CTs, and X-rays
Doctor's visits
Surgical procedures
Physical and occupational therapy
Assistive devices
Prescription drugs
Ongoing medical assistance
Because of this, many motorists choose to purchase policies with higher coverage.
What Is Uninsured/Underinsured Motorist Coverage?
Uninsured/underinsured (UM/UIM) coverage is optional insurance that can compensate you for accident-related losses if the other driver's vehicle is not insured or if the insurance is insufficient. This type of insurance policy can also be helpful if you are involved in a hit-and-run accident and the police cannot find the at-fault driver. While Texas law does not require vehicle owners to carry UM/UIM coverage, having it in place can offer peace of mind for many motorists.
What Is Personal Injury Protection (PIP)?
Personal injury protection (PIP) insurance must be offered along with an auto insurance policy. If you don't want it, you must refuse it in writing. PIP can cover medical expenses for any injuries you and your passengers sustain in a car accident, regardless of who was at fault.
The limit for most PIP policies in Texas is $2,500 per person. However, many contracts include higher coverage amounts. Along with UM/UIM coverage, PIP can provide limited protection if you suffer injuries in a hit-and-run crash.
Do I Have to Accept an Insurance Company's Initial Settlement Offer?
You never have to accept an insurance company's first offer. Insurance companies are more interested in protecting their profit margins than ensuring you receive compensation for the care you need. Even if the at-fault party has a high-limit insurance policy, their insurance adjuster will work aggressively to undervalue your claim.
One of their favorite tactics is to offer an early lowball settlement before the injured person understands how much their claim is truly worth. If an insurer tries to catch you off guard with this tactic, politely tell them that you will speak to your attorney before you accept any settlement. This will send a clear message to them that they should take your case seriously.
After you consult with your Texas insurance claims attorney, they will investigate the accident and calculate the value of your losses. Your lawyer will then begin negotiations with the insurer and fight for the maximum compensation you deserve. If the insurance company refuses to offer you a fair settlement that will cover the full extent of your losses, your attorney can file a lawsuit so you can seek justice before a judge and jury.
Am I Required to Give the Insurance Company a Recorded Statement?
Insurers often tell injury victims that they must provide a recorded statement before their claim can be processed. However, this is another tactic to try to undervalue your insurance claim. They know they can use anything you say against you, even if you think you have not provided any information that could put the blame on you.
If the insurance adjuster asks you to give a recorded statement, direct them to your attorney. Your legal representative will know how to handle communications with the insurer without inadvertently harming your case.
Contact a Texas Insurance Company Claims Lawyer
Insurance coverage may seem simple: you file an injury claim and receive compensation. However, the reality is usually far more complicated. Many motorists who deal with insurance companies experience unbearable frustration when they are simply trying to pay their medical bills, replace lost income, and deal with the physical and emotional suffering they have experienced since the accident. If another driver caused the accident that led to your injuries, you should not have to shoulder these burdens yourself.
The experienced Texas insurance claims attorneys at Fleming Law have witnessed many individuals going through these challenges. We believe it shouldn't have to be this complicated for you. Our attorneys offer relief from the frustrating experience of battling with insurance companies. Our extensive experience, skills, and reputation make us tough negotiators – and we are ready to take your case to court if negotiations fail.
Contact our offices today for a free consultation to learn more about how we can help you with your Texas insurance claim.