Can I Get Fired While on Workers' Compensation?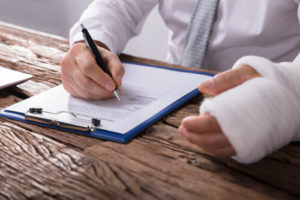 Many Texas employees fear that if they speak up about their workplace injury or illness then they will receive some sort of retaliation from their employer such as harassment, demotion, or even being fired. Texas is an at-will employment state, which means that workers can be fired for almost any reason. They can be fired for cause, without bad cause, or without any cause. However, there are some important exceptions to this general rule. One of these is that of being a contracted employee. If you have an employment contract, it may specifically define when and how you can be let go.
Were You Fired for Getting Hurt?
According to the Texas Department of Insurance, 21% of workers who were injured on the job reported that they had been fired or laid off after being injured on the job. Unfortunately, it is true that a worker can be fired for getting hurt on the job in some cases. An employee who files a workers' compensation claim and has to take time off work to heal may not have a job waiting for him or her after completing recovery, but that employee cannot be fired and denied benefits just for filing a claim. Filing a workers' compensation claim is a protected act.
Many employers will fire an employee who gets hurt on the job simply so that they, the employer, are not held responsible for paying the employee's bills through a rise in workers' compensation insurance premiums. This, like firing an employee for filing a claim, is unlawful. If you were fired, you still have rights to workers' compensation benefits as well as taking other actions against your employer if they caused wrongdoing.
The Family and Medical Leave Act
The Family and Medical Leave Act (FMLA) prohibits employers from terminating employees who take time off work (up to 12 weeks in a 12-month time period) for specified medical reasons. The employee must be allowed to begin working with the same terms and conditions that he or she had before taking the time off. The FMLA also allows the employee to continue participation with his or her group health insurance. Not all medical injuries are covered under the FMLA.
What do I do if I was fired while on Workers Compensation?
Protected Actions in Texas Workplaces
There are certain protected acts that employees can take without being fired. For example, employees cannot be fired for reporting "in good faith" a health and safety violation at work. They cannot be fired for filing a workers' compensation claim, refusing to carry out an illegal action, filing a discrimination claim, having jury duty, or reporting an illegal violation.
Call a Wrongful Termination Attorney to Receive Your Benefits
Whether you were recently hurt on the job and have not yet filed for workers' compensation benefits, or you already filed and were fired because of it, you need the legal help of an experienced Houston injury attorney. Reach out to the lawyers with Fleming Law for assistance today. We will make sure that you get the medical and financial help that is rightfully yours, and ensure that your employer does not get away with an unlawful act.