Houston Industrial Injury Lawyer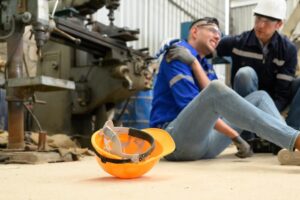 As an industrial worker in Houston, you work hard to earn a living. And in a high-risk environment like a construction site or factory, a split-second accident can quickly jeopardize your ability to work. The good news is that you could be entitled to workers' compensation benefits. This compensation can help you recover from work injuries by paying for medical expenses and wage losses.
Navigating the workers' comp claims process can be confusing and overwhelming when you're already recovering from a painful accident. That's why it's a good idea to team up with a Houston workers' comp lawyer who can fight for your rights and demand the benefits you deserve. To explore your options, please contact Fleming Law for your free initial case review.
What Are Some Common Types of Industrial Accidents in Houston?
Many industrial workers in Houston get hurt in occupational accidents such as:
Falls from heights
Scaffolding collapses
Trench collapses
Equipment entanglement accidents
Struck-by accidents
Machinery crushing accidents
Electrical accidents
Fires and explosions
Chemical spill accidents
Gas leak accidents
Exposure to toxic substances
Exposure to hazardous environments
Heat exposure and environmental stress
Transportation accidents
Crane and forklift accidents
Confined space suffocation accidents
Repetitive motion injuries
Overexertion accidents
Physical assaults and acts of violence
What Are the Most Common Types of Industrial Injuries?
When industrial accidents occur, workers commonly suffer injuries like:
Head injuries and traumatic brain injuries (TBIs) from falls or struck-by accidents
Back and spinal cord injuries from heavy lifting, falls, or repetitive motions
Broken bones from falls, struck-by accidents, and transportation accidents
Burn injuries from exposure to hot surfaces, flames, chemicals, or live circuits
Soft tissue sprains and strains from blunt-force impacts or overexertion
Amputation or loss of limb from machine entanglement or crushing accidents
Eye injuries from exposure to hazardous chemicals or flying debris
Hearing loss from exposure to loud machinery or equipment over time
Respiratory injuries from inhalation of dust, chemicals, or contaminants
Cardiovascular problems from prolonged physical exertion or stress
Reproductive issues from exposure to certain chemicals or hazards
Will Workers' Compensation Pay for My Injuries?
If you get hurt on the job in Texas, workers' compensation might pay for your injuries if you meet the following criteria:
Your employer pays for workers' comp insurance on behalf of its employees.
You are classified as an employee, not an independent contractor or volunteer.
You are a regular employee, meaning you work regular hours long-term for your employer at a set salary or hourly wage.
Your injury occurred while you were performing work-related duties.
Your injuries are not from horseplay, fighting, natural disasters, or your own intentional acts.
You were not intoxicated or under the influence of drugs when you got hurt.
What Types of Workers Are Not Covered by Workers' Compensation?
Some workers are exempt from workers' compensation coverage, meaning they do not automatically qualify for benefits even if their employers have insurance. Independent contractors – such as freelancers, consultants, and gig workers – are exempt workers. Other workers that might be exempt include domestic workers, such as housekeepers and casual or seasonal workers.
Are There Any Reasons Why My Workers' Compensation Claim Could Be Denied?
The insurance company will want to limit how much they must pay for your claim. Your employer's premiums increase when you file a claim, so they might also be eager to minimize or deny your claim. Your claim could be rejected if any of the following applies to your situation:
You fail to report the injury to your employer or file your claim on time.
You fail to include sufficient evidence to support your claim when you file.
You fail to seek prompt or appropriate medical care or follow your doctor's orders.
You have a pre-existing condition that is hard to distinguish from your work injury.
Your employer insists that work-related activities did not cause your injury.
You were intoxicated or engaged in horseplay when the injury occurred.
What If My Employer Does Not Subscribe to Texas Workers' Comp?
Unlike most states, Texas does not require most private employers to carry workers' comp insurance. However, Texas employers are responsible for their employees' work-related injuries – whether or not they have insurance.
Most employers have workers' comp insurance because it keeps employees from suing the company when they get hurt at work. If you sustain an industrial injury while working for an employer without workers' comp insurance, you could have grounds to sue your employer with the help of an attorney.
What Compensation Can Be Recovered for a Houston Industrial Accident Claim?
Workers' comp insurance pays for your medical expenses and replaces some of your lost wages after an occupational injury. But if you have grounds for a third-party injury claim or lawsuit after an industrial accident, you could get money for additional losses, such as:
Past, present, and future medical costs
Incidental costs, such as medical travel expenses
The full value of lost wages, income, and benefits
Lost future earning capacity due to permanent injuries
Subjective losses, such as pain and suffering
What If Someone Died As a Result of an Industrial Accident?
If an industrial worker dies in a Texas workplace accident, certain surviving family members could be entitled to the following types of workers' comp death benefits:
Up to 75 percent of the employee's average weekly wage for a period of time, depending on the dependent's circumstances
Funeral and burial expenses for the employee
What Are the Limits of the Compensation That Can Be Recovered?
Texas workers' comp should pay for any reasonable and necessary medical treatment you need due to the industrial accident. If you have to miss time at work due to your injuries, workers' comp also covers a portion of your average weekly wage before the injury. These wage replacement benefits are subject to statewide minimum and maximum amounts based on the median wage in Texas.
Contact a Houston Industrial Accident Lawyer
Don't wait to get the help you need after a Houston industrial accident. Contact Fleming Law today to tell us your story in a free initial consultation session.