Houston Factory and Refinery Accident Lawyer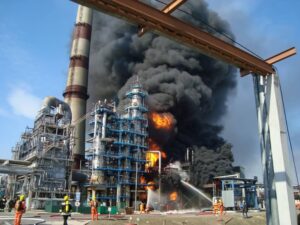 Working in a factory or refinery in Houston is dangerous. With the regular use of heavy machinery and hazardous chemicals, employees in these industries face a heightened risk of workplace accidents. When disaster strikes, the consequences can be devastating. Seeking the help of an experienced Houston factory and refinery accident lawyer can ensure you know your legal rights and how to pursue compensation if you've been injured.
After a Houston factory or refinery accident, consult the personal injury attorneys at Fleming Law. Our firm has over three decades of experience representing Texans in industrial injury claims. We'll listen to your story and outline your options in a free consultation. Contact us today.
What Are Some of the Most Common Types of Factory and Refinery Accidents in Houston?
Factory and refinery accidents may involve:
Fires: Factories and refineries are home to numerous flammable and combustible materials. Fires from an ignited spark or exposed wiring can cause significant destruction and life-threatening smoke inhalation injuries.
Explosions: An explosion can occur due to chemical reactions, flammable gases, pressurized containers, or other hazardous conditions. Explosions can cause catastrophic harm to victims, including brain injuries, burns, and scarring.
Slip and falls: Slippery floors, poor lighting, loose wires, or other hazards can cause workers to slip and fall, resulting in broken bones, head injuries, and other trauma.
Chemical exposure: Workers may be exposed to hazardous chemicals or fumes in factories or refineries, leading to long-term health complications, such as organ damage and respiratory diseases.
Repetitive motion injuries: Long hours spent working with machinery or other equipment can lead to chronic overuse of muscles and joints, resulting in debilitating back, shoulder, arm, and leg injuries.
Heavy machinery accidents: Even with adequate training, employees can suffer life-threatening injuries if a body part gets crushed or caught between pieces of heavy machinery.
Falling objects: Improperly stored items stored placed on overhead surfaces can fall on factory or refinery workers, with potentially life-threatening consequences.
Electric shock: Faulty wiring or poorly maintained equipment can lead to electrocution.
What is OSHA?
The Occupational Safety and Health Administration (OSHA) is a federal agency that regulates and enforces safety standards in the workplace. It protects workers from chemical, electrical, and mechanical dangers, extreme temperatures, and loud noises. OSHA also inspects workplaces, including refineries and factories, to ensure safety standards are met. OSHA can levy fines against employers who do not take the necessary steps to protect their employees.
Additionally, OSHA provides training programs for employers and employees so that everyone is informed about safe practices. In the case of refineries and factories, OSHA has specific regulations that employers must follow to ensure employees' safety. Failure to comply with these regulations can result in hefty penalties.
What is a BLEVE?
A BLEVE (boiling liquid expanding vapor explosion) is an explosive event that can occur when liquid within a pressurized container is heated beyond its boiling point, creating an expanding vapor cloud. These events can cause catastrophic damage and injury if not contained. The expanding vapor cloud will create a pressure wave capable of destroying buildings, vehicles, and equipment. The ensuing fire can cause severe burns and other physical injuries, potentially releasing toxic fumes into the air.
What Are the Top Reasons for Factory and Refinery Explosions?
Factory and refinery explosions can cause catastrophic damage to individuals and the environment. While many factors may lead to a blast, some common ones include:
Violations of OSHA safety regulations: Examples of common OSHA violations include failure to store combustible materials properly, failure to follow approved fire prevention plans, and not providing proper fire protection equipment.
Use of dirty chemicals: Dirty chemicals are often unstable or toxic and may lead to an explosion when mixed with other materials. Employers need to understand the hazards associated with the chemicals they use to reduce the chance of a blast.
Improper maintenance: Any machinery used at a factory or refinery must be appropriately maintained to prevent accidents. If machinery is not adequately serviced or inspected, it can lead to an explosion due to malfunctions beyond the operator's control.
Inadequate training/supervision: All workers at a factory or refinery must be adequately trained to reduce the chance of an explosion. Additionally, supervisors should monitor employees and ensure compliance with safety regulations.
What Are Some Factory and Refinery Injuries?
Factory and refinery accidents can cause severe injuries or even death. Common injuries resulting from a factory or refinery accident include:
Burns
Blast injuries
Amputations
Hearing loss
Crushing injuries
Respiratory injuries
Toxic exposure
Stress and psychological injury
If you suffered an injury at a Texas plant, consult with a Houston factory and refinery accident lawyer immediately.
What if a Factory or Refinery Accident Results in Death?
If a loved one dies in a factory or refinery accident, the family may be able to file a wrongful death claim if another party's negligence or wrongdoing led to the accident. A successful wrongful death claim could compensate the family for losses such as medical costs, lost wages, and the pain and suffering associated with the death of their loved one.
What Compensation is Available for a Factory or Refinery Accident Lawsuit?
Depending on the accident's severity and the type of claim filed, various types of compensation may be available for factory or refinery accident victims. If the employer has workers' compensation insurance, an injured worker could obtain medical payments, wage-replacement benefits, and impairment benefits through that insurance. The surviving family could receive death benefits through workers' compensation if the worker is killed.
An injured employee might also qualify to file a personal injury claim. Types of compensation available in a factory or refinery accident lawsuit include:
Medical expenses
Lost wages
Loss of future earning capacity
Pain and suffering
Property damage
Sometimes, an accident victim can file both a workers' compensation claim and a third-party injury lawsuit. A skilled factory or refinery accident lawyer from Fleming Law can investigate your case and identify every source of potential compensation for you.
What is the Time Limit for Filing a Houston Factory Accident Claim?
In Texas, people injured in a factory or refinery accident have two years from the date of the accident to file a personal injury lawsuit. This two-year time limit is dictated by the state's statute of limitations. The clock begins ticking on the accident date, meaning that if you do not file your lawsuit within two years, you may be barred from filing one forever.
Contact a Houston Factory and Refinery Accident Lawyer
If you or a loved one suffered injuries in a factory or refinery, contact Fleming Law today. With more than 100 years of combined experience, our Houston factory and refinery accident attorneys are skilled at helping clients pursue the compensation they deserve for their losses. Contact us today for your free consultation.