Police Officer Injury Attorney in Houston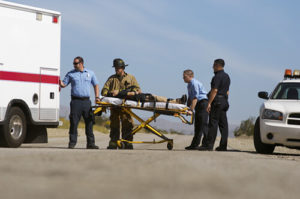 Fleming Law has represented law enforcement officers and officials throughout their entire history. They has handled accident and workplace injury cases for law officers for nearly three decades.
If you are a cop or other law enforcement officer and need a lawyer for your injury or other claim, contact Fleming Law today. Fleming Law has represented law enforcement at all levels of our judicial system. They have successfully handled cases in the Texas trial and appellate court levels and have tried, argued, and won cases in the federal trial and appellate courts – including the Supreme Court of the United States of America.
Fleming Law began representing cops hurt on the job when founder Michael Fleming was fresh out of law school in the 1980's and he took the case of a Houston police officer who was the victim of a car accident caused by a drunk driver. That case resulted in a favorable settlement for his client. Mr. Fleming then went on to work as an assistant Harris County Attorney where he made his mark as a dedicated defender of sheriff and constable deputies who had been sued in federal court for alleged civil rights violations.
He handled cases for deputies and the sheriff including wrongful death, civil rights, first amendment and alleged excessive force claims. He handled and tried jury cases for law officers in the federal trial and appeal courts. In 1995, he decided to seek election as the Harris County Attorney and – with the support of many cops – won that position in the general election of 1996.
As Harris County Attorney, Michael P. Fleming's office represented the Harris County Sheriff's and Constable's offices in all litigation matters including car wrecks, injury cases, and civil rights claims. Mr. Fleming was re-elected in 2000 before resigning to enter private practice. Since forming his own firm, he represented individual officers and the Harris County Sheriff alike, including many high-profile cases.
Are you a cop with an injury?
What Sorts of Cases Do We Accept for Law Enforcement?
The law enforcement attorneys at Fleming Law accept cases for cops and other law officers in a vast variety of matters including:
DWI Accident Injury and Death Cases
Industrial Accidents
Burn Cases
Highway Accidents
Wrongful Death
If you are a Law enforcement officer and need a lawyer that understands the needs of law enforcement, contact car injury attorney Michael P. Fleming today. He is ready to discuss any legal matter with you. If he does not handle your particular need, he will try to find a lawyer that does. Call Michael P. Fleming now.