How Much can You Sue for in a Houston Wrongful Death Case?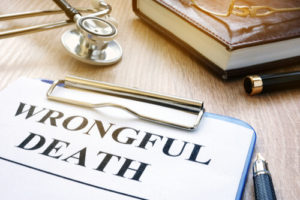 Wrongful death cases offer the largest awards out of any personal injury case for the obvious reason that the victim paid the greatest price for the negligent party's irresponsible actions. While your damages are the most severe, there are many factors that make up a wrongful death, and every wrongful death case is different, meaning it is difficult to predict what type of compensation you can expect from your case. Depending on the situation, the following are some key elements that a judge and jury will use to consider the award.
Loss of Future Earning Capacity
Loss of future earning capacity refers to the earning ability of the person who died, and applies in cases where the victim was the primary earner of a household. The average college graduate with a bachelor's degree alone earns $1.19 million in their lifetime, while the average high school graduate earns $595,000 in their lifetime, according to the Hamilton Project. Loss of earnings is based on the victim's age and projected income during what would have been their remaining working years.
Punitive Damages
Punitive damages are awarded in cases in which there is gross negligence. For example, punitive damages may be awarded in a case that involved a drunk driver or that of an unsafe workplace. These damages go beyond compensating the plaintiff, and are imposed as further punishment for the negligent, reckless person or company. According to Cornell Law, courts only impose punitive damages 5% of the time, meaning that punitive damages are exceedingly rare.
Loss of Companionship or Consortium
A jury can award damages associated with loss of consortium to the surviving spouse or children in a wrongful death case. Loss of consortium is the loss of a companion, as well as the loss of a mentor for young children. Loss of consortium is particularly relevant when there is a young child or multiple young children that are now left to grow up without either a mother or a father.
What types of compensation apply to the case of my spouse's wrongful death?
Pain and Suffering
Pain and suffering is a separate type of compensation from the wrongful death claim and is pursued on behalf of the deceased. This penalty is determined based on the amount of suffering endured by the victim before his or her death. In some cases, this can amount to many days, weeks, or even years. In other cases, there may be no pain and suffering because death was determined to be immediate. Contact our Houston wrongful death lawyer today.
A Houston Wrongful Death Attorney can Help
It is important to work with an experienced attorney who knows how to accurately calculate the damages that you are owed, and who has the negotiating experience to hold the negligent party's insurer to this number. Feel free to call the Houston Wrongful Death attorneys of Fleming Law today for a free consultation 737-201-0543. We treat each of our clients with a high degree of compassion and work tirelessly to achieve your desired results. Contact us for experienced legal guidance.