Austin Dog Bite Lawyers
Do you need a lawyer for a dog attack in Austin? Our Austin Dog Bite Lawyers have vast experience representing people who have been attack and bitten by dogs. Dog attacks almost always leave permanent scarring – physical and emotional and you should find an experienced lawyer to handle your claim. Michael P. Fleming is Board Certified as a Personal Injury Specialist by the Texas Board of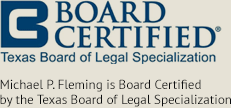 Legal Specialization and he offers a 100% free consultation. Call him today for your dog bite injury case in Austin – or anywhere in Texas.
Dog bites can leave scarring, require stitches or reconstructive surgery, or an attack can lead to death. Austin's municipal code, Section 3-4-4, allows dogs to be allowed to run free without restraint in:
Zilker Park (certain areas)
Onion Creek District Park (certain areas)
Walnut Creek District Park (certain areas)
Lake Austin Metropolitan Park (certain areas)
Auditorium shores
If you've been bitten by a dog in any public or private area, you need an Austin dog bite attorney who understands Austin's robust laws and can help you seek compensation for your injuries.
The dog that attacked you may be considered a "vicious dog," or a dog that is not allowed in the city of Austin. Vicious dogs include dogs that have: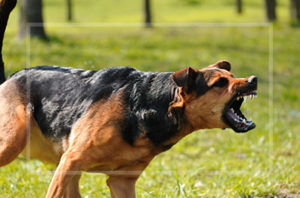 Bitten or scratched a person in three separate occasions
Bitten or scratched a person requiring physician assistance
Killed a cat, dog or domestic pet
Attacked another animal to the point that a vet signed an affidavit that the animal's life was in service danger
But even calm, nice dogs can attack randomly.
Common dog bite defense includes:
Trespassing. Owning a guard dog is common, and if you were trespassing on someone's property and their dog attacked, the owner will likely use the trespassing offense against you. If you had permission to be on the property, the defense would not hold up in court.
Provocation. If the victim was provoking the animal, throwing rocks or trying to hurt the animal, the defense is likely to argue that the attack was due to the dog being provoked. If the owner did not stop the attack on a child or allowed the dog to get too close to the child, the defense will not hold up in court.
Defense. We have seen cases where the owner claims that children were playing outside of the fence where the dog was being kept, causing the dog to jump the fence and attack.
You need a strategy to prove negligence of the dog's owner in the attack that holds up in court.
If you or a loved one have been a victim of a dog attack in Austin, it's time to contact an Austin dog bite lawyer as soon as possible.
Texas One Bite Rule and Negligence
Texas law does not have a specific law pertaining to dog bites, making the state a "one bite state." Dogs that have never shown aggression or bitten someone before can and do attack every year. Under the rule, you cannot recover damages from the dog owner because he or she didn't know the dog was aggressive.
However, even if the dog has NOT shown aggressive tendencies in the past owners may be sued for negligence if: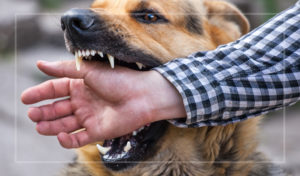 The owner didn't take the steps necessary to protect others from injury.
The owner witnesses the animal initiating an attack and doesn't stop the attack.
Landlords may be held liable if they failed to protect tenants and knew a vicious dog was on the property.
Witnesses of an attack can suffer from emotional distress, and Texas law allows these witnesses to sue the dog's owner.
Dog bites can leave superficial wounds, or an attack can be so severe that it leads to the death of the victim.
You can seek compensation for your injuries or the death of a loved one. Fleming Law will discuss your injuries during our initial consultation and determine what compensation you may receive.
Compensation may be sought for:
Medical bills
Lost wages
Pain and suffering
How Can an Attorney Get Compensation for My Dog Bite?
As your attorney, it's our job to ensure that you receive the compensation that you deserve in your case. Compensation has to come from somewhere, and we'll identify the right avenues to pursue in your case.
Typically, we'll seek compensation from:
Homeowners Insurance Policy
Insurance companies paid out $530 million in dog bite related claims in 2014. While 81% of bites cause no injuries, there are still 4.5 million dog bites and over 800,000 bites that lead to injuries.
If the dog owner has a home, we'll generally pursue damages through the owner's homeowner's insurance policy.
Most homeowner's insurance policies have liability protection that will cover dog bites.
Commercial Insurance Policy
A commercial insurance policy may be held liable if the attack occurred on the business' grounds. For example, if the office allows an animal to accompany an employee to work and the animal bites a customer or employee. We may seek damages from the commercial insurance policy in this instance.
Animal Liability Insurance
Pet owners are beginning to seek animal liability insurance in the event their pet bites someone. Canine liability insurance has specific liability options that cover dog bites that do not occur on your property or involve attacks on people that live in the household.
These insurance policies are preferred if you've been bitten because they will cover claims that homeowner's insurance will not.
Homeowner's insurance policies often include exclusions for breeds that are known as "dangerous," including:
Akitas
Alaskan Malamutes
Chows
Great Danes
Pit bulls
Rottweilers
Siberian Huskies
Wolf Hybrids
If the owner has animal liability insurance, it makes pursuing damages easier for an Austin dog bite attorney. These policies fill the gaps that homeowner's insurance have.
Types of Dog Bite Injuries Victims Suffer
Your dog bite is unique, and the circumstances surrounding the bite are unique. What remains the same is that dog bite injuries typically result in the following:
Bite marks
Broken bones
Cuts and lacerations
Deep bruising to the arms and legs
Eye injuries
Facial injuries
Head and neck injuries
Nerve damage
Permanent scarring
Soft-tissue injuries
Treatment may be as simple as stitches or allowing the bruising to subside, but dog bites also pose the risk of infection. Victims may suffer from tetanus or rabies from a bite. Infection can also occur due to the wounds suffered in the attack.
If infections set in, a person may suffer serious consequences and intensive treatment to correct the issue.
Surgery may be required in victims that suffer the most serious bites, including bites that may lead to severe scarring or disfigurement.
Our lawyers have experience helping victims of dog bites seek compensation from dog owners and insurance companies. Contact us today to find out how much compensation you can seek for your dog bite.