Construction Accident Attorneys in Houston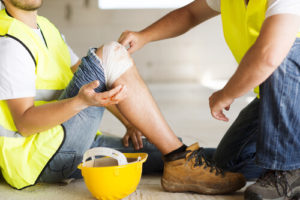 Working in construction is inherently risky. Job sites are full of hazards capable of injuring or killing workers in a matter of seconds. Around 1 in 5 worker deaths in the U.S. occurred in the construction industry in a recent year — and many hardworking Texans were among the lives lost.
Employers are required by law to provide the safest job sites reasonably possible for their workers. That's especially important in construction, where heavy equipment, powerful machinery, electrical wiring, gas lines, chemicals, scaffolding, and countless other dangers increase the likelihood of an accident.
In addition, there are often multiple contractors on a work site at the same time, not to mention companies making deliveries and many other visitors. With so many moving parts, appropriate and effective oversight on a construction site is essential. Sadly, that doesn't always happen.
If an employer or a third party failed to comply with safety standards and safety precautions and you or a loved one was injured in a construction mishap, you may have a valid negligence claim against them. An experienced Houston construction accident lawyer at Fleming Law can help you obtain the compensation that you deserve
Your Legal Options After a Houston Construction Accident
In general, construction accident claims fall into two main categories. The first is a workers' compensation claim. If your employer participates in the Texas Workers' Compensation program, you can be reimbursed for your medical expenses and a portion of your lost wages even if you were to blame for your accident in most instances.
But Texas does not require employers to purchase workers' compensation insurance. If they opt-out, they are known as nonsubscribers. Don't worry, nonsubscribers aren't off the hook just because they don't have coverage. Texas law allows you to seek payment by filing a personal injury claim against your employer or another liable third party. But there is an important difference between a workers' compensation claim and a personal injury claim. While workers' compensation is a no-fault system, a personal injury claim will require you to prove that the employer or other party was negligent in order to receive payment.
A personal injury lawsuit can be beneficial because workers' compensation alone may not cover the full costs of your injuries due to a construction accident. A workplace injury, especially one suffered on a construction site, can cause irreparable bodily harm. A successful claim could provide you with full and fair compensation to match the extent of your injuries, both now and in the future.
It's also possible for family members who lost a loved one due to a workplace accident to file a wrongful death claim against the negligent parties. To learn what legal avenues are open to you, it's best to speak with a skilled Houston construction accident attorney.
The 'Fatal Four' in Construction Accidents
The U.S. Occupational Health and Safety Administration (OSHA) regulates and monitors workplace safety in America. It investigates reports of on-the-job injuries and deaths and enforces violations of safety standards
Any injury on a construction site should immediately be reported to your supervisor and an incident report completed. In addition, an injured worker or family should immediately report the incident to OSHA if their employer has not already done so, especially if a fatality is involved.
OSHA refers to the top causes of construction accidents as the "Fatal Four":
Falls account for the greatest number of construction accident fatalities. They can often be the result of uneven or unstable work surfaces, a lack or misuse of fall protection equipment, and worker error.
Electrocution can happen when a worker comes in contact with exposed wires, defective tools, improper use of extension cords, and live power lines. A lack of proper protection according to OSHA standards can result in death even at low currents.
Being struck by an object is an obvious hazard on a construction site. Materials and machinery can fall, fly, swing and hit workers at ground level. Hard hats are essential on construction sites to reduce the risk of a serious brain injury resulting from a struck-by accident.
Being caught or in between objects is an increasing cause of construction accidents. Workers who get wedged between heavy vehicles, stuck in a trench, or pinned in between objects can sustain fatal injuries.
OSHA estimates that eliminating the Fatal Four would save the lives of 631 construction workers every year. Contact our Houston brain injury attorney today.
Other Common Causes of Construction Accidents in Texas
The Fatal Four may be the most common type of deadly construction accident, but serious injuries can also arise from a number of other sources on the job. Texas construction workers are also injured from incidents involving:
Negligent supervision
Lack of training
Poorly maintained equipment
Accidents involving cranes, scaffolding, and ladders
Structural collapses
Explosions and fires
Exposure to dangerous chemicals and inhalants (like asbestos)
Failure to inspect the equipment
Unprotected trenches
Faulty hand or guard rails
Stairways
Forklifts
Failure to provide protective hand, eye, or headgear
Third-Party Liability and Texas Construction Accidents
Construction zones are busy places. At any one time, there could be multiple parties on-site, any of which could be held liable depending on the unique circumstances of your case.
Besides your employer, potential third-party defendants in a Texas construction accident claim could be:
Contractors
Property owners
Sub-contractors
Vendors
Delivery companies
Architects
Utility companies
Engineers
Truckers
Equipment manufacturers
A Houston construction accident lawyer at Fleming Law can help you determine if you have a third-party liability claim. Several important factors need to be evaluated such as:
Where the accident occurred. Parts of a construction site may be controlled separately by contractors and various sub-contractors. If your accident occurred outside of your employer's designated area, it's possible that whoever controlled the construction site area you were injured in may be held liable.
Type of equipment you were using. Defective products such as power tools and machinery parts can result in a third-party claim against the designer, manufacturer, or distributor of the product.
Work conditions. Were there puddles or spills on work surfaces? Exposed wiring? No barricades around a crane's swing area? Toxic fumes? An attorney can pinpoint OSHA violations and use them as a basis for your construction accident claim.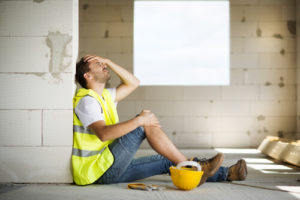 Compensation For Texas Construction Accident Claims
Recuperating from a construction accident injury can be fraught with setbacks. Medical bills pile up, but you are losing wages or living on a partial income. You may learn that you can't return to work at all, or that you can't work at the same level as you did before the accident. All of the ups and downs are also taking a toll on your emotional health. You need a lawyer who can help restore some stability to your life.
In Texas, you may be entitled to compensation in a construction accident case for losses, including:
Related medical expenses, both past, present, and future
Lost wages and lost future earning potential
Pain and suffering
Disfigurement
Physical impairment
Loss of consortium
Loss of companionship
Funeral and burial expenses (for wrongful death)
What Can Our Construction Accident Attorneys in Houston Help Me?
Our construction accident lawyers have 30 years of experience representing workers who have been injured due to the reckless actions of their employers or third parties. We know how frustrating it can be when claims for compensation are denied or delayed, especially at the time when money is needed most.
Our approach to any construction accident injury case is simple. We don't stop until we achieve a resolution that allows you to move forward with your life. We will:
Advise you of your rights. Our first consultation is always free. We also take all of our cases on a contingency fee basis, which means that we take care of all of the upfront costs of the case. We only get paid if we win a verdict or settlement on your behalf.
Be compassionate. Injuries leave people feeling vulnerable and unsure. Our personal injury attorneys are committed to providing caring representation so that clients feel like friends and family, not just a name on a case file.
Act quickly. Texas has a two-year statute of limitations on most construction accident claims. The sooner you hire a lawyer, the better. A couple of years sounds like a long time, but your case will benefit from an immediate private investigation done by our attorneys.
Keep you informed. Nothing could be worse than waiting days or weeks for a callback or email reply from your lawyer. We provide open communication at all times and welcome all of your questions and concerns.
Advocate strongly. A construction accident lawyer at Fleming Law doesn't back down. Construction companies and their insurance companies will put up a good fight to avoid paying injured victims what they deserve. But our track record speaks for itself. Our law firm has a Martindale Hubbell AV Preeminent rating and attorney Fleming has argued and won a case in front of the U.S. Supreme Court. We go high because we know we can win.
Contact Our Houston Construction Accident Lawyers Today
If you or someone you love was injured in a construction accident in Houston or the surrounding areas of Texas, our attorneys can help you seek the financial support you need to heal. Call us or use our contact form to arrange your free case evaluation.
What should I do if I've been injured on a construction site?