Austin Pedestrian Accident Lawyers
Austin is known for having vibrant nightlife, a great bar scene, and being filled with live music. The city's ambiance and charm have led people from across the country to visit and move to Austin.
It's the fastest-growing metropolitan area in the country. Along 6th St., a hotspot in downtown Austin, you'll find locals and tourists exploring the bar scene and drinking in the early morning hours.
Pedestrians that have been drinking and out late aren't always the cause of a pedestrian accidents in Austin. It's illegal to drink and drive, but when you're walking and following crosswalks and signage, you can cross the road safely. If a driver fails to stop or is distracted, a pedestrian accident may occur, leaving you with severe injuries.
Do you need a lawyer for a pedestrian accident in Austin? Whether you were hit while walking, jogging, or just relaxing, an accident involving a pedestrian always has horrible injuries. Our Austin pedestrian accident lawyers at Fleming Law are here to help. Call us today for a free consultation.
Our Austin pedestrian accident lawyers can help you or a loved one seek maximum compensation for a pedestrian accident.
Were You the Victim of a Pedestrian Accident in Austin, TX?
Austin is growing at a rapid rate, and while the city's live music scene and nightlife make it an attractive choice, pedestrian accidents are on the rise. In March, there are 100,000 fans and attendees that visit South by Southwest SXSW.
SXSW is filled with music, interactive media, film, and conferences, but traffic rises, and more people can be seen walking the streets. These are the times when pedestrians must be on alert. Tourists, late nights, drinking, and other factors can lead to an accident and significant injuries.
If you or a loved one have been involved in a pedestrian accident in Austin, it's time to give Fleming Law a call (512)-877-6804. One of our experienced pedestrian accident attorneys is ready and waiting to give you a FREE consultation.
What Types of Injuries Occur from an Austin, TX Pedestrian Accident?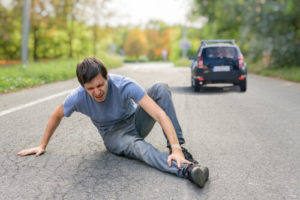 Austin's rapid growth has made the city more densely populated, with people walking the streets, riding bikes, and going to local hotspots. Crosswalks act as a safety measure for pedestrians, but a lot of roads still don't have crosswalks.
Even when crosswalks are available, it doesn't mean everyone is adhering to the law.
Oncoming traffic has the right of way if you fail to obey signage at intersections and crosswalks.
Drivers have the responsibility of yielding to pedestrians if there's no crosswalk. Pedestrians, however, must also yield to oncoming traffic. If you walk into the middle of the road, in front of a vehicle that does not have the space to safely stop, you may be held liable for the accident.
When an accident does occur, victims often suffer from:
Drivers and pedestrians must both be focused on the road and work to ensure that they adhere to standard traffic laws and signage.
Austin, and all major cities in Texas, are working to make crosswalks and walking around the city safer. Despite the efforts of city officials, pedestrian accidents are at a 30-year high, with little indication of accidents slowing.
Drivers and pedestrians are both more distracted than in 2008 thanks to the rise of smartphones. Officials state that smartphone usage is up 4000% and offsetting the additional safety features found in modern automobiles.
If you or a loved one were involved in a pedestrian accident in Austin, you have a right to seek compensation to recover from your damages. Our pedestrian accident lawyers will discuss your case with you and work to determine what damages you may seek.
What Kinds of Damages Can You Sue for Following a Pedestrian Accident?
Your case is unique, and while every case's facts will dictate how much damages you can seek, we will sue for:
Medical Expenses
Lost Wages
Future Medical Expenses
Loss of Earning Capacity
Pain and Suffering
Our attorneys will examine your case, estimate the settlement amount you may receive, and fight vigorously to present your case.
Your injuries are just part of your settlement estimate.
An accident can lead to long-term financial issues, pain and suffering, and medical care. You may have to undergo surgeries, seek future therapy and deal with pain for the rest of your life. Significant injuries can lead to disability, and it's possible that you may never be able to go back to work.
If you have to switch careers or can no longer work, you have a right to seek future lost wages.
The main goal is to get your medical bills and immediate costs covered, but we'll also fight for your future.
When you call us, we'll discuss your case with you and learn more about the events that led to your accident. We'll represent you while:
Investigating your case, including securing any police reports that may give an insight into what the accident scene tells police about your case.
Seeking witnesses to the accident that can give a first-hand account of the events leading to your accident.
Secure any video footage of the accident if available.
We'll talk and negotiate with insurance adjusters and the defense, allowing you to recover while we work towards reaching a settlement.
Visit our Pedestrian Accident Lawyer offices in Austin, TX

Why is it Important to Have an Austin Accident Attorney Take My Case?
Pedestrian accidents in Austin require an attorney who has the experience, gets results, and understands Texas laws. Our lawyers have an exceptional reputation and are among the best-rated attorneys in the state.
We'll fight to ensure that you receive the compensation that you deserve.
Throughout the entire process, we'll keep you informed so that you know what progress we've made with your case and what to expect in the coming steps.
We provide you with stellar representation and ensure that you never have to talk to an intimidating, threatening insurance adjuster or attorney again.
Contact a Pedestrian Accident Lawyer in Austin, TX Today
If you contact an insurance company on your own, be prepared for a lowball settlement number that aims to compensate you the least amount possible. The driver's insurance company does not have your best interest in mind.
An offer is almost always in favor of the insurer unless you have a knowledgeable attorney negotiating on your behalf, and calculating your damages based on previous cases and the facts.
If you or a loved one have been injured in a pedestrian accident, get help today. Contact the law firm of Fleming Law, an Austin personal injury lawyer who understands your pedestrian accident case and will fight for the full and fair compensation you deserve.
Contact an Austin pedestrian accident lawyer for a FREE consultation today at (512) 877-6804