Austin Work Injury Lawyers
Were you were injured on the job in Austin, Travis County, or anywhere in Texas? You may be able to seek compensation for your injuries. If your company does not have worker's compensation, you may bring a claim directly against the company. If there is worker's compensation, you can bring a claim against a third party that may have caused your injuries.
Many Austin workers, like other Texans, find themselves working in unsafe conditions in a wide range of industries, including construction, transportation, warehouses, and utilities. Even in dangerous industries like construction, employers have a duty and responsibility to ensure workers are protected from injuries on the job.
If you were injured because of your employer's negligence, worker's compensation may cover the cost of medical bills and other losses. Third parties may be held liable for negligence. An experienced Austin work injury attorney can help you seek compensation for your injuries.
Contact Fleming Law today to schedule a consultation and speak to an experienced work injury attorney.
Why Is It Important to Retain an Austin Work Injury Attorney?
Unlike other states, Texas allows companies to opt-out of worker's compensation. The employer's decision to subscribe or opt-out has a direct effect on employees who are injured at work.
Employers must notify their employees if they are a non-subscriber to worker's compensation before they are hired. If your employer is a subscriber at the time of your hiring and decides to opt-out of worker's compensation in the future, you must also be notified of this decision.
When companies choose to opt-out of worker's compensation coverage, they put themselves at a greater risk of being sued by injured employees. In Texas, employers that do not subscribe to worker's compensation insurance can be held liable for 100% of the injured employee's damages.
What Are Some Types of Workplace Accidents?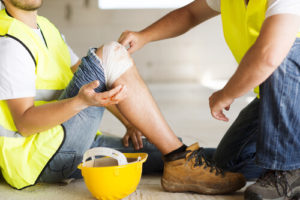 Accidents and injuries can happen in any workplace, even in an office. Some of the most common types of workplace accidents include:
Construction Site Falls
Construction is one of the most dangerous industries for workers in the U.S. In fact, construction workers accounted for 20.7% of all private sector fatalities in 2017, according to the Occupational Safety and Health Administration (OSHA).
Falls are the most dangerous and deadly of construction site accidents, accounting for 33.5% of construction worker deaths in 2018. In non-fatal accidents, injuries are often severe and can cause permanent disability.
Falls at construction sites can be caused by:
Slippery floors
Faulty stairs
Unstable walkways
Lack of guardrails
The higher the fall, the greater the risk of severe injuries and death.
Injuries at a Warehouse or Distribution Center
Warehouses and distribution centers are rife with danger for workers. Injuries can be caused by:
Falling objects, which typically occur because of improper stacking. Human error, negligence, and unsafe working conditions can cause objects to fall and hit workers. Depending on the circumstances of the accident, the injuries can be severe. Concussions, cervical disc herniation, shoulder injuries, and back injuries are commonly caused by falling objects.
Repetitive stress injuries, which can occur when employers fail to rotate employees performing highly repetitive tasks and high piece rates. Chronic pain, carpal tunnel syndrome, and other repetitive stress injuries can have lifelong effects.
Overexertion due to lack of training, poor safety procedures, and unsafe working conditions. Overexertion can cause spinal injuries, shoulder injuries and hernias.
Forklift Injuries
Accidents involving forklifts can be devastating. Injuries may occur due to forklifts overturning, pinning or crushing workers, or running into other objects. These deadly accidents are often the result of poor training, overcrowded facilities, unsafe user operation or faulty equipment.
Commercial Vehicles and Car Accidents
If employees are required to drive a commercial vehicle or perform other duties in company cars, there is always a risk of an accident.
According to the CDC, motor vehicle crashes are the leading cause of work-related fatalities in the United States. In 2013 alone, employers spent $25 billion on work-related vehicle accidents.
Accidents can occur due to:
Work-related car accidents and commercial vehicle accidents may not necessarily be the employee's fault, but negligent parties may be held liable for medical bills, lost wages, and other damages related to the injury.
How Will Your Attorneys Investigate the Accident?
Every workplace accident in Austin is unique. Depending on the circumstances of the accident and the severity of the injuries, OSHA may conduct an investigation.
But what if OSHA doesn't investigate the accident, or you want to make sure that your best interests are being protected?
Fleming Law will conduct its own investigation of the accident. Our attorneys have years of experience gathering accident-related evidence and interviewing key persons, including management and co-workers.
The aim of our investigation is to uncover and gather crucial information related to your case:
Eyewitness accounts of the accident
Surveillance footage of the accident itself and the moments before
Our attorneys will work to find out:
Whether safety procedures were ignored or should have been enforced
If defective equipment increased the risk of accident and injury
Whether equipment operators were properly trained for the job
All of these factors will play an important role in your case and how we pursue compensation.
Visit our Workplace Injury Lawyer offices in Austin, TX

What About Claims Against a Third Party?
Work-related accidents often involve multiple parties. Construction sites, which have one of the highest risks of accidents and injuries, often involve multiple contractors, builders, sub-contractors, and other parties.
If another party's negligence caused your injuries, an Austin work injury lawyer can help you seek compensation for:
Medical care bills
Lost wages
Pain and suffering
Loss of future income
Contact a Work Injuries Lawyer in Austin, TX Today
It is imperative that you choose an experienced work injury attorney who understands your case and how to achieve the best outcome. Your employer's status as a subscriber or non-subscriber to worker's compensation insurance will have a direct effect on your claim.
The experienced attorneys at Fleming Law will give your case the individual attention it deserves and will fight to seek maximum compensation in your work injury case.
Call us today at (512)-877-6804 to discuss your case and how we can help.