Broken Bones Injury Lawyer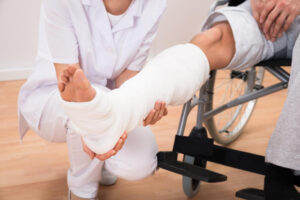 Broken and fractured bones are among the most common and debilitating injuries that result from accidents, often leaving victims with intense pain, long recovery times, and expensive medical bills. But if you suffered broken bones and someone else is to blame, you should not be left to deal with these consequences alone. Instead, you can let the experienced broken bone attorneys with Fleming Law pursue the compensation you need from the person who hurt you.
You have enough on your plate as it is. Our skilled legal team is ready to handle all aspects of your claim, from investigating the incident to negotiating with insurance companies and going to court if necessary. While we do all this, you can focus on your recovery. Call us today or contact us online for a free consultation to learn how we can fight for the compensation you deserve.
What Are the Different Types of Bone Fractures?
There are several classifications of bone fractures that can occur as a consequence of an accident, including the following:
Closed (simple) fractures – The bone breaks, but there is no open wound in the skin.
Open (compound) fractures – The bone breaks and punctures through the skin. Compound fractures pose a high risk of infection.
Transverse fractures – The break is straight across the short width of the bone.
Oblique fractures – The break is diagonal across the bone.
Comminuted fractures – The bone breaks in two or more places.
Greenstick fractures – The bone partly breaks on one side, bending the other. These fractures are more common in children due to their softer bones.
Are There Signs That I Have a Broken Bone?
Some common signs of a broken bone include:
Severe pain at the site of the fracture
Swelling, bruising, or tenderness around the injured area
Inability to place weight on the injured limb
Joint instability or deformity
Crooked limb
Creaking, grinding noises
Numbness or tingling sensation in the injured limb
Seek medical attention immediately if you notice any of these symptoms. But understand that not having these signs does not necessarily mean you are free from injury. The adrenaline your body releases in an accident may mask any pain you might otherwise feel from a fracture. A thorough medical examination by a medical professional can detect hidden bone damage before you begin to feel anything.
What Are the Common Causes of Broken Bones?
Broken bones are a common injury with many different potential causes, including the following:
Car accidents
Motorcycle accidents
Truck accidents
Pedestrian accidents
Slip and falls
Maritime accidents
Refinery accidents
Construction accidents
Assault
How Are Broken Bone Injuries Treated?
Depending on the type and severity of the fracture, medical professionals may treat broken bones by:
Applying a splint at the scene to immobilize the injured bone
Taking X-rays, CT scans, or MRIs to evaluate the fracture
Realigning the bone ends into their normal position
Applying a cast or brace to stabilize the bone while it heals
Surgically implanting plates, screws, rods, or pins to hold the bone in place
Prescribing pain medication and recommending elevation and ice to relieve swelling
During your healing process, your doctor may also recommend limiting your activity. For some people, this can mean missing work for several weeks or months.
How Can the Person Who Caused My Injury Be Held Liable?
When you enlist the services of an experienced personal injury lawyer attorney, they will thoroughly investigate the circumstances of your injury to determine whose negligent actions led to your losses. Your lawyer will then file a claim against the at-fault party or their insurance company. If they are unwilling to offer a fair settlement, your attorney can take the at-fault party to trial to hold them accountable before a judge and jury.
Can I Be Compensated for My Broken Bone Injuries?
If you have been in an accident due to another party's negligence, Texas law allows you to seek compensation for resulting injuries like broken bones. Each case is unique, and the compensation you recover will depend on your individual circumstances. That said, you may be able to claim money for:
Medical expenses, including emergency care, doctor's visits, surgical procedures, medical equipment, and medication
Lost income due to missed time at work
Reduced future income
Pain and suffering
A Texas broken bone attorney can advise you on what you may be eligible to claim in your case.
Is There a Time Limit for Filing a Lawsuit for My Injury?
Texas has a statute of limitations that places a two-year time limit on most personal injury cases, including those stemming from broken bones. This limitation period means you have two years from the date of the accident date to file suit. Otherwise, you may lose your right to pursue compensation. However, this deadline may differ depending on the particular circumstances of your case. Speak with an experienced broken bone injury attorney as soon as possible to ensure you do not accidentally miss your window to seek justice.
Contact a Texas Broken Bone Injury Lawyer
The dedicated legal team at Fleming Law is ready to fight for those who've suffered broken bone injuries in Houston car accidents or other incidents. Our Texas personal injury firm has stood up for injured Texans for over 30 years, helping them get the financial security they need to rebuild their lives. With Board-Certified specialists who have recovered millions of dollars for accident victims like you, we have the resources and skills to handle your injury claim from start to finish. Contact us online or call us today for a free case review with a Texas broken bone injury attorney.