Parking Lot Car Accident Attorney in Houston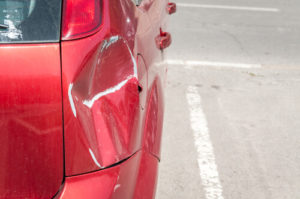 Our law firm knows all too well about the dangers of auto-accidents while walking in a parking garage.
The mother of one of our clients was seriously injured when a car entered a parking garage at an unsafe speed.
The accident report stated that the driver also made an illegal left turn to enter the garage.
These two errors in judgment on the part of the driver, unfortunately, took the life of our client's Mother.
She died a few days later in the hospital.
Car accidents in Houston parking lots are quite common and can cause very serious injuries or death.
When driving in a parking lot or garage, automobile drivers are under a duty to do so in a reasonably prudent manner.
When people fail to drive safely in parking lots, accidents are bound to happen. Car accidents in private parking lots often occur because of:
Speeding
Failure to keep a proper lookout while backing out of parking spaces
Not yielding to cars with the right-of-way
Driver inattention such as texting or using the phone
Improperly marked lanes
Dangerous driving by valet drivers and parking attendants
Driver inattentiveness is to blame for countless accidents and injuries each year in Texas including those that occur inside parking garages. One out of every five accidents involving a vehicle occur in a parking lot.
While some of these are two-car crashes, a staggering amount of pedestrians are hit or even killed by cars while in parking garages.
Many accidents in parking garages result from drivers' and pedestrians' false sense of security that other drivers will drive more slowly and take additional precautions. This is not always the case. Drivers often fail to ensure nothing, including another vehicle or person, is behind them before reversing out of a parking space.
Drivers also fail to take caution against pedestrians walking out into the lane of traffic from behind a parking vehicle. Many parking garages also lack the proper signage to delineate the directional flow of traffic or pedestrian walkways.
A recent report revealed that, of the accidents occurring annually in parking garages, 13% result in pedestrian fatalities. In addition, 22% of children (9-5 years old) who were killed in traffic accidents were pedestrians in a parking garage. These stats are similar in Houston and throughout Texas.
Parking garages are often on private property and operated by private companies. The general public as well as valet companies and their drivers frequently use parking garages. The sheer number of persons within a parking garage structure at any given time can make navigating a stressful situation.
Valets and Parking Garage Accidents
Valet drivers in big cities like Houston are often under pressure to perform their driving tasks quickly to increase productivity for their employers.
Unfortunately, this also often forces the valet or employee to multitask, therefore removing their attention and eyes from the road, and thereby increasing the likelihood of accidents through negligence and placing pedestrians and other drivers in danger.
There are many distractions on valet drivers while operating their vehicles within a parking garage including pedestrians, traffic signs/signals, and other traffic. Bad lighting and poorly marked crosswalks or directional instructions can complicate things even more.
Things inside their vehicle including children, cell phones, and radios can also distract drivers. In removing your eyes from the road for just one second when traveling 19 miles per hour, your vehicle has traveled 28 feet. It only takes a second for a life to be changed forever.
What We Will Do For You
A swift investigation of a parking lot car accident is important in many cases. Sometimes, surveillance footage may be available for a limited time. It is critical to secure this evidence as it is used to prove it.
Our lawyers will work quickly to contact and interview:
Eyewitnesses
Valet or management staff
Law enforcement officials and first responders
If you or a loved one has been the victim of an injury caused by the negligent actions of another, contact Houston accident lawyer and personal injury lawyer Fleming Law today.
Can I sue if I was hit by a car in a private parking lot?