Rollover Accident Attorney in Houston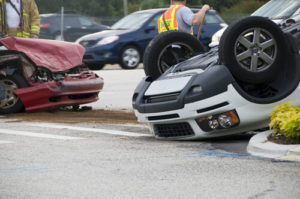 A rollover accident is a type of car crash which occurs when a vehicle tips over onto its side or roof. Rollovers are typically among the most serious types of car accidents. They often result in catastrophic injuries or even death. While driver negligence often serves as the cause of rollover crashes, defectively designed or manufactured vehicle or vehicle parts can also contribute to them.
If you or a loved one were injured in a rollover car accident in the Houston area, you may be entitled to financial compensation. It's important that you speak with an experienced Houston car accident lawyer who can analyze the accident and determine if any defects caused the crash and your injuries.
At Fleming Law our skilled car accident lawyers in Houston apply their vast knowledge and experience when handling rollover injury claims. We have all the necessary resources to help you in your recovery. Contact us to schedule a free and confidential consultation and learn more about how we can assist you.
Who Is At Fault in a Rollover Car Accident?
In many cases, a negligent driver is at fault in a rollover car accident. Some common types of negligence which lead to these crashes are:
Loss of control – A leading cause of rollover accidents is the driver losing control of the vehicle. Texting, eating, falling asleep at the wheel and other forms of distracted driving can lead to a driver losing focus and control. Striking a curb, for example, may throw a vehicle off its center of gravity. This can easily cause the vehicle to roll over.
Dangerous maneuvers – Aggressive driving, including risky maneuvers like taking sharp turns at high speeds, is a common cause of rollovers. Fast and dangerous maneuvers like this can create friction between the tires and the road, causing the automobile to flip over.
Automotive defects – An automaker could have made faulty components that led to your injury. Large vehicles like trucks and SUVs may be able to hold more people, but they also have a higher center of gravity, making them more prone to tipping over. The poor or inadequate design could cause a vehicle to roll over after a relatively minor crash or even during routine driving. Additionally, components like airbags, seat belts, roll bars, and stability controls can fail to protect you from injury when a rollover crash occurs. If your car had defective safety features or faulty components, you may be able to file a product liability claim against the manufacturer.
Poorly designed or maintained roads – Road planners and maintenance officials could be named in a lawsuit if road conditions were a factor in your rollover accident. Lack of warning signals, potholes, sharp curves, and uneven roads could cause a vehicle to tip over during a turn. Broken or missing guardrails may also be a factor in rollover accidents.
How Do You Prove Liability in a Rollover Car Accident?
To prevail in a rollover accident claim, you must prove that another party's negligence caused your accident. Fleming Law can help you determine who is liable for your accident and investigate it to determine causation.
For example, a driver may drift into your lane, causing you to swerve out of the way in order to avoid a collision. You may lose control of your vehicle, which causes it to roll over. That driver will most likely be liable because the driver caused the accident to occur. However, because the driver did not actually make contact with your car, establishing liability may be difficult. That's why it is crucial to hire an experienced rollover accident lawyer to represent you.
Tools an attorney can use to help prove liability include:
Witness testimony
Photos
Surveillance footage
A police report.
Proving negligence and liability is not a job for a non-lawyer. Allow a skilled car accident injury lawyer to handle the complexities of your case, including investigating the accident, collecting evidence, and putting together the strongest claim possible for you.
Do I Need a Lawyer After a Rollover Accident?
While you are not required to hire an attorney after a car accident that was not your fault, doing so can help you to pursue full and fair compensation. After an accident, you may have to get your car repaired, see a doctor for medical care or miss work due to your injuries. A car accident attorney can protect your rights during this difficult time and allow you to focus on what's most important – your health and recovery.
When you hire Fleming Law for your rollover accident case, you will work directly with your attorney rather than an assistant or paralegal. Our skilled lawyers will give your case and your needs the close attention they deserve. Our lawyers work on a contingency fee basis as well, which means you will owe us nothing unless we secure compensation for you.
How Much Can I Recover After a Rollover Accident?
Whether you are seeking compensation from a car manufacturer, government agency or negligent driver, it is critical that you understand the potential value of your claim. Accepting a low settlement that does not cover your losses will prevent you from pursuing additional compensation in the future.
Depending on the extent of your injuries, you may be able to seek compensation for damages that include:
Medical bills
Rehabilitation
Scarring or disfigurement
Lost wages
Loss of earning capacity
Loss of enjoyment in life
Pain and suffering
Mental anguish.
If a family member died in a rollover accident, you may be able to pursue a wrongful death claim. Punitive damages may also be available in exceptional cases in order to punish and deter certain types of conduct which leads to rollover crashes.
Contact a Houston Rollover Accident Attorney Today
The rollover car accident attorneys at Fleming Law have decades of experience with helping crash victims all around Houston. Attorney Michael P. Fleming and his top-notch legal team are dedicated to protecting your rights and pursuing all compensation that you are entitled to receive. To schedule a free, no-obligation consultation with our experienced attorneys, contact us today.
If you were injured in a rollover accident, contact lawyer Fleming Law.