Conroe Car Accident Attorney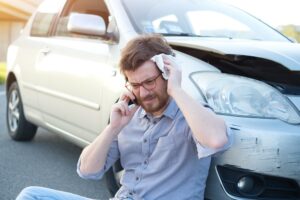 Car accidents happen every day. When they do, the consequences range from frustrating to catastrophic. Victims are frequently left with debilitating injuries and enormous medical bills. Fortunately, they do not need to face the challenges alone.
At Fleming Law, we are dedicated to helping auto accident victims understand their rights and fight for the compensation they deserve. Our team of experienced injury attorneys is ready to handle your case from start to finish. Contact our office for a free consultation with a Conroe car accident attorney.
Should I Get a Lawyer for a Minor Car Accident?
Many people involved in "minor" car accidents wonder — perhaps skeptically — whether they need legal representation. At the end of the day, it is up to you whether your case is handled with or without the benefit of an experienced attorney looking after the details and making sure your rights are protected. However, hiring a reputable car accident attorney will significantly increase your chances of securing compensation for your injuries and other losses.
Even relatively simple car accident case can benefit from the attention of an experienced lawyer. For example, though a rear-end collision at a stop sign might seem like a minor accident, it can result in whiplash, concussions, broken bones, and many other serious injuries. In many cases, these injuries will require long-term medical treatment and physical therapy. Meanwhile, you may be left paying for costly medical bills and unable to work due to your injuries.
Ultimately, there is little downside to consulting with an experienced personal injury attorney. At Fleming Law, we offer 100% free initial consultations — you pay nothing unless we win your case. Our attorneys can evaluate your case, explain your legal options, and identify all potential sources of compensation to maximize your financial relief. A simple phone call can make sure you are off to a good start on the road to compensation. Call us today.
What Does a Car Accident Lawyer Do?
At Fleming Law, we are here to make sure no injury victim is left facing the aftermath of their car accident alone. We handle each accident on a case-by-case basis and provide compassionate representation tailored to each client's needs. Among other things, our attorneys will:
Offer you a free initial consultation in which they evaluate your case, address your preliminary questions, and explain the options available to you
Investigate the accident to determine who is at fault for your injuries and other losses
Gather evidence to prove the extent of your injuries and the at-fault party's liability
Interview witnesses and experts who can substantiate your case
Negotiate with insurance companies for a fair and full settlement
Fight for you in court if a reasonable settlement cannot be reached
What Compensation Can I Recover?
If you were injured in a car accident, you might be eligible for a wide range of compensation. Our attorneys can help you secure compensation for the following:
Medical costs
Lost income
Lowered earning capacity
Permanent disfigurement and disability
Pain and suffering
Lowered quality of life
Funeral and burial expenses
Wrongful death
Property damage
How Long Do I Have to File a Car Accident Lawsuit in Texas?
All personal injury cases are governed by a statute of limitations. This law sets a deadline after which you may no longer file a case seeking compensation for your injuries in court. In Texas, the deadline for personal injury cases is set at two years from the date of the accident.
This deadline is strictly enforced. If you do not file your case before it passes, it will likely be dismissed, and you will miss your opportunity to seek compensation in court. Therefore, it is crucial that you speak to a lawyer as soon as possible after a car accident so they can get started on your case right away. The attorneys at Fleming Law are a phone call away and ready to evaluate your case.
What Should I Do After a Car Accident?
Understandably, many of our clients arrive at our office frustrated and disoriented after going through a car accident. If you have been in an accident and feel this way too, there are some proactive steps you can take to protect your right to compensation. Consider taking the following steps:
Exchange information – Identify all drivers involved in the crash. Collect their names, contact information, driver's license numbers, license plate numbers, insurer names, and policy numbers. Also, identify any witnesses present at the scene and collect their contact information as well.
Gather evidence – If possible, you should visually document the scene of the accident. Using your phone, take pictures and videos of your injuries, damaged vehicles, weather conditions, road conditions, signs of impaired driving, and surveillance cameras that may have captured the moment of the accident.
Seek medical attention – See a doctor as soon as possible after a crash. Of course, some accidents are life-threatening and demand immediate medical attention. However, some injuries do not appear until some time has passed after the accident. These "latent" injuries can be as serious as those that appear immediately and should also be diagnosed and treated by a doctor.
Be candid with your doctor – Your doctors will document your injuries and treatment. These records will later be used to prove the extent of your injuries, pain, and suffering. In turn, this will be used to calculate your compensation. Therefore, it is very important that you do not leave anything out. Even minor injuries will ultimately translate to compensation.
Keep a pain journal – Keep a daily journal of the physical and emotional pain you experience because of your injuries. This can help illustrate the true impact the accident has on your life, as well as help your attorney explain your pain and suffering at the negotiation table and in court.
Avoid posting on social media – Insurance adjusters may scour your social media for evidence that could invalidate your claims. Therefore, be cautious about what you share. Anything you say can be used against you.
Contact an attorney – Speak to an experienced personal injury attorney as soon as possible after your accident. When dealing with insurers, do not give recorded statements, admit fault, or accept any settlement offers before obtaining legal representation.
Contact a Conroe Car Accident Lawyer
You do not have to handle the aftermath of an auto accident alone. At Fleming Law, we have the experience and resources to help you pursue the compensation you deserve. Let our Conroe car accident lawyers fight for you. Call us today for a free consultation.