Motorcycle Accident Lawyer in Cypress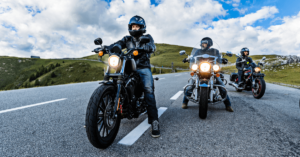 If you obey the rules of the road and ride your motorcycle with reasonable care, you can normally count on getting to your destination safely. Sadly, however, the negligence of other drivers means the risk of an accident is never reduced to zero. Motorists in Cypress and throughout Texas often fail to safely share the road with motorcyclists, leading to dangerous collisions and serious injuries.
At Fleming Law, we are committed to helping motorcycle accident victims and their families hold negligent drivers accountable and secure the legal compensation they deserve. If you were injured in a motorcycle accident caused by another motorist, our experienced legal team is ready to review your case and advise you of your legal rights and options. Contact us today for a free consultation.
Motorcycle Accident Statistics
Every year, thousands of motorcyclists and passengers die in auto accidents across the country. According to the National Highway Traffic Safety Administration (NHTSA), there were 5,579 fatal motorcycle crashes in one recent year, the highest number since 1975.
Many people wonder whether helmets are required when riding a motorcycle. In Texas, motorcyclists can ride without a helmet if they are at least 21 years old, have proof of a training or safety course, and have health insurance.
Although wearing a helmet is not required by law, all motorcyclists are strongly encouraged to wear one. NHTSA estimates that wearing a helmet reduces motorcyclist fatalities by 37 percent and all passenger fatalities by 41 percent. According to the Texas Department of Transportation (TxDOT), 483 people died in motorcycle crashes in Texas in a recent year. Nearly half (236) were not wearing a helmet.
Common Causes of Motorcycle Crashes
Motorcyclists, like all road users, can make mistakes that lead to accidents. However, in our decades of experience representing the rights of injured motorcyclists and their families throughout Texas, we have found that these accidents are normally caused by drivers of other vehicles. Some of the most common causes of motorcycle accidents include:
Aggressive driving, especially speeding
Distracted driving
Impaired driving
Failure to yield the right of way
Lane splitting
Hazards on the road
"Dooring" (opening the door of a parked car as a motorcyclist passes by)
In most cases, motorcyclists and their passengers suffer the most serious injuries, including things like traumatic brain injuries, spinal cord injuries, and broken limbs.
How Is Fault Proven in a Motorcycle Accident in Texas?
Another driver, a business, or even a government agency may be held accountable for the economic and emotional harm they cause in a motorcycle accident. In some cases, multiple parties may be responsible.
To secure compensation for injuries and losses sustained in a motorcycle accident, you must normally prove by a preponderance of the evidence that the at-fault party caused the accident. For example, you could prove that the other driver failed to yield before turning, that a manufacturer produced a defective part, or that a municipality failed to keep the condition of a road, bridge, or railroad crossing safe.
When investigating motorcycle accidents, our legal team gathers as much information and evidence as possible to prove who was at fault. Relevant evidence normally includes things like:
Police reports
Statements from eyewitnesses
Photographs from the scene of the accident
Footage from surveillance cameras in the area
Recordings from cell phones
Alcohol and/or drug test results
Unfortunately, evidence can deteriorate or disappear quickly after an accident. Therefore, it is important to contact an experienced motorcycle accident attorney early on. At Fleming Law, we are ready to conduct a thorough, independent investigation into your accident and build a strong claim on your behalf.
What Damages are Available in a Motorcycle Accident Lawsuit in Cypress?
When investigating a motorcycle accident, we also gather evidence of the financial and emotional damages it caused. To get a complete picture of the harms you sustained, we review things like medical records, employment records, and receipts for any expenses incurred as a result of the accident. All of this information can be useful in determining the full and fair compensation you deserve, which may include reimbursement for:
Medical expenses
Lost income
Reduced future earning potential
Pain and suffering
Emotional distress
Lowered quality of life
Repair or replacement cost for damaged personal property
What If Someone Dies in the Motorcycle Accident?
Money will never make up for the tragic loss of someone we love. However, a wrongful death lawsuit can result in compensation that helps ease the financial burden caused by a fatal motorcycle accident. Surviving family members may be reimbursed for lost financial support and household services, as well as the loss of the care and companionship their loved one provided.
Is There a Deadline for Filing a Lawsuit after a Motorcycle Accident in Cypress?
To preserve your right to compensation after a motorcycle crash in Texas, you must file a lawsuit within two years after the accident. If you miss the deadline, your case will most likely be dismissed in court. Not only will this eliminate your legal right to compensation, but it will also destroy your bargaining power in out-of-court settlement talks with the at-fault party. To make sure you comply with the all-important deadline, consult with an experienced injury attorney as soon as possible.
What Should You Do after a Motorcycle Accident in Cypress?
After a motorcycle accident, your first step should be to seek medical treatment. Injuries sustained in these accidents can be extremely serious, and having them evaluated by a doctor early on is the best way to get your case started on the right track. In addition, doing so will prevent insurance adjusters from arguing that your injuries were not as serious as you claim or that they were not caused by the accident.
Your next step should be to contact an attorney experienced in handling motorcycle accident claims. While you focus on recovering from your injuries, Fleming Law can thoroughly investigate your accident, build a solid claim, negotiate with insurers, and take your case to court if necessary.
Get Help from an Experienced Motorcycle Accident Lawyer in Cypress
If you were injured in a motorcycle accident in Cypress, Fleming Law is ready to fight for the full and fair compensation you deserve. With decades of experience defending the rights of injury victims throughout Texas, we are ready to help you too. Contact us today for a free, no-obligation consultation.