Daycare Injury Lawyer in Houston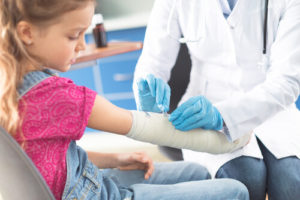 The Houston daycare injury lawyers at Fleming Law have years of experience investigating and prosecuting claims on behalf of children and their parents. We are constantly shocked by the negligence exhibited by childcare workers that are entrusted with the safety of children. Our daycare injury lawyers are dedicated to aggressively investigating and pursuing claims for injuries to children caused by careless daycare operators in Houston and throughout Texas.
If your child has been injured due to the negligence ( or abuse) of a daycare or its employees in Houston or anywhere in Texas, contact the daycare injury lawyers at Fleming Law today.
Childcare facilities and in-home daycare/childcare providers are bound by the law to safeguard your child at all times. First of all, everybody taking care of a child has a duty to properly supervise and protect him or her from injuries. This means proper monitoring and keeping all dangerous items out of the reach of infants and bigger children. In the state of Texas, daycare facilities and their workers are required to meet minimum standards for child care and licensing.
Texas State Law Regulations to Prevent Daycare Injuries
Texas state law requires that certain minimum standards be implemented and followed by daycare centers including:
Proper supervision of children and babies
Age-appropriate games and sporting activities
Training of staff
Qualifications of staff
The ratio of caregivers to children
Sanitation
Special procedures for infants and special needs children
Diet
Abuse or neglect of a child at the hands of a caregiver can have an everlasting effect on a child's mental and physical well-being. As parents, we make difficult decisions every day regarding our children, especially regarding childcare. As the number of dual-parent working households increases, so too does the number of children in out-of-home childcare. Contact our daycare lawyer today.
Daycare Injury Attorney in Houston
As of 2012, there were close to 11 million children in childcare programs across the nation. A recent survey by the National Institute of Child Health Development rated the majority of these childcare facilities as "poor" or "fair." Often times the staff of these facilities is underpaid, overworked, and ill-trained to care for the children entrusted to them. Daycare injury lawyers can evaluate the training and staffing of these facilities.
My child was injured while in daycare. Who can I call?
In Texas, the Department of Family and Protective Services Child Care Licensing regulates the licensing and operation of childcare facilities. In 2015, there were over 24,000 home-based and daycare centers operating throughout the state. DFPS Child Care Licensing promulgates minimum safety standards of childcare facilities as well as the appropriate training and professional development of caregivers as developed in conjunction with child development, safety, and education experts. Get in touch with our childcare injury lawyer today.
What Should I Do When Considering Childcare In Texas?
When making your decision regarding childcare, do your research. Consult the Texas Department of Family and Protective Services' website where you can access online databases of facilities' reporting history as well as research the regulations and licensing requirements of the various types of childcare facilities in Texas. If your child is injured while in the care of a facility, contact a daycare injury lawyer to investigate and protect your child's rights.
What Are Some Signs Of Possible Caregiver Abuse?
Abuse is not always physical. Mental abuse can also occur in the hands of a caregiver. The effects of neglect and/or abuse by a caregiver may exhibit themselves in many different ways. You may notice unexplained bruises or scrapes.
Your child may suddenly withdraw or begin exhibiting uncharacteristic emotional outbursts. In addition, a victim of abuse or neglect may begin to exhibit aggressive behavior or troubling sleeping and nightmares. Your child may come home hungry or lethargic from lack of nourishment while at daycare. Regardless of the severity, any injury to a child can be stressful and expensive to parents.
Hold those responsible accountable for their actions. If your child is a victim of child abuse or neglect in a childcare facility, call a board-certified personal injury trial and wrongful death lawyer today.
Contact Our Experienced Houston Daycare Injury Attorneys Today for Help
When daycare workers deviate from the requirements of state law or otherwise act negligently in caring for children, serious consequences can result. Babies and children can suffer broken bones, burns, choking, cuts, bruises, scars, and death when their handlers are careless or neglectful. If your child has been abused, neglected, or injured in daycare, childcare, or in-home babysitting operation, you need qualified personal injury and wrongful death lawyers to investigate the cause and protect your child's rights.
Call the Houston Daycare Injury Lawyers at Fleming Law now for a free consultation.