Galveston Car Accident Attorney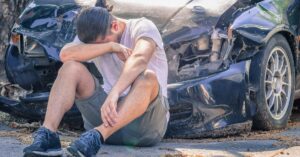 Did you get hurt in a car accident in Galveston? Are you struggling to pay your bills and keep up with a litany of medical bills and other expenses? If so, you need help from an experienced injury lawyer who can pursue compensation from the person who harmed you.
At Fleming Law, our legal team helps Texans get maximum compensation and justice after suffering devastating injuries. We understand how a motor vehicle accident can turn your life upside down. Let us help you obtain the money you need to recover from your injuries and rebuild your life. Contact us today for a free consultation with a Galveston car accident attorney.
Car Accident Statistics
According to the National Highway Traffic Safety Administration (NHTSA), annual traffic fatalities in the U.S. have increased dramatically in recent years. The most current data estimates 42,915 people died in auto collisions in a recent year, a 10.5 percent increase from the prior year. This figure represents the highest number of nationwide traffic deaths since 2005 and the largest year-over-year increase in car accident fatalities since NHTSA began collecting data. These aren't just statistics — they represent a tragic and preventable loss of life.
The Lone Star State experienced a rise in traffic deaths, too. Statistics from the Texas Department of Transportation (TxDOT) show that in a recent year:
There were no deathless days on Texas roads.
One person died every hour and 57 minutes.
A person got hurt every two minutes and 12 seconds.
A crash occurred every 57 seconds.
There were 1.56 deaths for every 100 million vehicle miles traveled in Texas, a four percent increase.
A total of 4,489 people died on Texas roads, a 15 percent jump from the year before.
Most people died in alcohol-related crashes, with 1,077 fatalities.
Intersection accidents were the second deadliest type of car accident in Texas, with 1,037 deaths.
Over 600 people died in head-on collisions.
More than 430 people were killed in distracted driving accidents.
A total of 239,539 people sustained injuries in Texas traffic accidents. More than 19,400 suffered serious injuries.
In Galveston alone, there were 1,847 traffic accidents that year, which resulted in 792 reported injuries and nine fatalities.
How is Liability for a Car Accident Established in Texas?
When you file an injury claim after a Galveston car accident, you must prove the other party is liable for the crash and your injuries. An experienced attorney can identify, preserve, and submit the following types of evidence as part of your claim:
Police crash reports
Photos of vehicle damage, the crash scene, and visible injuries
Video footage of the collision from traffic cameras, local businesses, or dashcams
Eyewitness statements
Expert testimony from accident reconstruction specialists, doctors, accountants, and vocational rehab representatives
Cell phone records and GPS data from the at-fault driver
Some evidence, such as cell phone records, can be challenging for a private individual to obtain without legal help. A seasoned car accident attorney can subpoena this evidence to substantiate your claim for compensation.
What Happens if I am Partly Responsible for the Accident?
You can still file an injury claim and seek compensation if you are partially at fault for a car accident. However, Texas's modified comparative negligence law will come into play. Under the comparative negligence rule, you cannot recover compensation for your losses if you are more than 50 percent at fault.
In addition, the amount of money you receive for your losses will be reduced in proportion to your percentage of fault. For instance, if you were 25 percent at fault for a crash that caused you $100,000 in losses, the most you could recover would be 75 percent of the award, or $75,000.
What Types of Compensation are Available Through a Car Accident Claim?
If your auto accident claim is successful, you could recover monetary compensation for crash-related losses like:
Medical expenses
Rehabilitation
Out-of-pocket costs, like expenses related to medical travel, home health care, and household services
Lost wages
Projected losses in earning capacity
Pain and suffering
Lost quality of life
Punitive damages
What is the Time Limit for Filing a Car Accident Lawsuit?
You have just two years from the car accident date to file a car accident lawsuit. It's crucial to file your claim before the deadline expires. Otherwise, you could lose your right to compensation forever.
This time limit applies to your case even if you never intend to sue. Your attorney will work to obtain a full and fair settlement from the insurance company before filing suit. Your ability to take the other side to trial is your strongest bargaining chip during any out-of-court settlement negotiations. The Galveston car accident lawyers at Fleming Law can help you determine how the Texas statute of limitations might impact your case.
What Should I Do After a Car Accident?
Follow these steps to protect your right to seek compensation after a car accident in Galveston:
Check yourself and others for injuries.
Call 911 to bring police and paramedics to the accident scene.
Gather evidence from the crash site, such as photos, videos, and insurance information for the driver(s) involved.
Seek medical attention as soon as possible if you don't require emergency care.
Follow your doctor's prescribed treatment plan.
Keep track of crash-related documentation, including medical bills, pay stubs, receipts, and invoices.
Report the accident to your insurance company. Only tell them the date, location, and time of the crash. Do not mention injuries or fault.
Watch what you say or post online about the crash.
Consult a knowledgeable Galveston car accident lawyer.
Contact Our Galveston Car Accident Attorneys
Need legal help after a car crash? Let Fleming Law handle your case while you focus on your health and well-being. Contact our firm today for a free consultation with a car accident lawyer in Galveston.