How to File a Car Accident Claim with Allstate in Texas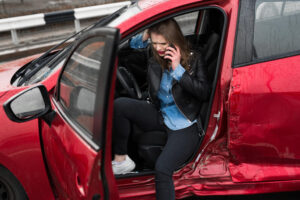 The car accident claims process can be stressful. But you don't have to go through it alone. An experienced car accident lawyer at Fleming Law can help you understand your options and demand the compensation you deserve. Our team has over 100 years of combined experience helping Texans like you recover the money they need for accidents that weren't their fault. Contact us today for a free case review to learn how we can help with your Allstate car accident claim.
How Should I Prepare for Filing My Claim?
Preparation is essential when filing a car accident claim with Allstate. After the accident, record as much relevant information as possible, including:
Time and location of the crash
Weather conditions
Contact information of all involved parties, including any witnesses
Pictures of the vehicles involved
Pictures of any visible damage to the vehicles or other property
Pictures of any visible injuries to you or your passengers
You should also request copies of any crash reports related to the incident. If you sustain any injuries in the accident, seek medical attention right away and keep copies of your medical records.
Allstate Claim Software
Most large insurance companies utilize software programs to assist them in determining claim settlements. Allstate uses a software program called "Colossus" to handle claims. The company says that the software is intended to streamline the claims process and make processing faster and more efficient. However, some people disagree. While it may make the claims process faster for them, it also is designed to provide less money to customers.
Colossus utilizes data input about various types of claims to determine a typical amount that an accident of a certain type should be worth. Although Allstate claims that they use other factors along with the recommendation from Colossus, it may not always be the case. Some new adjusters and others may rely more heavily on Colossus to guide them in determining the value of a claim.
How to File a Claim with Allstate
If you were hurt in a car accident in Texas, you might have to file a claim with Allstate. You can start by using Allstate's mobile app or online portal to make an account and file the claim. You can also call Allstate directly at 1-800-ALLSTATE to begin the process by phone. You can also file a claim with Allstate online.
They will assign the claim to an adjuster for your case. The adjuster will contact you to request information. Only injuries that are documented and properly coded will be entered into the system. Once all of the necessary data is entered, the computer will generate a settlement range. Some Allstate customers have reported having difficulties in cases where there was a low-impact crash.
Once you file your claim, you will need to answer questions about the accident. Be honest and thorough, but never admit fault for the wreck. Be cautious when answering questions about what you were doing earlier in the day or right before the crash. The adjuster could use anything you say to shift the blame and devalue your accident claim.
Allstate has been known to fight some of these types of claims, particularly because low-impact crashes most often affect soft tissues. These injuries can be more difficult to prove. Allstate has been known to settle some of the cases against them once a lawsuit was filed. The company is more likely to settle for a fair amount once they realize that the case will go to court. An experienced car accident attorney will protect your rights and negotiate with the insurance company. If a fair settlement cannot be reached, the matter may need to go to trial.
If you were seriously injured and need to file a claim with Allstate, it is a good idea to have a qualified legal team on your side. Contact the experienced injury attorneys at Fleming Law to schedule a free consultation today at 737-201-0543.
Should I Provide a Written or Recorded Statement to Allstate's Adjuster?
You should never give a written or recorded statement to an Allstate adjuster without first consulting a Texas car accident lawyer. The adjuster might try to get you to provide information they can use against you later in the claims process.
Even if an adjuster's tone is friendly and polite, remember that their job is to minimize the amount of money Allstate must pay you. It's best to speak with an attorney before you communicate with Allstate about the accident – or better still, to have your lawyer communicate with Allstate on your behalf.
Do I Have to Provide Medical Records to Allstate?
If you are filing a car accident claim with Allstate in Texas, you will likely need to provide medical records for any injuries you sustained in the accident. This includes records of things like your:
Emergency care
Imaging, lab work, or another testing
Physician notes
Physical therapies
Specialist visits
Any other treatment related to the accident
When providing medical records to Allstate, only give records on care directly related to your crash injuries. Providing Allstate full access to your medical records or healthcare information unrelated to the accident could cause unnecessary delays or even give the adjuster what they need to deny your claim.
Can a Higher Settlement Be Negotiated?
The amount of compensation you can get for your car accident claim will vary depending on factors like the severity of your injuries and the amount of damage done to your vehicle. And if a settlement offered by Allstate is too low, you can always negotiate for a higher amount.
Remember that Allstate is ultimately a business – and the goal of every business is to protect its bottom line. Insurance companies do this by minimizing how much money they pay for claims. That's why you should always work with an experienced Texas car accident lawyer when filing a car accident claim with Allstate. Your lawyer will have extensive knowledge of Texas law and use their skills and resources to protect your interests.
Is There a Deadline for Reporting the Accident to Allstate?
If you get hurt in an accident as an Allstate policyholder in Texas, you should report it to Allstate as soon as possible. Allstate requires policyholders to report accidents promptly, though specific deadlines can vary depending on the policy. If you wait too long to notify Allstate after an accident, an adjuster could use it as an excuse to undervalue or deny your claim.
Contact a qualified Texas car accident lawyer if you need help filing a car accident claim with Allstate. Your attorney can help you review your insurance policy to identify important deadlines and handle your case quickly and efficiently.
Is There a Deadline for Filing a Car Accident Claim in Texas?
In Texas, you generally have two years from the date of an accident to file a personal injury lawsuit against an at-fault party. However, this rule has some exceptions that can extend the deadline. The timeline could also be shorter in some cases, such as accident claims involving government liability.
The time limit for your accident claim can vary depending on the circumstances. But a missed deadline could prevent you from demanding a fair recovery. That's why working with a knowledgeable Texas lawyer is essential after an accident. Your lawyer can determine which laws and legal deadlines apply to your situation and keep your case on track from day one.
Contact a Texas Car Accident Lawyer
Were you hurt in a car accident and need to file a claim with Allstate? Then speak with the experienced team at Fleming Law right away. Our attorneys understand the unique issues and complexities of filing an Allstate insurance claim after a car accident in Texas. We're here to pursue the best possible outcome for yours. We can handle all the legal legwork for your claim, negotiate hard for the settlement you deserve, and represent you in court if necessary. Contact us today to learn more during a free consultation.