How to File a Car Accident Claim with Nationwide in Texas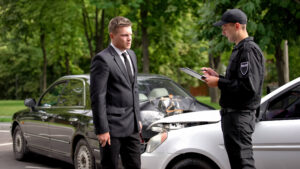 Nationwide is famous for the slogan, "Nationwide is on your side." But if you need to file a claim with Nationwide, prepare for them not to take your side. You should always work with an experienced lawyer who can stand up to Nationwide and demand the compensation you deserve after a car crash.
Like other insurance providers, Nationwide is primarily concerned with its own bottom line. That means you and your recovery come second. When you work with the car accident lawyers at Fleming Law, you can count on us to ensure your needs always come first. Contact us today for a free initial case evaluation to learn more about how we can help after a Texas car accident.
How Do I Contact Nationwide's Claim Department?
If you have a car accident claim, you can contact Nationwide by:
Calling the Claims Department at 1-800-421-3535

Using the

claim reporting tool

on the website

Downloading the

Nationwide app

on Apple or Android devices

Contacting the at-fault driver's agent directly
Are There Certain Things I Should Not Say to the Adjuster?
When you talk to an adjuster from Nationwide, you should avoid making certain statements that could jeopardize your car accident claim. Examples of things you should not say to a Nationwide insurance adjuster include the following:
"I'm doing fine" –

The adjuster might start a phone call by asking, "How are you doing?" That might seem like an innocent question. But if you respond with "I'm fine," the adjuster might assume you haven't suffered any crash injuries.

"I didn't see the other driver" –

Don't make statements that might seem like an admission of carelessness or fault, such as saying you didn't see the other driver or that you ran a red light.

"I can't pay my bills" –

If you admit to experiencing financial difficulties after a car accident due to mounting medical bills or lost income from not working, the adjuster might assume you're desperate and try harder to pressure you into accepting a quick settlement. The insurance company's first offer rarely provides full financial recovery for your ongoing and expected losses.

"I'll sign a medical release" –

An adjuster might insist that they need you to sign a medical release. But they really want to comb through your medical history for any preexisting injuries or conditions they can cite as the cause of your injuries to deny your claim.

"I'll give a recorded or written statement" – The adjuster might also ask you to provide a statement for your claim. However, they will likely ask you questions designed to get you to undercut your own claim. You should never agree to give a written or recorded statement until you've consulted a lawyer.
How Long Can It Take for Nationwide to Investigate My Claim?
Nationwide could take several weeks to months to investigate a car accident claim. It all depends on the case's complexity.
Insurers sometimes spend extra time investigating a car accident claim as a tactic to convince a car accident victim to accept a lower settlement. However, other factors could affect how long it takes Nationwide to complete its investigation of a car accident. These factors include:
The claims adjuster's caseload –

Insurance adjusters might handle dozens or hundreds of cases at once. It could take weeks before the adjuster gets around to investigating and reviewing the facts of your car accident claim.

The complexity of the evidence involved –

A car accident case that involves complicated evidence will take longer to investigate. For example, Nationwide may suspect that the accident occurred due to a manufacturing defect. To prove this, the insurance company might hire engineering experts to examine the vehicles for evidence – which could take some time.

The number of potentially at-fault parties –

Nationwide might need more time to investigate a car accident if multiple parties bear responsibility for the crash.
How quickly you respond to requests for more information – Nationwide's adjusters might contact you for additional documents or information during their investigation. You can speed up the insurance company's investigation by responding to these requests promptly.
What Steps Should I Take Following a Car Accident in Texas?
You can put yourself in the best position to pursue a car accident claim with Nationwide by taking the following steps after an accident:
Take photos of the accident scene, including damage to the vehicles involved, skid marks on the road, nearby traffic signs, and local weather conditions.

Report the accident to law enforcement and request a copy of the police accident report.

Seek prompt medical attention to have a doctor diagnose any injuries you might have suffered.

Follow your doctor's care plan. Do not skip any treatments or follow-up appointments.

Notify your auto insurance provider about the accident.

Keep copies of any bills or invoices for medical care, car repairs, or other crash-related losses.

Gather your pay stubs or income records to calculate your lost wages if you miss time at work.

Write down your recollection of the accident and start a journal to document the pain, emotional distress, or physical difficulties you experience due to your injuries or treatment.

Contact a Texas car accident lawyer as soon as possible to get help with pursuing a car accident claim with Nationwide or any other insurance company.
What Is the Statute of Limitations for Filing a Car Accident Claim in Texas?
Texas law gives you only two years to file a lawsuit after a car accident. Filing a lawsuit after the two-year deadline could result in the court dismissing your case, eliminating your right to demand compensation from the at-fault party. This is why it's in your best interests to get help from a knowledgeable lawyer who can keep your case on track after a car wreck.
Contact a Texas Car Accident Lawyer
If you got hurt in a Texas car accident and must file a claim with Nationwide, contact Fleming Law today for a free, no-obligation consultation. Let our firm stand up to Nationwide on your behalf and demand the compensation you deserve for your losses.