Katy Car Accident Attorney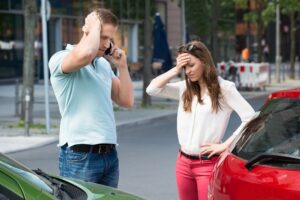 Thousands of drivers pass through Katy every day. When they cause accidents, injury victims are likely entitled to compensation and should speak to a car accident attorney as soon as possible. Among other things, they may be compensated for their medical bills, pain, and suffering.
At Fleming Law, we have over three decades of experience helping Texans secure full and fair compensation for injuries sustained in auto accidents. While you focus on recovering from your injuries, we can focus on building your case seeking maximum compensation. Call us today for a free consultation.
Auto Accidents Statistics
Traffic accidents are an ongoing problem across the country. According to the National Highway Traffic and Safety Administration (NHTSA), nearly 9,600 people were killed in motor vehicle crashes nationwide in the first quarter of 2022 alone.
Unfortunately, the numbers have been on the rise in Texas. The Texas Department of Transportation (TxDOT) reported 3,896 motor vehicle traffic deaths statewide in 2020. The number increased by over 7 percent to 4,489 in the following year.
Unsurprisingly, auto accidents tend to concentrate in areas that see heavy traffic due to their high population. Straddling I-10, one of the busiest interstates in the country, as it exists the western edge of Harris County, the most populous in the state, Katy is bound to see its fair share of accidents.
According to TxDOT, there were 720 auto accidents in Katy in 2021. In that same year, Harris County as a whole saw a total of 114,674 traffic collisions. These resulted in 577 deaths, 2,927 suspected serious injuries, and 8,976 suspected minor injuries. Meanwhile, there were 9,644 auto accidents in Fort Bend County and 1,203 in Waller County. The numbers speak for themselves.
Common Injuries Sustained in Texas Car Accidents
Auto accidents lead to a wide variety of injuries. Though it is difficult to generalize about all possible injuries you might sustain in a car accident, patterns do emerge. Some of the most common injuries we see in auto-accident cases include:
Fractured and broken bones
Sprains, strains, and bruises
Scrapes, cuts, and puncture wounds
Burns and abrasions
Traumatic brain injuries (TBIs)
Internal bleeding and organ damage
Spinal cord injuries
Chest injuries
Crushed or amputated limbs
Scarring and permanent disfigurement
Emotional trauma
Wrongful death
What Compensation is Available for a Katy Car Accident?
Traffic accidents inflict enormous economic costs each year. According to TxDOT, the estimated economic loss of all motor vehicle crashes in the state totaled to $44.6 trillion in 2020 and $51.5 trillion in 2021. In other words, the cost inflicted by auto accidents has more than doubled over the past two decades.
If you were injured in a car accident, our personal injury attorneys can help you recover compensation for both economic and non-economic losses. Together, these include:
Medical bills
Lost wages
Lowered future earnings
Pain and suffering
Emotional distress
Diminished quality of life
Loss of consortium
Wrongful death
Funeral and burial expenses
Lost or damaged personal property
How Long Do I Have to File a Lawsuit After a Katy Car Accident?
The statute of limitations governing personal injury lawsuits in Texas gives injury victims two years from the date of the accident to file a claim seeking compensation. Do not miss this strictly enforced deadline, as doing so almost always results in your case being dismissed in court.
In turn, the inability to litigate your case in a courtroom will severely limit your bargaining power when trying to reach a full and fair settlement with the at-fault party and their insurers. Contact Fleming Law today to ensure that your case is filed before the deadline.
What Should I Do If I Am Involved in a Katy Car Accident?
Depending on the seriousness of the collision, filing a lawsuit may be one of the last things on your mind after a crash. However, as soon as you are injured in an auto accident, there are a number of steps you can take to begin laying strong foundations for your case seeking compensation. If possible, take the following steps after being injured in a wreck:
Call 911 to report the collision and summon emergency medical help. The police officer sent to the scene will prepare an accident report that will be the first piece of evidence in your case.
Talk to all other drivers in the crash. Collect names, contact information, driver's license numbers, insurer names, insurance policy numbers, license plate numbers, and vehicle registration numbers.
Identify witnesses and gather their contact information. Witness testimony can turn the tide of your case.
Document the scene. Take pictures and videos of your injuries, the damage to all vehicles in the crash, and any evidence that can help shed light on the events leading up to the accident. For example, document road conditions, signs of impaired driving, company logos on vehicles and uniforms, and any nearby surveillance equipment that might have captured the crash.
In all cases, seek medical attention. In addition to helping you recover from the crash, the medical treatment and billing records created by your doctor will become crucial evidence used to evaluate your injuries and calculate your compensation. Describe your pain and suffering thoroughly to your doctor — the more detail you provide, the better.
Do not post about the accident on social media. Anything you post can be used against you in your case.
Hire an attorney before speaking to an insurance adjuster. If you receive a call from an insurer, do not admit fault, give a recorded statement, provide a medical form release, or accept any settlement offers.
How Can a Lawyer Help?
In nearly all cases, working with an experienced personal injury attorney significantly increases your chances of securing maximum compensation for your injuries. The legal team at Fleming Personal Injury Attorneys can:
Ensure that you know your rights and options
Gather evidence to substantiate your case
Evaluate your medical treatment and billing records
Calculate the value of your economic and non-economic losses
File an insurance claim and prepare a demand letter
Handle settlement negotiations with the at-fault party and their insurers
Fight for you in court if a reasonable settlement cannot be reached
There are few downsides to having your case looked over by one of our injury attorneys. We offer free consultations in which we provide a preliminary evaluation, and you pay nothing unless we win your case.
Contact Our Katy Car Accident Lawyers
At Fleming Law, we are committed to providing excellent representation to all of our clients. Whether you were involved in a minor rear-end crash at the stop sign up the road or in a catastrophic collision on a major highway, we firmly believe that each accident is unique and should be handled on a case-by-case basis.
If you were injured in an auto accident, we are ready to provide the high-quality representation you deserve. Contact us today for a free consultation.