League City Car Accident Attorney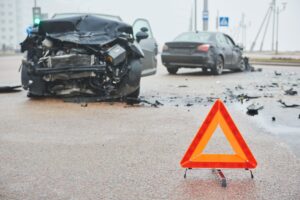 Car accidents are commonplace occurrences. Normally, we do not consider them until one happens in our own lives. Even so, thousands happen every day throughout the country. When they do, they can leave victims with serious injuries and enormous medical bills.
If you were injured in a Texas auto accident, you do not need to face the aftermath alone. While you recover from your injuries, the attorneys at Fleming Law are ready to fight for your legal right to compensation. Call us today for a free consultation.
What Kinds of Auto Accident Cases Do We Handle?
Each auto accident is unique and should be evaluated on a case-by-case basis by an experienced attorney.
At Fleming Law, we have experience handling a wide variety of auto accident cases, including:
Common Causes of Car Accidents in Texas
Driver error is the primary cause of car accidents. In other words, most auto accidents are entirely preventable by exercising more caution on the road. Some of the most common causes of auto accidents in Texas include:
Distracted driving – According to the Texas Department of Transportation (TxDOT), 433 people were killed in Texas traffic accidents caused by distracted drivers in 2021. Among other things, distractions include phones, GPS navigators, and other passengers.
Intoxicated driving – TxDOT further reports that 1,077 people were killed in traffic accidents involving a drunk driver in 2021. This number translates to nearly one-quarter of all traffic fatalities in the state.
Speeding – According to the National Highway Traffic Safety Administration (NHTSA), 29 percent of traffic fatalities in 2021 involved speeding. These accidents resulted in 11,258 deaths nationwide.
Disobeying traffic signals – Many auto accidents are caused by simple failure to obey traffic signals. For example, according to Insurance Institute for Highway Safety (IIHS), 928 people were killed in crashes involving a driver who ran a red light in 2020.
Other Car Accident Statistics
Unfortunately, auto accidents are very common and lead to thousands of deaths each year. This section unpacks the numbers further.
How Do You Prove Liability in a Texas Car Accident?
To secure compensation for a Texas car accident, injured victims must normally prove that the at-fault driver was negligent. That is, they must prove by a preponderance of the evidence that the at-fault driver failed to use reasonable care to avoid harming others. A skilled attorney will draw on many kinds of evidence to prove the at-fault driver's negligence, including:
Photos and videos of the accident scene and your injuries
Traffic, surveillance, and dashboard camera footage
Police accident reports
Medical treatment records
Eyewitness testimony
Expert testimony and accident reconstructions
If there is evidence that the at-fault driver committed a traffic violation meant to keep the roads safe, the violation itself may be enough to prove negligence. For example, if someone causes an accident by running a red light or driving while intoxicated, these violations may be enough to hold them liable without further evidence.
In some cases, drivers involved in an accident share fault. Under the modified comparative fault law in Texas, injured drivers who are partially at fault for an accident can still recover compensation. However, their compensation will be reduced proportionately to their degree of fault. Further, if they are more than 50 percent at fault, they recover nothing.
What Insurance are Texas Drivers Required to Carry?
To ensure that injured victims have a route to compensation, state law requires that all drivers carry minimum levels of auto insurance. Specifically, drivers in Texas must carry the following minimum amounts of motor vehicle liability insurance:
$30,000 in coverage for bodily injury of one person in an accident
$60,000 in coverage for bodily injury of two or more people in an accident
$25,000 in coverage for property damage or destruction
Though Uninsured/Underinsured (UM/UIM) motorist coverage is not mandatory in Texas, it is included by default in nearly all auto insurance policies sold in the state. When shopping for auto insurance, motorists may opt out in writing. This kind of insurance helps pay for your medical expenses and other losses in the event the at-fault driver does not have insurance or has insufficient insurance to cover your expenses.
In all cases, injury victims should beware of insurers, including their own. Insurance adjusters may seem friendly on the phone, but their primary goal is to save their company money by denying as many claims as possible. Therefore, it is best to let your attorney handle communication with insurers.
If you do speak to an insurance adjuster before securing legal representation, do not admit fault, provide a recorded statement, sign a medical record release, or accept a settlement offer. Though a first settlement offer may be tempting, insurers typically make their lowest offer first.
Our League City Car Accident Lawyers Can Help
If you were injured in a car accident in League City, the attorneys at Fleming Law are standing by to help. Our experienced lawyers are ready to investigate the crash, determine who is at fault, and help you down the path toward maximum compensation. Contact us today for a free consultation with a League City car accident lawyer.