Houston Lane-Splitting Accidents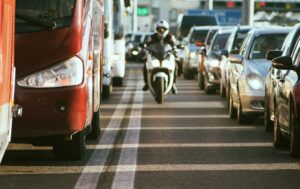 Did you suffer injuries in a motorcycle crash while lane splitting? If so, you might be worried about how that could affect your ability to recover the money you need for your medical care, repair bills, lost income, and more. Splitting lanes is illegal in Texas. However, it does not necessarily mean you can't pursue a motorcycle accident claim – provided you have an experienced lawyer handling your case.
Get the experienced legal help you need to protect your rights and interests. Contact Fleming Law for a free initial claim evaluation and find out how our Houston motorcycle accident attorneys can fight for you.
What Is Lane Splitting?
Lane splitting is riding a motorcycle in between lanes of traffic. Motorcycle riders typically split lanes in heavy or stop-and-go traffic, taking advantage of their vehicles' small size to pass between larger passenger vehicles or trucks. People in favor of lane splitting argue that it reduces traffic congestion by removing motorcycles from the line and reduces the risk of motorcyclists getting rear-ended in stop-and-go traffic. However, opponents of lane splitting reason that it puts motorcycle riders at risk of accidents.
Is Lane Splitting Legal in Texas?
Some states have laws expressly prohibiting lane splitting, while others do not but still consider it illegal. Texas law bans lane splitting by requiring motorcycle riders to stay within a single lane and not operate their motorcycles between lanes of traffic.
What Is the Difference Between Lane Splitting and Lane Sharing?
Lane sharing involves using the same traffic lane as another motorcyclist. Unlike lane splitting, sharing lanes is legal. Texas state law explicitly states that two motorcycles may ride side-by-side in the same lane. Motorcycles are the only motor vehicles to which this rule applies. A car or truck driver wanting to pass a motorcycle must move to another lane.
What Are the Dangers of Lane Splitting?
Motorcyclists who engage in lane splitting could be putting themselves at risk of a severe accident. Drivers may not expect a motorcycle to ride between lanes of traffic and might accidentally hit a lane-splitting motorcycle when trying to change lanes or turn. On some roads, vehicles in adjacent lanes may not have much space between them, creating a substantial risk of a collision between a vehicle and a lane-splitting motorcycle.
What Are the Penalties in Texas If I Am Caught Lane Splitting?
A motorcycle operator caught lane splitting by a police officer may get stopped and receive a citation for operating on the shoulder, failure to keep the lane, or reckless operating, depending on the circumstances of the alleged offense. Conviction on a traffic citation will result in a fine, while a reckless operating conviction may also carry jail time.
Can Lane Splitting Hurt My Chances of Recovering Compensation in a Motorcycle Accident?
Lane splitting does not automatically bar a motorcyclist from pursuing a compensation claim after an accident with another vehicle. Although the law prohibits lane splitting, that does not necessarily mean a motorcycle rider caused the crash. Many lane-splitting accidents are actually the product of negligent driving on the part of other motorists.
However, lane splitting may affect the value of your financial recovery in a motorcycle accident claim. The other driver or the insurance company may argue that your lane splitting contributed to the crash. Under Texas law, your compensation will be reduced by any percentage of fault assigned to you. However, you cannot recover any compensation if you're found more than 50 percent to blame.
This rule is why you should contact a Houston lane-splitting accident attorney from Fleming Law to advocate for the financial compensation you need for your recovery. We understand the tactics insurers use to reduce their liability – and we know how to counter them effectively.
How Can a Houston Motorcycle Accident Lawyer Help Me After a Lane-Splitting Collision?
After a lane-splitting accident in Houston, let an attorney from Fleming Law help you recover from your injuries by pursuing your legal claims on your behalf. That way, you can focus on your treatment and rehabilitation. We are ready to get to work on your case by:
Thoroughly investigating the crash to recover any evidence of the other party's fault
Documenting your injuries and losses to determine the full range of compensation you deserve
Evaluating your legal options and identifying applicable insurance policies
Filing your insurance and legal claims for you
Dealing with adjusters and defense lawyers on your behalf to protect your interests
Vigorously pursuing maximum financial recovery for you through a fair settlement or, if necessary, by taking your case to court
How Long Do I Have to File a Motorcycle Accident Claim in Texas?
Under Texas's statute of limitations, you typically have two years after a motorcycle accident to file a lawsuit against the parties at fault for the crash. Although two years may seem like plenty of time to file your claim, you should speak to a motorcycle accident lawyer as soon as possible after a crash. Your lawyer will need time to investigate the accident and prepare your legal claim. And if you file a lawsuit after the limitations period expires, the trial court can dismiss your case. If that happens, you may lose the opportunity to pursue financial recovery for your harm and losses.
Contact a Houston Lane-Splitting Accident Lawyer
If you were hurt in a motorcycle accident that happened while you were splitting lanes, you could be facing an uphill battle for justice. The other driver and their insurer might argue that you were to blame for your injuries and are not entitled to compensation. Don't let them push you around. Instead, fight back with the help of an experienced Houston lane-splitting accident lawyer with Fleming Law. Contact us today for a free consultation to discuss your rights and options with our legal team.