Houston Motorcycle Licensing Requirements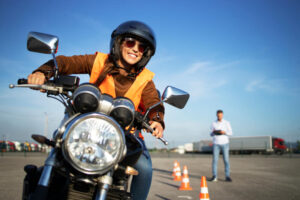 People who ride motorcycles on Houston's public roads must follow Texas law's licensing requirements. These requirements ensure that riders have the knowledge and skill to operate a motorcycle safely.
What License Is Required to Operate a Motorcycle in Houston?
In Texas, a person who wants to operate a motorcycle on public roads must obtain a Class M license or a Class M endorsement on their Texas driver's license. Applicants for a Class M license must meet all the requirements for a regular driver's license and other requirements for operating a motorcycle. People new to riding motorcycles can also apply for a motorcycle learner license, which allows them to learn how to ride under supervision.
Some motorcycle licenses have restrictions for safety purposes. For example, riders who obtain a motorcycle learner license must have a person age 21 or older with a valid motorcycle license watching while the rider practices. Riders who apply for a license at 15 will have a restriction that prohibits them from riding a motorcycle with an engine larger than 250 cc.
What Are the Steps Required to Earn a Texas Motorcycle License?
To obtain a Texas motorcycle license, applicants must complete a motorcycle safety course and submit their certificate of completion with their application. Completion certificates remain valid for 24 months, after which an applicant must retake the motorcycle safety course.
Minors enrolling in a motorcycle safety course must have a Class C learner's license and complete the classroom phase of their driver's education course. However, applicants 18 and older with a valid motorcycle license from another state can waive the motorcycle safety course requirement.
Applicants must also pass a vision test and a motorcycle knowledge test, although applicants with a motorcycle safety course completion certificate can skip the knowledge test.
Motorcycle license applicants may have to take a motorcycle driving test as well. Applicants for motorcycle learner licenses do not have to take the driving test to obtain a learner license. Applicants 18 and older can skip the driving test requirement if they have a valid, unrestricted Texas driver's license and have completed a motorcycle safety course or have a valid, unrestricted motorcycle license from another state or Canadian province.
What Is the Cost of a Texas Motorcycle License?
The cost of obtaining a Texas motorcycle license depends on the type of license applied for. License fees include:
Motorcycle learner license: $16
New motorcycle-only license (Class M): $33
Class M license renewal: $44
Adding motorcycle endorsement to an existing Texas driver's license (Class AM, BM, or CM): $16
Obtaining a new Texas driver's license with motorcycle endorsement: $48
Renewing a Texas driver's license with motorcycle endorsement: $44
What Are the Penalties If I Am Pulled Over Without a Motorcycle License in Houston?
In Texas, a motorcyclist without a valid license who gets pulled over by the police may receive a citation with a fine of up to $200. However, subsequent offenses may result in a misdemeanor charge that carries the possibility of jail time.
Riding a motorcycle after a valid motorcycle license's suspension, revocation, or lapse carries harsher penalties. A first-time offense carries a fine of up to $500, with second and subsequent offenses imposing up to $2,000 in fines and potential jail time.
Causing a motorcycle accident resulting in injuries without insurance has even more severe penalties, including up to $4,000 in fines and one year in jail. In addition, the court may suspend a rider's driving privileges.
A rider who is pulled over and does not have their license with them but has a valid motorcycle license can avoid a conviction and fines by appearing in court with a valid license. However, they may have to pay a court dismissal fee.
What Are the Insurance Requirements for Riding a Motorcycle in Texas?
Because Texas requires all motorists, including motorcycle riders, to have proof of financial responsibility for any accident they cause, motorcycle riders must obtain the same insurance coverage as drivers. The minimum liability insurance requirement for motorcycles includes:
$30,000 per person of bodily injury liability coverage
$60,000 per accident of bodily injury liability coverage
$25,000 per accident of property damage liability coverage
Is the License for a Three-Wheeled Motorcycle Different from a Standard Motorcycle License?
A Texas motorcycle license applicant can take a motorcycle safety course focusing on three-wheeled motorcycles rather than standard two-wheeled ones. Under Texas law, applicants who present a completion certificate for a three-wheeled motorcycle safety course will receive a motorcycle license or endorsement that includes a restriction limiting the license holder to operating three-wheeled motorcycles.
What Should I Do If I Am Involved in a Motorcycle Accident in Houston?
If you're involved in an accident while riding your motorcycle in Houston, you can take the following steps:
Report the accident to law enforcement and request a copy of the police report.
Follow your doctor's treatment plan and recovery instructions. Obtain copies of your medical records for your treatment and rehabilitation.
Gather bills, invoices, and receipts of expenses you incur due to the accident. Find your pay stubs or income statements if you miss time from work or experience a reduction in your earnings due to your injuries.
Notify your insurance company about the accident and confirm the coverage available under your policy.
Contact a motorcycle accident lawyer from Fleming Law as soon as possible to discuss your rights.
How Long Do I Have to File a Motorcycle Accident Lawsuit in Texas?
Under Texas's statute of limitations, you typically have two years from the date of a motorcycle crash to file a lawsuit. If you file your lawsuit after the deadline, you risk having your case dismissed by the trial court. You should contact a Houston motorcycle accident attorney as soon as possible after the collision to protect your rights to compensation.
Contact a Houston Motorcycle Accident Lawyer
After suffering an accident on your motorcycle due to another motorist's negligence, get experienced legal help to seek compensation for your medical bills, lost earnings, and pain and suffering. Contact Fleming Law today for a free, no-obligation consultation with a knowledgeable Houston motorcycle accident lawyer and learn more about how we can help you pursue justice.