Nursing Home Abuse Attorney in Houston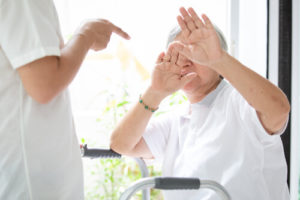 Nursing home abuse can take many forms. Some of it is intentional while oftentimes the abuse is in the form of neglect. We all deserve to be treated with dignity. When a nursing home resident is treated with neglect or deliberate abuse, talk to our nursing home neglect attorneys about how you may be able to hold the nursing home facility accountable.
Every year, thousands of older Americans are mistreated in nursing homes. The abuse usually is due to lax policies which allow careless assistants to continue abusing residents. According to a recent study conducted by a nonprofit organization, Texas nursing homes rank among the lowest in the nation.
We Have Some of the Best Nursing Home Abuse Lawyers in Houston
Vulnerable older people often cannot defend themselves or properly report neglect. It is usually family members who notice neglect. If you have a loved one who is not getting appropriate care or has been abused, call our Houston nursing home lawyer today for a free consultation.
If you have noticed a sudden change in your elderly relative's condition, talk to the nursing home staff. If their explanations do not make sense, or if they have no explanation, talk to an experienced personal injury attorney and wrongful death trial lawyer.
Fleming Law, former Harris County Attorney (Houston), has been recognized as a Texas Super Lawyer and is one of the small percentage of attorneys in the whole country to have argued – and won – a case before the United States Supreme Court. Does the patient have bedsores? Bedsores are painful — and nearly always preventable. If your loved one is in a nursing home and has bedsores, you should seek to protect their interests and stop such neglect.
Here are some situations in which our Houston nursing home abuse attorneys can help:
Did the patient wander off? Improperly monitored nursing home patients may become confused and wander off. There is no reason an elderly resident should be permitted to wander away from their home.
Did the patient fall? Improper bed transfers can result in a fall and broken bones. These types of injuries are common and completely preventable.
Was the patient abused? Nursing home residents are easy victims of those who physically and sexually abuse others. Yes, this happens at many retirement homes. It can be prevented if the staff and administration are vigilant.
In Texas, the Department of Family and Protective Services as a department of Adult Protective Services that investigates allegations of abuse as state-supported institution. The Texas Department of Aging and Disability Services provides for the licensing and regulation of assisted living facilities in this state.
Contact Our Houston Nursing Home Abuse Lawyer
Don't wait. Contact our nursing home abuse attorney in Houston now.