Elder Abuse and Neglect Lawyers in Houston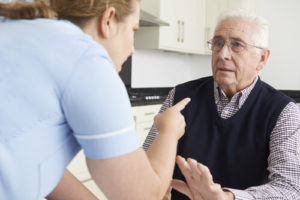 As your family members grow older, they are less able to take care of themselves. These medical realities often necessitate the outsourcing of care for older generations to others outside of the family. Elder care is a multi-billion dollar industry in the United States and brings thousands of well-paying jobs to the state of Texas. While nobody likes the idea of placing loved ones in the care of another, it is often both an economic and medical necessity. That said, you have a right to demand that your loved ones receive professional, competent, and ethical care.
Elder abuse and the mistreatment of the elderly in nursing homes is statistically on the rise in Texas. According to the National Council on Aging, a non-profit organization that studies elder abuse, one in ten Americans over the age of 60 have experienced some form of elder abuse in their lifetimes. As many as five-million senior citizens are abused or injured every year. While these statistics are shocking, they reflect the reality that while elder care is supposed to be a business, it is not always run professionally. In many cases, the elderly are easier to abuse or shortchange because they are less likely to notice.
My mother was abused while under someone else's care. What can I do?
Overview of What is Generally Considered Elder Abuse
Elder abuse can mean many different things, and the law punishes each of them differently. For example, physical abuse or sexual abuse of the elderly is a crime and can be punished by the government. Other forms of elder abuse, however, such as neglect or improper medical care can form the basis of a civil lawsuit. Unlike a criminal lawsuit, a civil lawsuit is a lawsuit for money damages or other types of court-ordered relief.
There are several categories of elder abuse that can result in a civil lawsuit:
Nursing Home or Caretaker Negligence: If someone has agreed to care for your loved one in their twilight years, they have a legal duty to do just that. Failing to provide an older adult with life's necessities such as clothing, food, shelter, or medical care is one of the worst forms of elder abuse because it can literally shorten the victim's lifespan.
Medical Negligence: The elderly are generally more fragile than other patients, which means that the impact of any type of medical negligence will be more severe than it otherwise might be. All nursing homes must ensure their treatment facilities are safe and provide appropriate post-operation protocols to ensure a patient's safety.
Financial Exploitation: Many nursing homes and other types of elder care businesses are designed on illegal fraud or scam business models. Often, financial scams on the elderly such as hidden fees or get-rich-quick retirement schemes can leave victims destitute and without money to care for themselves.
Undue Influence in the Creation of a Will: If a caretaker has wrongfully exercised his or her influence over your loved one in order to change your loved one's will, you may be able to file a will contest lawsuit.
Have Questions? Take Action and Contact a Houston Personal Injury Attorney Today
If you suspect an elder abuse situation is occurring with a loved one, contact the experienced Houston elder abuse lawyers at Fleming Law today. The statute of limitations in Texas for filing both personal injury lawyer and medical malpractice lawsuits is only two years. If you have a legal claim, do not sit on your rights.