Car Accident Attorney in Pearland, TX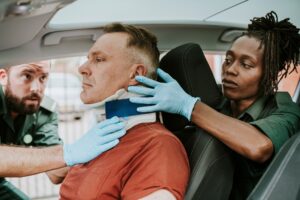 If you suffered injuries in a car crash in Pearland and someone else is at fault, you need experienced legal counsel to help you recover maximum compensation for your injuries and vehicle damage. Turn to a Pearland, TX, car accident attorney at Fleming Law, P.C. to get a skilled advocate in your corner. Our lawyers have the knowledge and resources to take even the most complex accident cases and come out on top.
We have some of the Best Car Accident Lawyers in Pearland
Obtaining compensation in a Pearland, Texas car accident case can be challenging. Insurance companies will work hard to downplay your injuries and minimize payouts. You deserve full compensation when someone else's negligence harms you. Let us defend you against unfair claims of the fault so that you recover the money you deserve.
Contact the Pearland car accident lawyers at Fleming Law Personal Injury Attorney today for an initial consultation. The first case review is free, and we don't collect a fee unless we win. There's no risk in learning how we can demand justice and accountability for you.
Common Causes of Car Accidents in Pearland
Motor vehicle crashes happen daily in Pearland. According to the Texas Department of Transportation, the city saw 1,424 accidents in a recent year. Common causes of car accidents include:
Speeding
Reckless driving
Tailgating
Disregarding traffic controls, including running red lights or stop signs
Failing to yield the right of way
Unsafe turns or lane changes
Distracted driving, including texting, eating, or daydreaming behind the wheel
Fatigued driving
Driver intoxication (DUI/DWI)
Driver inexperience
Vehicle defects
Poor vehicle maintenance
Unsafe road conditions
Bad weather
Poor lighting or visibility
Texas law says motorists can be held accountable for injuries they cause due to negligent driving. Talk to a Pearland car accident lawyer to learn your options for seeking compensation.
Common Injuries from Car Accidents in Pearland
Car accidents lead to a wide range of serious injuries, such as:
Lacerations and deep cuts
Abrasions and bruising
Whiplash
Neck injuries
Dislocated joints
Ligament sprains
Muscle and tendon strains
Broken bones
Back injuries
Spinal cord injuries/paralysis
Traumatic brain injury (TBI)
Internal organ trauma
Internal bleeding
Facial injuries
Vision or hearing loss
Burns
Smoke inhalation/toxic exposure
Crush injuries
Amputation
The cost of medical treatment and rehabilitation after an auto accident can be sky-high, especially if your injuries prevent you from working. A successful car accident claim can help you recover money for these losses and more.
What Happens If I Am Partially at Fault for a Car Accident in Pearland?
If you are partially responsible for a car accident, you can still pursue a claim for compensation in Texas. However, your ability to recover compensation depends on the percentage of fault you are assigned for the accident.
Title 2, §33.001 of the Texas Civil Practice and Remedies Code outlines the state's comparative negligence rule. Under this law, you can recover compensation as long as you are not 50 percent or more to blame for a wreck. Even one percentage point higher, and you lose.
Don't be discouraged from pursuing compensation just because you could share a fault for a car crash. You could be less responsible than you think. A Pearland, TX, car accident attorney from Fleming Law will investigate your case thoroughly and prepare a compelling case demanding maximum compensation for you.
How Do I Get a Copy of the Accident Report in Pearland?
In Texas, you can obtain a copy of a police accident report by requesting it from the agency that responded to the crash scene. The Pearland Police Department has an online form to search for police accident reports via details such as the name of a driver involved, their driver's license information, the accident date, or the accident number assigned by the police department.
Additionally, Texas maintains an online database where you can search for and purchase certified copies of crash reports filed by law enforcement or peace officers in Texas.
How Much Time After the Accident Do I Have to File a Claim?
You have limited time to file a lawsuit against the at-fault party(s) after a car accident. This deadline is called the statute of limitations. In most cases, Title 2, §16.003 of the Texas Civil Practice and Remedies Code gives you two years from the date of a car accident to file a personal injury lawsuit. If you file suit after the statute of limitations expires on your car accident case, you likely lose your right to pursue compensation.
The deadlines are even shorter if you seek compensation from a state government or a municipal government in Texas. The Texas Tort Claims Act typically requires you to provide a government entity with notice of your claim no later than six months after the car accident. Failure to give timely notice of your claim may result in its dismissal.
What Steps Should I Take Following My Pearland Car Accident?
Take the following steps to protect your right to seek compensation after a car accident in Pearland:
Gather evidence from the accident scene – Photos, video footage, witness names, and contact information, and the other driver's insurance information and vehicle description are a good starting point as your attorney begins investigating your case.
Seek medical attention immediately – You must ensure your injuries get diagnosed and treated. Not only does this protect your health, but it also links the crash to the wreck and shows the insurance company you took your health seriously.
Request your medical records – All medical records regarding the treatment of your car accident injuries will be essential evidence in your personal injury claim.
Document your financial losses – Keep all bills incurred due to the crash. Retain copies of pay stubs to show your wage loss if you can't work.
Contact a Pearland car accident attorney – The sooner you consult a lawyer, the sooner they can start preparing your case.
Contact a Pearland Car Accident Attorney Today
What do you need after a Pearland car accident? A lawyer who listens.
At Fleming Law, P.C., we'll take the time to get to know you so you can rest assured your case is in good hands. We'll also handle all communications with the insurance company. That way, you can focus on what matters most – your health and well-being.
Getting started is simple. Call or contact us for a free consultation today. Pearland personal injury lawyer.