Roof and Ceiling Collapse Attorney in Houston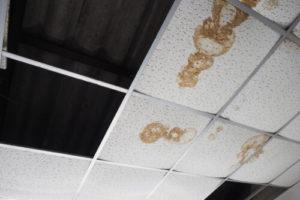 Imagine being at a friend's home or at a business when, out of nowhere, the roof or ceiling collapses on top of you. A roof or ceiling collapse can leave you seriously injured, including a potential brain injury, spinal cord injury, nerve damage, etc. If you were injured by a ceiling collapse in Houston, you may have a claim for personal injury against the owner of the premises.
The law protects you from injury caused by the act of another. When the injury is caused by negligent construction or maintenance of a building, it is just as much the act of the owner or manager. You may be able to maintain an action for compensation for injuries suffered due to that negligence.
There are Houston building codes that provide for the standards that the construction and maintenance of buildings must follow. If the building does not meet these standards and you are injured due to this, the law recognizes your right to file a lawsuit for the injuries caused.
Causes of Ceiling Collapse
When landlords or managers fail to take adequate care of their buildings or if they violate building codes just for the purpose of saving a few dollars, they can be liable for injuries caused as a result. Some of the acts or omissions that may lead to roof or ceiling collapse include:
Hiring incompetent or unqualified labor. Even though the poor construction is the root cause of the ceiling fall, the owner would still be liable for stinting on labor.
Glossing over problems with the building. Treating existing problems with the building as being less than they really are can be a recipe for disaster. What seemed like a mere brown spot on the ceiling can result in structural failure of the ceiling.
Negligent inspection, maintenance, or repair. This is inexcusable when it leads to injury.
Failure to take care of infestation of rats, insects, and vermin that eat and weaken structures.
Failure to properly fix and repair pipe leaks in the ceiling.
I was injured in a roof/ceiling collapse due to negligent maintenance. What can I do
Financial Restitution
Injuries from falling roofs and ceilings can be serious. In some cases, they may even result in life-threatening conditions or the loss of future ability to work or earn wages.
If you have lost wages during the period that you were injured, you may also be able to recover compensation for those lost wages. If the injuries have left you unable to work, either temporarily or permanently, you would also be entitled to compensation for loss of future wages.
How to Establish Your Case
To prevail in a premises liability case, you need to prove the premises owner was negligent. To show this, you would have to prove the following:
That you were owed a duty of care. In Houston, all owners or managers of buildings owe tenants and visitors a duty to maintain the building in good condition.
That the duty was breached. Once there is a dangerous condition of the building or a violation of the codes, there is a breach of duty. You may also need to show that the owner or manager knew of this condition.
That your injury was caused by the breach. There must be a connection between the ceiling fall and your injury.
If all the above applies to you, then you need to get in touch with a lawyer. Contact our Houston premises liability lawyer today.
Speak to a Houston Injury Attorney Today
If you or a family member were injured in a roof or ceiling collapse, now is the time to take legal action. Speak to the Houston injury lawyers at Fleming Law today.