Defective Drug Lawsuit Attorney in Houston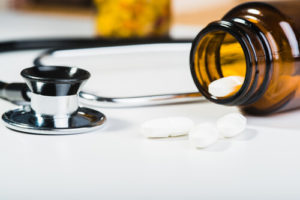 At Fleming Law our defective drug lawyers are committed to helping adults and children who have suffered in Houston personal injuries or wrongful death by the side effects of drugs promoted as safe by the large pharmaceutical companies. Many of the conditions caused by these products are life-threatening and fatal. All severely affect the victim's quality of life. If you or a loved one has been affected by the adverse reactions caused by a pharmaceutical drug, contact trial lawyers at Fleming Law now for a free, no-obligation consultation. You might be entitled to compensation for your injuries and condition.
How do I know if my serious health problems were caused by the side effects of a bad drug?
Some of the defective drug cases we are currently accepting are as follows:
Antidepressant SSRI drugs such as:
Prozac
Paxil
Zoloft
Celexa
These drugs are known as selective serotonin reuptake inhibitors (SSRIs) and have been shown to increase the likelihood of heart problems in babies whose mothers used the drugs while pregnant. A six-fold increase in the occurrence of persistent pulmonary hypertension in newborns (PPHN) has been demonstrated in the past. There are growing concerns that SSRIs cause heart defects in babies born to mothers who used them while pregnant. Some of the suspected side effects include the following serious heart defects:
Atrial septal defects (ASD)
Ventricular septal defects (VSD)
Tetralogy of fallot (ToF)
hypoplastic left heart syndrome
Transposition of the great arteries or vessels (TGA or TOGA)
Patent ductus arteriosus (PDA)
Total anomalous pulmonary venous return (TAPVR)
Double outlet right ventricle (DOVR)
Coarctation of the aorta (CoA)
Also, recent studies have shown that these SSRI antidepressant drugs can cause autism spectrum disorder (ASD) when used by women within one year prior to giving birth.
If you have seen the lawyer commercials about the Zoloft lawsuits over baby heart defects, contact one of our Zoloft lawyers today to get your questions answered.
What Are Some Other Drugs with Known Side-Effects?
Pradaxa: This drug is used as an anticoagulant. It has been shown to cause severe internal bleeding.
Actos: The diabetes drug Actos has been shown to cause bladder cancer.
Trasylol (Aprotinin): Trasylol is a recalled drug that was used during heart surgery. It has been linked with heart attacks, strokes, kidney failure, congestive heart failure and death following otherwise successful surgery.
Avandia (Rosiglitazone): Avandia, also known as Rosiglitazone, a drug used for treatment of diabetes, has been linked to serious cardiovascular problems such as heart attacks and strokes.
Zyban and Wellbutrin: If you used Bupropion (also known by the names Wellbutrin, Zyban, Voxra, Budeprion and Aplenzin) while pregnant, you should know that researchers have found a connection between the use of these drugs and serious heart defects in their babies. The study found that babies born to women who used the drug in their first trimester of pregnancy were at an increased risk of developing a serious heart defect known as left ventricle outflow tract obstruction (LVOTO), including coarctation of the aorta and hypoplastic left heart.
Meridia: The manufacturer of the diet drug Meridia (also known by the generic name of sibutramine) has announced the voluntary withdrawal of the product due to concerns over an increased risk of heart attack or stroke.
Topamax (Topiramate): The United States Food and Drug Administration (FDA) recently increased its warning to the public regarding the danger that Topamax and its generic form caused cleft lips or palates in children whose mothers used the drug while pregnant.
Testosterone Low-T Treatments.  The FDA is investigating whether the hugely popular Low Testosterone therapy drugs actually place men at a greater risk for heart attacks and strokes.
If you or a loved one has been injured by one of these defective drugs, you should be aware that waiting too long to seek legal counsel can cause you to lose your ability to obtain damages due to the applicable statute of limitation.
What should I do if I am experiencing complications with my prescription medicine?