Spinal Cord Injury Attorney In Houston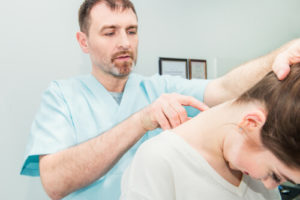 You can think of the spinal cord as the body's main nerve highway. The nerves in the spinal cord transmit signals throughout the body. So, if any damage occurs to the spinal cord in a car accident or other type of accident, that damage can have a devastating impact on a person's health and ability to function.
At Fleming Law our Houston spinal cord injury attorneys understand how spinal cord injuries affect the lives of victims and their families in Houston. If you suffered a spinal cord injury or a back injury due to someone else's negligence, you can count on us to protect your rights and fight for all compensation that you are due.
We Have Some of the Best Spinal Cord Lawyers in Houston
We know how this compensation can make a difference in your life and help you and your loved ones to move forward. To discuss your case with a spinal cord injury lawyer in Houston and learn more about how we can assist you, contact us today and receive a free consultation.
What are Common Types of Spine and Back Injuries?
The Texas Brain and Spine Institute reports that an estimated 11,000 spinal cord injuries occur each year in our country. In most cases, the injuries result from trauma to vertebrae or the bones which form the spinal column and protect the nerves in the spinal cord. When the spinal cord sustains damage, it can prevent nerves from sending messages to parts of the body below the point of the injury. So, below that point of injury, a victim may lose sensation and function.
Spinal cord injuries generally fall into two categories:
Incomplete – Partial damage to the spinal cord, which results in only some loss of feeling and function.
Complete – A total loss of feeling and function below the point of the injury – typically due to the spinal cord being severed.
At Fleming Law, we have worked with accident victims who suffered from a wide range of spinal cord injuries. As a result, we have a high level of understanding of how these injuries affect a person's well-being and ability to live a normal life.
Some of the most common types of spinal cord injuries we see are:
Anterior cord syndrome – Damage to the front of the spinal cord
Central cord syndrome – Damage to the center of the spinal cord
Brown-Sequard syndrome – Damage to one or both sides of the spinal cord, which may result in paralysis or weakness on one side and a loss of sensation on the other side
Paraplegia – When the injury prevents sensation and movement in the legs
Quadriplegia – When the injury affects all of a person's limbs.
In many accidents, victims suffer herniated discs, fractured vertebrae, or simply lower-back strain. Even though the spinal cord may suffer little to no damage in those situations, the harm can still be debilitating, lead to costly medical treatment and prevent a person from being able to work and earn income.
What are the Levels of Spinal Cord Injury?
Not all spine injuries are equal. After examining a patient, a doctor will determine the level of the injury.
The levels of spinal cord injurries include:
Cervical (C1 to C8) – These injuries occur in the neck area and typically affect a victim's sensation and movement in the chest, arms, and legs.
Thoracic (T1 to T12) – These injuries occur in the middle of the spine and impact a person's chest and legs.
Lumbar (L1 to L5) – These injuries occur in the lower back and affect a victim's legs.
Sacral – These injuries occur at the bottom of the spinal column and affect a person's feet.
As you can see, the higher the point of injury in the spinal cord, the greater the impact will be on the person's body. Due to permanent disability, a victim may require constant care and attention and be unable to work again. The injury, in this sense, affects the lives of loved ones as well. Our Houston spinal cord injury lawyer can help.
What are the Common Causes of Back and Spine Injuries in Houston?
As our back injury lawyers have seen through decades of assisting personal injury victims in Houston and surrounding areas, the careless and reckless acts of individuals serve as a leading cause of spinal cord injuries.
We often assist clients who suffered a spinal cord injury in:
We also work with clients who suffered spinal cord injuries due to the negligence of doctors, nurses, and other healthcare professionals or due to dangerous and defective products.
How Can Our Back Injury Lawyers Help with Your Spine Injury Claim?
At Fleming Law we want to know how your spinal cord injury happened and how it has affected your overall health, ability to work, and enjoyment of life. Our founding attorney, Michael P. Fleming, is among the small percentage of Texas attorneys who are Board Certified as a specialist in Personal Injury Trial Law by the Texas Board of Legal Specialization. He will know how to make things right for you and pursue the justice and compensation that you deserve.
You can count on our Houston spinal cord injury lawyers to:
Conduct a thorough investigation – We will exhaustively investigate your case in order to determine the cause of your spinal cord injury and identify the party (or parties) who should be held responsible for it.
Assess your damages – We will gather and study your medical records and consult with medical and vocational experts in order to determine the nature and extent of your spinal cord injury claim and the effect on your ability to earn a living.
Seek full and fair compensation for you – While you focus on your recovery, we will deal directly with the insurance companies and demand just compensation for you. If the insurance company refuses to make a settlement offer that you find acceptable, we will be ready to fight in court. Not all of our client's cases go to trial. However, when they do, we are determined to win.
We represent spinal cord injury victims in Houston on a contingency fee basis. In other words, we will charge no costs or fees unless we secure a financial recovery for you.
Contact Our Houston Spinal Cord Injury Attorney Today
At Fleming Law we care about the clients and families that we serve throughout Houston. We are ready to put our decades of experience to work for you today and help you to get your life back on the right track. If you believe that you suffered spinal cord injury due to someone else's negligence, contact us for a free consultation. Houston personal injury lawyer.
Resources for victims of spinal cord injuries and back injuries in Houston:
These resources offer support, information, and assistance for various aspects of life after a spinal cord injury:
National Spinal Cord Injury Association (NSCIA): NSCIA provides a wealth of information and resources for individuals with spinal cord injuries, including support groups, peer mentoring, and educational materials. Website: https://www.spinalcord.org/
Christopher & Dana Reeve Foundation: This foundation offers a wide range of resources, including information on paralysis, rehabilitation, and adaptive sports. They also have a Paralysis Resource Center that provides individualized support. Website: https://www.christopherreeve.org/
United Spinal Association: United Spinal Association offers advocacy, support groups, and resources for people with spinal cord injuries and disorders, including information on healthcare, accessibility, and adaptive living. Website: https://unitedspinal.org/
National Rehabilitation Information Center (NARIC): NARIC provides a comprehensive database of information related to rehabilitation and disability, including resources specific to spinal cord injuries. Website: https://naric.com/
Model Systems Knowledge Translation Center (MSKTC): MSKTC offers evidence-based resources and information related to spinal cord injury rehabilitation, research, and community integration. Website: https://msktc.org/
The Shepherd Center: Although located in Atlanta, Georgia, The Shepherd Center is a renowned rehabilitation hospital that specializes in spinal cord and brain injury rehabilitation. Their website includes a variety of educational resources. Website: https://www.shepherd.org/
National Institute on Disability, Independent Living, and Rehabilitation Research (NIDILRR): NIDILRR funds research and provides resources related to disability and rehabilitation, including spinal cord injuries. Website: https://www.acl.gov/programs/national-institute-disability-independent-living-and-rehabilitation-research
Local Hospitals and Rehabilitation Centers: In Houston, resources like TIRR Memorial Hermann offer specialized care and rehabilitation for spinal cord injuries. Reach out to local hospitals and rehabilitation centers for information and support tailored to your area.
Online Support Communities: Websites like CareCure Community (https://www.carecure.net/) and Apparelyzed (https://www.apparelyzed.com/) offer online forums where individuals with spinal cord injuries can connect, share experiences, and provide mutual support.
Government Resources: The U.S. government's Disability.gov website offers a variety of resources related to spinal cord injuries, including information about benefits, healthcare, and employment. Website: https://www.disability.gov/
Remember that the specific needs of individuals with spinal cord injuries can vary widely, so it's recommended to explore multiple resources to find the ones that best suit your situation.
Someone close to me suffered a spinal cord injury in a serious accident what should I do?