Woodlands Car Accident Attorney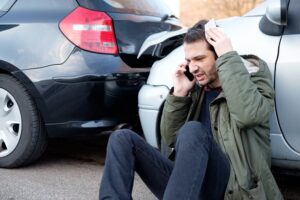 Even minor auto accidents can create a mountain of stress. However, most people do not think of traffic accidents until one happens in their own lives. Sadly, car accidents are all too common. According to the National Highway Traffic Safety Administration (NHTSA), traffic accidents resulted in an estimated 9,560 deaths in just the first three months of 2022.
If you were injured in a car accident, you do not need to navigate the path toward compensation alone. Whether your accident was minor or catastrophic, Fleming Law is here for you. We proudly work to help personal injury victims secure the compensation they deserve. Let us help you. Call today for a free consultation.
Should I Get a Lawyer for a Minor Car Accident?
Yes. Often, injury victims underestimate the severity of their injuries or feel intimidated by the legal process of securing compensation. However, there is no disadvantage to speaking with an attorney, even after a "minor" car accident. If nothing else, speaking with an attorney will ensure that you can make informed decisions in your case.
At Fleming Law, you pay nothing unless we win your case. Do not hesitate to contact us today for a free consultation. Our attorneys are a call away.
What Does a Car Accident Lawyer Do?
Your personal injury attorney is your closest ally in the event of a car accident. That said, many people think that an attorney's only job is arguing in front of a judge. To be sure, this is certainly an important part of their job. However, your personal injury attorney will do much more than appear in court on your behalf. Among other things, they will:
Investigate the accident and governing law
Identify all potential sources of compensation
Gather evidence to establish liability and prove the extent of your losses
File an insurance claim and negotiate an out-of-court settlement
File a lawsuit if a reasonable out-of-court settlement cannot be reached
Both in and out of the courtroom, your personal injury lawyer has a professional and legal duty to look after your best interests. At Spiva Law Group, we are proud to provide excellent legal representation on behalf of our clients.
What Compensation Can I Recover?
Most compensation in personal injury cases will come in the form of economic and non-economic damages. Economic damages are those that can be reduced to dollars and cents. By contrast, non-economic damages are more subjective. These damages are simply those that cannot be reduced to a monetary value. Together, economic and non-economic damages may compensate for things like:
Medical bills
Lost wages
Reduced future earnings
Permanent disfigurement and disability
Pain and suffering
Reduced quality of life
Emotional distress
Funeral and burial expenses
Wrongful death
Damaged personal property
Is There a Deadline to File a Car Accident Lawsuit in Texas?
Yes. This deadline is set by a law known as the statute of limitations. In Texas, the deadline for personal injury cases is set at two years from the date of the accident. If you miss this deadline, the at-fault party can request that your case be dismissed in court. In nearly all cases, a judge is legally required to grant this request, thereby eliminating your chance to secure compensation in court.
Dismissal of your case for failure to comply with the statute of limitations will have a devastating effect on your right to compensation. In particular, it will destroy your leverage when negotiating a settlement with the at-fault party. Avoid this by speaking to a personal injury attorney as soon as possible after your accident.
What Should I Do After a Car Accident?
Many injury victims are left confused and disoriented after suffering a car accident. What you do in the hours, days, weeks, and months after the accident can have a significant effect on your case and how much compensation you ultimately receive for your injuries. Take the following steps to protect your right to compensation:
Report the crash – Report the accident as soon as possible. In addition to providing emergency assistance, the officers dispatched to the scene will prepare an accident report. This official report will turn into important evidence in your case.
Collect driver information – You should collect important information from all other drivers involved in the crash. In particular, be sure to collect their names, addresses, phone numbers, license plate numbers, insurer names, and insurance policy numbers.
Document the scene – The scene of the accident is the best place to begin collecting evidence for your case. If possible, use your phone to visually document the aftermath of the accident. Among other things, be sure to collect footage of your injuries, damaged vehicles, road conditions, inclement weather, and signs of impaired driving.
Identify witnesses and surveillance footage – Corroborating evidence can turn the tide of your case. Therefore, identify any witnesses to the accident and collect their contact information. Further, photograph any surveillance equipment that may have captured the accident.
Seek medical attention – You should get to a doctor as soon as possible after an auto accident. Injury victims sometimes hesitate to see a medical professional because they assume their injuries are not serious. However, many injuries do not appear until some time has passed after the accident. Further, small injuries can worsen over time if not properly treated.
Save your medical records and bills – The treatment records and bills generated by your doctor will become the primary evidence used to prove the extent of your injuries and your total compensation. This is another reason you should seek medical attention even if you think your injuries are insignificant. A complete treatment record will better ensure that you receive the compensation you are entitled to.
Beware of insurance companies – Be very cautious when speaking to at-fault parties and their insurers. Anything you say can turn into evidence in your case. Therefore, do not make recorded statements to insurers. Further, do not admit fault or accept any settlement offers before speaking with a lawyer.
Hire an attorney – You should consult with an attorney as soon after a car accident as possible. Even if a case is not ultimately filed in court, an attorney can make sure you know your options.
Contact a Woodlands Auto Accident Lawyer Today
In many cases, injury victims are uncertain where to turn after being involved in a car accident. At Fleming Law, we believe that no injury victim should lack excellent legal representation in their time of need. Our personal injury attorneys are here to make sure you know your rights and are not taken advantage of. Let us fight for you. Call today for a free consultation.