Baytown Car Accident Attorneys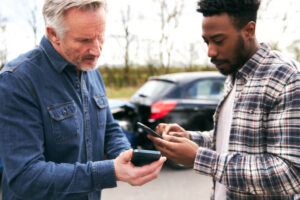 Car accidents are a familiar problem in the United States. According to the National Highway Traffic Safety Administration (NHTSA), there were 42,915 traffic deaths nationwide in 2021 alone. This represents a 10.5% increase from the 38,824 deaths seen in 2020, as well as the highest number since 2005. According to the Texas Department of Transportation (TxDOT), accidents within the state accounted for 2,395 of these fatalities.
If you were hurt in a car accident at little to no fault of your own, do not wait to have your case evaluated by an experienced personal injury lawyer. No matter the circumstances of your accident, Fleming Law is here to help. Call us today for a free consultation. We have decades of experience handling a wide variety of auto accident cases, including:
Establishing Liability in a Texas Car Accident
In most cases, securing compensation for injuries and losses sustained in a car accident requires proving that someone was negligent. That is, injured victims must prove that the accident was caused by someone's failure to use reasonable care to avoid harming others through their actions. Normally, this requires proving four legal elements:
Duty – Defendant owed a duty to use reasonable care
Breach – Defendant breached their duty
Harm – Plaintiff was injured
Causation – Defendant's breach caused plaintiff's injuries
However, in some cases, the legal doctrine of negligence per se allows accident victims to skip over these elements. Instead, they may recover compensation simply by showing that the defendant violated a law or regulation meant to keep people safe and that the violation led to injuries. For example, accidents caused by speeding or running a red light may result in negligence per se.
No matter which legal theory your case ultimately relies on, an experienced attorney will draw on all sorts of evidence to establish liability. Among other things, this may include:
Police accident reports
Photos and videos of the aftermath
Footage from surveillance and traffic cameras
Driver cell phone records
Vehicle data logs
Expert reconstructions of the accident
Medical treatment records
Witness accounts
What Compensation Can You Recover for Your Car Accident Injuries?
Injured victims can recover a wide variety of compensation from the at-fault party. This will include economic damages meant to compensate for things that can be easily reduced to a dollar value. It can also include non-economic damages meant to compensate for subjective losses whose value cannot be pinned down as easily. Together, these may include things like:
Medical expenses
Lost wages
Lowered earning capacity
Pain and suffering
Emotional distress
Loss of consortium
Wrongful death
Funeral and burial expenses
Property damage
Is There a Deadline for Filing a Car Accident Injury Claim in Texas?
Yes. Each state sets a deadline known as the statute of limitations. In Texas, the deadline for filing a personal injury claim is set at two years from the date of the accident. This deadline is strictly enforced and subject to very few exceptions. Do not miss it. Failure to file your case before the deadline almost always results in your case being dismissed in court.
Further, by losing the ability to sue in court, you will also lose your primary source of bargaining power in out-of-court settlement negotiations with the at-fault party and their insurer. Without the power to sue in the event a reasonable settlement cannot be reached, you will have little choice but to accept their lowest offer within the constraints of the governing insurance policy. They may even deny your claim altogether.
The best way to avoid this scenario is to have an experienced personal injury lawyer review your case as soon as possible after the accident. Our attorneys are ready to evaluate and handle your case from start to finish. Call us today.
What Should I Do Following a Car Accident?
The aftermath of an auto accident can be traumatic and disorienting. However, there are some basic steps you can take early on to protect yourself and your right to compensation for your injuries and losses. These include the following:
Report the Accident – You should report your accident to the police as soon as possible. In addition to making sure the situation is under control and providing emergency aid as needed, the officers dispatched to the scene will prepare an official accident report. This document will become one of the first pieces of evidence in your case.
Exchange Information – For all drivers involved in the crash, gather their names, contact information, license plate numbers, driver's license numbers, insurer names, and policy numbers. Also, identify any witnesses to the accident and gather their contact information as well.
Document the Scene – The scene of the accident is the best place to begin collecting evidence for your case. If possible, use your phone to document things like vehicle damage, injuries, road/weather conditions, and signs of intoxication. As they say, a picture is worth a thousand words. Videos may be worth more.
Seek Medical Attention – Seek medical attention as needed. In emergency situations, you might receive medical care on site before being transferred to a hospital. However, remember that many injuries in car accidents do not become apparent until some time has passed (e.g., whiplash and concussions). Therefore, even if you think your injuries are not serious, make sure you are evaluated by a doctor. The medical records they produce will be the primary evidence used to calculate the compensation you are owed for your injuries.
Keep Track of Documents – In the days and months after the accident, be sure to keep track of important documents related to your case. This includes accident reports, medical bills, repair estimates, pay stubs, and any correspondence you receive from insurers.
Speak to an Attorney – The best way to ensure a strong start on the path toward compensation is by speaking to a personal injury lawyer soon after the accident. Your attorney will make sure you know your rights, help you gather evidence, investigate the law, negotiate with insurers, and fight for you in court if necessary.
Speak to a Baytown Car Accident Attorney Today
Auto accidents happen every day. They are so common that we often do not consider their seriousness until one happens in our own lives. If you were injured in a Baytown car accident at little to no fault of your own, do not wait to speak to a car accident attorney. You are likely entitled to legal compensation. Contact Fleming Law today for a free consultation with an experienced lawyer near you.