Bus Accident Lawyers in Houston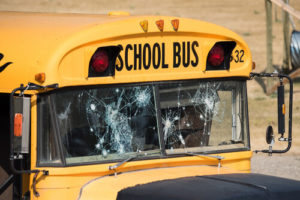 Bus accidents are on the increase in the Houston area and throughout Texas. It is interesting that in the 21st century, bus services are actually expanding as a means of travel between some of the larger cities in our state. Bus lines such as Greyhound, Megabus, and now Vonlane operate between Houston, Dallas, Austin, and San Antonio. With more bus usage, there are more accidents.
If you, a family member, or a loved one has been injured in a commercial bus accident, school bus accident, or van accident you should immediately contact the Houston bus accident lawyers at the law firm of Fleming Law to advise you from the beginning of the investigation.
Immediately following a bus accident, the bus operator's insurance companies will begin working to lessen or defeat your claim and minimize your damages. You are entitled to hire your own counsel to protect your interests.
On This Page
What Laws And Regulations Apply to Bus Companies in Houston?
There are different laws and regulations that apply to various buses. For instance, buses owned and operated by the Houston, Texas public transportation bus system Metropolitan Transit Authority of Harris County (METRO) have limitations of liability due to METRO being a governmental entity. METRO is subject to being sued when their bus drivers cause an accident, but the amount that can be obtained is limited by law.
In the case of commercial interstate carriers such as Greyhound or Megabus, the Federal Motor Carrier Safety Administration (FMCSA) imposes regulations upon bus companies to make sure that the vehicle is safe and the driver is both competent and healthy. Some of these federal safety regulations include:
Mandatory drug testing for drivers: Intoxicated drivers are not just a problem for automobile operators. Bus and truck drivers have caused bus accidents while being under the influence of alcohol, pills, and marijuana.
Annual physical exams for drivers: It is crucial that bus drivers be healthy enough to operate a huge vehicle. Drivers with physical conditions that can cause them to become incapacitated and crash should not be behind the wheel. The government requires them to have an annual exam and carry their medical certification card with them.
Limitations on hours of driving: Obviously, a bus driver behind the wheel for too many hours can fall asleep and cause a crash. Likewise, a fatigued driver can cause a bus wreck. For these reasons, the law dictates there is a time limit to the total daily hours of driving a bus as well as the time between breaks.
Commercial driver's license requirements: To prevent bus accidents, companies must require that their drivers are properly trained and carry a valid commercial driver's license.
Requirements regarding regular inspection and repair of the bus and equipment: Regular safety inspections are necessary to make sure bus accidents do not happen. When the company or driver fails to inspect the bus completely, a bus accident can happen.
Additionally, the bus companies themselves have their own policies for safety that they should require their drivers and maintenance staff to abide by. So, for instance, if the bus company has a company regulation that requires all tires to be inspected and replaced at say 35,000 miles, a failure to follow their own policies and procedures is evidence of negligence if the tire fails and causes injuries.
Email the Houston, Texas Bus Accident Lawyers now or call us today at 737-201-0543 if you have any questions regarding a bus accident injury case.
What Are Some Of The Causes of Bus Crashes In Houston?
Bus crashes can cause devastating injuries and wrongful death including brain injuries, spinal injuries, burns, catastrophic injuries, and more. They can be caused by many factors including:
Distracted driving, including cell phone use such as texting while driving
Reckless driving
Inadequate Vehicle Maintenance
Faulty Equipment
Inadequate Bus Driver Training
Regulatory Violations
Driver Negligence
Inadequate or non-existent Inspections (failure to inspect)
Road conditions
Weather conditions
How can I claim compensation for injuries in a bus accident?
Contact Houston Accidents Attorneys Today
If you or a loved one or your child have been the victim of a school bus or commercial bus accident injury or van accident injury anywhere in Texas, you should contact one of the Houston bus accident lawyers at Fleming Law personal injury attorneys immediately so that they can be involved in the investigation of the cause and protect your rights. If you can't make it to our offices, we will send an attorney to meet with you at a location convenient to you.