Car Accident Lawyer in Cypress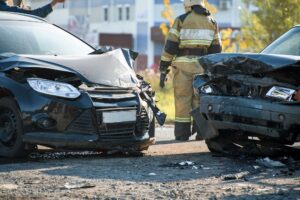 Getting legal help is crucial if you suffered injuries in a car accident in Texas. State law allows accident victims to pursue compensation if someone else's reckless or careless actions led to their injuries. But insurance companies work hard to delay, deny, and minimize even the most valid claims. The best way to protect yourself is by working with an experienced car accident lawyer in Cypress who knows what it takes to build a case that wins.
We have some of the Best Car Accident Lawyers in Cypress
Turn to a Cypress car accident lawyer at Fleming Law. Our award-winning law firm has over 30 years of experience representing the wrongfully injured in Texas. You can count on us to provide dependable legal advice and the hard-hitting legal representation you need to recover maximum compensation for your injuries. Call or contact us today for a free consultation with a car accident lawyer in Cypress.
Cypress Car Accident Statistics
Statistics from the Insurance Institute for Highway Safety (IIHS) show that in a recent year, 38,824 people died in U.S. motor vehicle accidents. When it came to fatal crashes, Texas trailed only California for the highest number of car accident deaths nationwide.
The most current car accident statistics for Texas show nearly 19,500 people suffered serious injuries in motor vehicle collisions in a single year. Close to 4,500 people died that same year, a 15 percent increase from the previous 12 months. Closer to Cypress, data for Harris County shows 541 fatal crashes resulted in 577 deaths during the same period.
What Kinds of Cases do our Car Accident Lawyers handle in Cypress?
At Fleming Law, we believe in holding people accountable for their wrongdoing. Our Cypress car accident attorneys help injured clients take legal action against negligent parties responsible for various types of car accidents, including:
To learn more about what your car accident case could be worth, contact Fleming Law for a free consultation with a Cypress car accident lawyer.
How Do You Prove Liability in a Cypress Car Accident?
Insurance companies consider multiple factors to determine fault for a car wreck. After establishing liability, the at-fault party is financially responsible for the injured person's losses, such as medical treatment, lost income, and property damage.
To recover compensation after a car wreck, you must prove the other party acted negligently. Negligence is the failure to exercise reasonable care to avoid harming others.
Proving negligence requires establishing the following elements:
The at-fault party owed a duty to the victim to take reasonable steps to avoid harming them.
The responsible party breached that duty.
That breach directly contributed to the car accident.
The victims suffered losses from their injuries.
You can also establish liability by proving negligence per se. Negligence per se means someone is negligent in breaking a law that's supposed to ensure the public's safety. For example, if a driver runs a red light and crashes into another vehicle, they have committed negligence per se.
After a car accident, an insurance company, judge, or jury must review the circumstances of the collision and assign fault to each party involved. Texas is a comparative negligence state, which means your financial award may be reduced if you share the blame for a crash.
Here's how it works: Let's say you suffered $100,000 in losses, and the jury finds you 20 percent to blame for the car accident. Under the comparative negligence rule, the maximum compensation you can receive is $80,000.
Keep in mind that state law prohibits you from recovering compensation if you are more than 50 percent at fault for a crash. Insurance companies will seize this opportunity to blame you for the collision. A Cypress car accident attorney can defend you against unfair claims of fault.
What Insurance are Texas Drivers Required to Carry?
According to Texas Transportation Code § 601.072, every driver must purchase liability insurance in these minimum required limits:
$30,000 for bodily injury or death to one person
$60,000 for bodily injury or death to two or more people
$25,000 for property damage
Although uninsured/underinsured motorist (UM) coverage isn't mandatory in Texas, insurance companies must offer it to anyone buying liability coverage. UM pays for medical expenses and vehicle repair or replacement if a driver hits someone but doesn't have liability insurance or high enough limits to satisfy the injured person's losses.
How to Deal with Insurance Adjusters After an Auto Accident in Cypress
Knowing how to communicate with the insurance adjuster after a car crash is critical. Adjusters can use anything you say against you to strengthen their case. They might seem friendly and on your side, but they're not. They aim to save money by finding reasons to settle for a low amount or deny your claim altogether.
Always consult your lawyer before doing anything the adjuster asks. Follow these tips during your insurance claim to avoid a negative outcome:
Don't provide a recorded statement – Your words can damage your case if you say the wrong thing. You're not legally obligated to give a recorded statement to the insurance company. If they ask, politely decline.
Don't admit fault – Never apologize for the crash or inform anyone of your possible negligence. If a jury discovers you share fault for the accident, they can diminish your compensation under Texas's comparative fault rules.
Don't sign a medical release – A medical release authorizes the insurance carrier to request copies of your medical records. You don't have to sign one. Your attorney will submit the necessary documentation to the adjuster when the time comes to demand a settlement.
Don't accept a settlement offer – Many people feel tempted to take the first offer, but it's likely not the highest amount possible. Let your lawyer negotiate a settlement with the insurance company instead. Accepting an offer too early can prevent you from recovering the total amount you're entitled to.
How Can a Cypress Car Accident Attorney Help After a Car Accident?
At Fleming Law, we will review your options for pursuing compensation from the at-fault driver and guide you through each step of the claims process.
We will:
Review available insurance coverage to maximize your compensation.
File your claim on time.
Investigate and gather evidence to prove liability.
Negotiate with the insurance company.
File a car accident lawsuit, if necessary.
If someone's negligence caused your injury in a car crash, contact Fleming Law today for a free consultation with a Cypress car accident attorney. We will help you fight for the justice you deserve. Cypress personal injury lawyer.