The "51 Percent Bar" Rule in Texas Motorcycle Lawsuits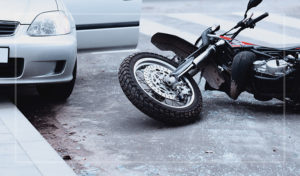 Motorcycle accident injury claims are often complicated to resolve, primarily because the driver or drivers involved in the accident or their insurance companies may assert that the injured motorcyclist rider shares the blame for the crash.
The determination of fault for a motorcycle accident becomes particularly important due to the "51 percent bar" rule in Texas. The rule states that a motorist who is 51 percent or more at fault is prohibited from suing others for compensation after a crash. Texas applies this modified comparative fault rule to injury claims involving all types of motor vehicle accidents.
If you've been in a motorcycle accident in Texas, you need experienced legal representation to seek the maximum financial recovery in your case. The Houston motorcycle accident lawyers at Fleming Law a family-run firm, your claim will never be just a file number to us. We care about your recovery and well-being. Our attorneys take the time to understand your needs and concerns to develop a personalized strategy aimed at maximizing your recovery.
Our legal team has the experience and determination to pursue maximum compensation for you. Our managing attorney, Nicholas P. Fleming, is board-certified in Personal Injury Trial Law, a distinction conferred on less than 1.5 percent of attorneys in the state. Contact Fleming Law for a free case review to learn more about how we can help you pursue a motorcycle accident claim and seek the fair and full compensation available for your injuries and losses.
What Is Modified Comparative Fault in TX?
Modified comparative fault refers to the comparative negligence rule applied by the state of Texas. The rule is also sometimes called the "51 percent bar" rule because an injured party may not pursue a claim for compensation for their injuries if he or she bears 51 percent or more of the fault for the accident.
Under the rule, if a rider bears some fault but less than 51 percent, he or she may still bring a claim for compensation. The number of damages available may be reduced in proportion to the rider's share of the fault. For example, a motorcycle accident victim who is awarded $50,000 in compensation for injuries and who is determined to be 10 percent at fault for the crash would have the amount of compensation reduced by 10 percent. The total compensation the injured motorcyclist would receive would be reduced from $50,000 to $45,000.
How to Understand Comparative Fault
Comparative fault rules account for the fact that more than one person or entity may bear responsibility for an accident and any injuries. The rules weigh each party's contribution to an accident and assign a percentage of fault.
In some states, anyone who has suffered an injury in an accident may seek compensation from other at-fault parties, regardless of their share of fault for their own injuries and losses.
However, Texas limits an injured party's right to pursue a claim for compensation with the 51 percent bar rule. Insurance adjusters will assign fault as part of settling a motorcycle accident claim. If a claim goes to trial, the determination of fault will be made by the jury or by a judge in a bench trial.
How Does Comparative Fault Impact Motorcycle Accident Settlements?
When you file a motorcycle accident claim with the insurance company, the insurer will make a determination of fault for the crash. This determination may include assigning fault between you and the other motorists involved in the motorcycle accident. The insurance company may then apply Texas's modified comparative fault rule to the settlement offer it makes.
For example, if the insurance company determines you've sustained $100,000 in losses from the motorcycle accident but that you bear 25 percent of the fault for the crash, it may only offer you a settlement of $75,000. Conversely, if the insurance company determines you bear 60 percent of the fault for the accident, it may deny your claim outright since you do not have a right to recover compensation if you were 60 percent at fault for the accident.
The comparative fault rules in Texas can significantly affect motorcycle accident settlements based on what the parties in the settlement negotiation think the assignment of fault should be.
What to Do Next If You've Been in a Motorcycle Accident in TX
In the days, weeks, and months following a motorcycle accident, you should take steps to protect your legal rights and to begin the process of pursuing your claim for compensation for injuries or losses you may have suffered in the accident. For example:
See a doctor for a physical exam as soon as possible after the crash to diagnose any injuries you may have sustained. Make sure you attend all follow-up appointments with your doctor and follow their treatment plan. This will help to protect your right to compensation by showing that you're doing everything you can to recover from the accident.
Keep copies of all medical bills, invoices, and receipts for expenses you incur related to your recovery from the accident. Make sure to have copies of your paystub or income statement if you miss time from work following the accident.
Avoid posting updates about your motorcycle accident and recovery on social media. Any information you post on social media can potentially be used by the other side to discredit your motorcycle accident injury claim.
Maintain a pain journal to keep a daily record of the physical pain and emotional toll of the accident. This will help to show the extent of the pain and suffering you've endured as a result of your injuries.
After you've been involved in a motorcycle accident, contact the personal injury attorneys of Fleming Law for a free, no-obligation consultation. Discuss the details of the accident with an experienced motorcycle accident lawyer and learn more about your legal options and how Texas's modified comparative fault rule may affect your case.