Motorcycle Helmet Laws in Texas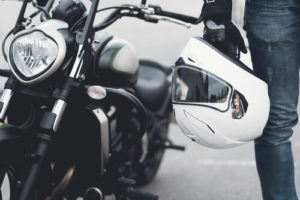 One of the best safety measures you should take while riding a motorcycle is to wear a helmet. A helmet will help protect your head in a case of accident or a fall and also protect your face and eyes from debris and bad weather. Not everyone is required to wear a helmet in Texas by law, but it is good habit nonetheless. Helmets can be critical in situations in which your safety as a rider is threatened by careless and negligent drivers.
Who Must Wear a Helmet in Texas?
The state helmet laws are made to protect motorcyclists. The Texas motorcycle helmet law applies to:
Riders 20 years old and younger: These people are required by law to wear a motorcycle helmet. This also includes those who ride low power cycles, except motor assisted scooters with engine displacement below 40cc.
Riders 21 years old and older: These people are exempted from the motorcycle helmet requirement as long as they can provide proof of their medical insurance policy or proof of successfully completing a motorcycle operator safety and training course.
In June of 2009 Governor Rick Perry signed into law Senate Bill 1967 which removed certain exceptions. Most importantly where a person 21 years of age or older would be exempt from committing an offense when riding without a helmet only if;
They had completed a motorcycle operator training and safety course or;
Were carrying at least $10,000 insurance in medical benefits for injuries resulting from an accident.
Governor Perry added a subsection c-1 stating that a police officer may not stop a motorcyclist or a passenger without a helmet just to get the above proof of training and c-2 that requires a motorcyclist only to have "standard proof of insurance" which eliminated the $10,000 minimum.
I was injured in a motorcycle accident, do I have a case?
How to Identify Quality Motorcycle Helmets
The debate continues in the US surrounding motorcycle safety and whether or not wearing a helmet should be mandated by law or optional. When it comes to buying and wearing a helmet it is best to select one that meets the Federal Motor Vehicle Safety Standard (FMVSS) 218. Helmets that meet the standard have a U.S Department of Transportation sticker attached. This is the easiest way of knowing that you are wearing a helmet that is compliant and approved.
Approved helmets have the following features:
Weight of at least three pounds: Anything less than three pounds would be unsafe;
Sturdy chin strap: The chin strap should have solid rivets that would help keep the helmet secured on the head;
One-inch thick inner liner: This is a firm liner.
What to do After an Accident Caused by Another Motorist
Though a motorcycle helmet will protect you against injury, it cannot protect you from all injuries. No matter what your injuries you should go and see a doctor if you have been in a motorcycle accident. Some injuries like serious life-threatening internal injuries may be hard to diagnose especially if you had a hard crash but walked away with only scratches and abrasions. If the accident was caused by another party's recklessness, carelessness, or negligence, you can file a claim to recover financial restitution for your harm and losses. Talk to our Houston motorcycle accident lawyer today.
Speak to an Experienced Houston Motorcycle Accident Attorney
If you, or a passenger, suffered a serious injury while on a motorcycle that was caused by another motorist's careless or reckless actions, now is the time to contact an experienced and skilled Houston personal injury attorney to pursue maximum compensation on your behalf. Take action now and contact Fleming Law to schedule a free, confidential case review at 737-201-0543.