Pasadena Motorcycle Accident Lawyer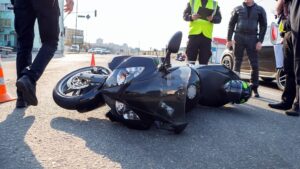 If you were injured because of someone else's actions while riding your motorcycle in Pasadena, you could be eligible for compensation. The team at Fleming Law has more than a century of combined experience helping injured Texans.
One of the Best Motorcycle Accident Lawyers in Pasadena
Our motorcycle accident attorneys work hard to get our clients the compensation they need to heal and move on with their lives. When you've been injured by someone else in a motorcycle crash, call the Pasadena motorcycle accident attorneys at Fleming Law for a free consultation.
What Are the Common Causes of Pasadena Motorcycle Accidents?
Here are some of the most common causes of motorcycle collisions in Pasadena:
Negligent drivers – Drivers who don't check their blind spots or ignore traffic signs are the leading cause of motorcycle accidents.
Speeding – When drivers exceed the speed limit, it reduces the time they have to react to changing road conditions or their realization that a motorcyclist is on the road.
Distracted driving – Drivers using their phones or engaging in other activities that take their hands, eyes, or attention from driving can cause a crash.
Driving under the influence – Drugs or alcohol can impair judgment, coordination, and reaction time – any of which could lead to a collision with a motorcycle.
Poor road conditions – Potholes, loose gravel, poorly maintained highways, or missing signposts could all lead to a crash.
What Are the Different Types of Motorcycle Accidents?
Drivers often fail to keep a sharp lookout for motorcycles on the road. Because motorcycles are so much smaller than enclosed vehicles, they're not as easy to spot in the flow of traffic or coming into or moving out of other driver's blind spots. Contact one of our motorcycle accident lawyers today.
A variety of types of motorcycle crashes can result, including:
Rear-end accidents
Dooring accidents
Left-turn accidents
Lane change accidents
Head-on collisions
T-bone crashes
Override accidents
What Types of Injuries Result from a Motorcycle Accident?
Motorcycle accidents can result in a wide range of injuries – from minor scrapes and bruises to serious, life-threatening conditions. Motorcyclists have little protection when they're in a crash.
The following types of injuries often result from motorcycle accidents:
Road rash
Degloving injuries
Head injuries, including traumatic brain injury (TBI)
Spinal cord injuries, including paralysis
Fractured, broken, and dislocated bones
Soft tissue strains, sprains, and tears
Internal injuries
Amputation
Post-traumatic stress disorder (PTSD)
What Should I Do If I Am Involved in a Pasadena Motorcycle Accident?
There are a few steps you can take to protect your right to pursue compensation after a motorcycle accident in Pasadena:
See a doctor – The first thing to do if you're involved in a motorcycle accident is to seek medical attention. Even if you don't think you're hurt, getting checked out is important because some injuries may not be immediately apparent.
Gather evidence – Take photos of the accident scene, including any vehicle damage and injuries sustained. Obtain contact information from witnesses and exchange information with the other driver. This evidence can be useful when proving fault or demonstrating the extent of your injuries.
Complete your treatment plan – Following your physician's recommended treatment plan and attending all appointments is crucial. If you need physical therapy or rehabilitation, make sure you follow through with it as well.
Keep a pain journal – By keeping a pain journal, you can document your recovery and any ongoing pain or discomfort. Write down when you experience pain, its location, and its severity. This can help you work with your doctor and the insurance company to seek compensation and receive the appropriate treatment.
Watch what you say on social media – You should avoid posting about the accident on social media. Only discuss the details with your legal counsel.
Talk to a lawyer – It's also important to contact an experienced Pasadena motorcycle accident lawyer as soon as possible. An attorney can investigate the accident to determine who was at fault, build a strong claim on your behalf, and help you through the complex legal process. With the help of one of our motorcycle accident lawyers, you can pursue the full compensation you deserve for any injuries or losses sustained in the accident.
Who Can Be Held Responsible for the Motorcycle Accident?
When a motorcycle accident happens, multiple parties could share some responsibility for the incident, including:
Other drivers on the road – All drivers must exercise reasonable care while driving and be mindful of motorcycles and other road users. When they are negligent, they can be held accountable.
Motorcycle manufacturer – If the accident occurred due to a defect in the motorcycle, such as faulty brakes or a defective tire, the manufacturer might be liable for the accident.
Municipality – If an unsafe road condition that resulted from inadequate maintenance caused the crash, the municipality responsible for road maintenance could be liable.
At-fault driver's employer – If the at-fault driver was working and driving a company vehicle when the crash occurred, the employer could be responsible.
How to Recover Compensation for Injuries and Damages
Recovering compensation for your injuries and losses after a motorcycle accident can be overwhelming.
But if you were injured in a motorcycle collision someone else caused, you could pursue compensation for:
Medical expenses
Lost wages
Pain and suffering
Emotional distress
Loss of enjoyment of life
Property damage
The best way to demand the compensation you need is to hire a skilled attorney. Your attorney can file insurance claims for you, handle all communications with the insurance company on your behalf, determine the value of your claim, and negotiate for an appropriate settlement. If no settlement can be reached, your attorney can take your case to court.
Recovering compensation can take time, so be patient and trust your attorney to guide you through the process.
Is There a Time Limit for Filing a Motorcycle Accident Injury Claim in Texas?
The time limit established by the Texas statute of limitations for filing a motorcycle accident injury lawsuit in Texas is two years. If the lawsuit is not filed within the two-year period, the court will likely dismiss the case. The injured party will then lose the right to pursue compensation.

Contact a Pasadena Motorcycle Accident Lawyer
Don't delay getting the legal help you need after you were injured in a motorcycle accident. At Fleming Law, our motorcycle accident law firm understands the intricacies of motorcycle accidents and how to hold the at-fault party accountable. To learn more, contact us today for a free initial consultation with one of our experienced Pasadena motorcycle accident lawyers.