Houston Railroad Accidents and FELA Lawyer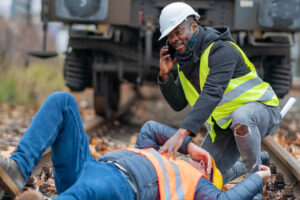 Railroad workers – brakemen, train engineers, switchmen, and others – are regularly exposed to hazardous workplace conditions that can result in severe injuries or death. Train passengers can also be injured in accidents that occur aboard trains and at train stations. Collisions involving trains and motor vehicles, pedestrians, or cyclists are also often deadly.
If you were injured while working on the railroad or in an accident that occurred while riding, waiting to ride, or entering or exiting a train or train station, or at a faulty railroad crossing, you may be entitled to compensation. Injured railroad workers are protected by the Federal Employers Liability Act (FELA) and other federal laws. Train passengers and others have rights under personal injury law if they have been injured because of train or rail system operators' negligence.
Talk to the Houston railroad accident lawyers at Fleming Law to learn more about a potential claim for compensation after a train or railroad accident in the Houston area, including METRORail accidents. Our Houston railroad accidents and FELA lawyers can explain your legal options if you have been injured in a train, railroad, or light-rail accident.
Contact us now for a free legal consultation.
Common Causes of Train Accidents Involving Passengers, Cars, or Pedestrians
The Federal Railroad Administration (FRA) says most rail-related fatalities and injuries are due to trespassing – being on railroad tracks or other railroad property without authorization. Accidents at railroad crossings are the second-leading cause of rail-related deaths in America.
Several common types of train accidents – any of which may cause severe injury or death – include:
Collisions at railroad crossings involving cars, trucks, motorcycles, pedestrians, and bicyclists
Train collisions
Train derailments
Being hit by runaway equipment, including or without locomotives
Being crushed by malfunctioning train car doors
Falls on trains caused by lurching (abrupt stops and starts)
Slip-and-fall accidents on trains, train platforms, or in train stations
Passengers and others can also be injured by acts of violence at train stations, platforms, parking lots, or aboard trains. Organizations that own or operate the rail system or train station have a duty to ensure customers' safety, such as through security patrols, controlled entrances, and proper lighting at night.
Injuries a Railroad Passenger Might Suffer in a Railroad Accident
Train accidents like collisions, falls, and being crushed by equipment cause blunt-force trauma, which may cause:
Broken bones
Back and spinal cord injuries, including paralysis
Damage to internal organs
Physiologic shock (substantially disrupted blood circulation due to injury)
If a train car or other mechanical equipment is damaged in an accident, it may cause a hazardous material spill, fire, explosion, or exposure to electrical circuitry or heated surfaces. These incidents can cause injuries such as:
Respiratory disease or suffocation from smoke or toxic chemical inhalation
Skin rash or lesions
Burns
Shock or electrocution
Time Limit for Filing an Injury Claim Against a Railroad Company
Texas law allows an injured person two years from the accident date to pursue a claim for compensation from a party whose negligence caused their injury.
The official investigation of a major rail accident may take a year or more to complete. It will eventually indicate what caused the accident and what entity or entities can be held liable.
As your attorneys, Fleming Law would conduct its own parallel investigation into the accident as it affected you while following developments in the official inquiry. We would also keep track of your costs and losses so we would be ready to pursue the compensation you deserve to receive.
Common Rail Worker Injuries
Railroad worker injuries and fatalities are most often transportation accidents, such as:
Train collisions and derailments
Railroad-nonrailroad vehicle collisions, such as at crossings
Falls in, on, or from railroad vehicles
Being struck by railroad vehicles or nonrailroad vehicles
Additionally, railroad workers are injured by:
Falls to the same level or to lower levels (not involving railroad vehicles), such as from station platforms
Electrocution, particularly on passenger railroads, which are more likely to use direct electric propulsion
Struck-by accidents
Stuck-in or crushed-by accidents, including machinery accidents
Exposure to toxic or other hazardous materials
What is the Federal Employers' Liability Act (FELA)?
The Federal Employers Liability Act (FELA) guarantees the right of rail workers and their families to be compensated in the event of workplace injury or death if they can prove that the railroad was responsible for their loss.
The law says an injured railroad worker is entitled to compensation for injuries (or their family for a death) if they can show evidence that the injuries were caused by "the negligence of any of the officers, agents or employees of (the railroad), or by reason of any defect or insufficiency, due to its negligence, in its cars, engines, appliances, machinery, track, roadbed … or other equipment."
To demonstrate negligence, the injured worker must prove that the railroad or an employee:
Failed to act with due care considering the circumstances that led to the injury, or
Failed to do what a reasonable and prudent person would ordinarily have done under the circumstances, or
Acted contrary to what a reasonable and prudent person would have done under the circumstances.
The FELA is the exclusive remedy for most claims a railroad employee may have against their employer. To obtain compensation, the FELA claimant must prove fault on the part of their employer.
The statute of limitations for a FELA action is three years from the accident date.
What Compensation May Be Available for a FELA Claim?
If you were injured because of your employer's negligence while working for a railroad company, our attorneys are ready to seek compensation for your:
Past and future medical expenses
Past and future loss of earnings
Emotional distress
Past and future pain, suffering, and loss of enjoyment of life
If a railroad worker's injuries resulted in death, their survivors could be entitled to compensation for their financial losses and any pain and suffering of the deceased.
Additional federal law applies the doctrine of comparative negligence to FELA cases, meaning that if an employee's own negligence contributed to their injuries, the compensation they are awarded would be reduced accordingly.
Are There Other Federal Laws to Protect Railroad Company Employees?
The Federal Railroad Safety Act (FRSA) was enacted with certain employee protections, including barring retaliatory action against workers who file lawsuits against their employers and establishing certain protected activities, such as notifying the employer about hazardous conditions or reporting the railroad for violating federal regulations (whistleblowing).
A railroad employee who is fired, disciplined, or otherwise faces discrimination for whistleblowing or other protected activities may sue for "all relief necessary to make the employee whole, including:
Back pay, with interest
Reinstatement with the same seniority status that the employee would have had, but for the discrimination
Compensatory damages, including for litigation costs and any other losses sustained as a result of the discrimination
Punitive damages up to $250,000
Contact a Houston Railroad Accident and FELA Lawyer
If you were injured or a family member was killed in a train accident, or you are a railroad worker who has been injured on the job, the Houston railroad accident and FELA lawyers from Fleming Law want to help you seek the compensation you deserve. Railroad accident claims are based on complex federal regulations and are often extremely difficult to litigate. They require experienced legal assistance.
For over 30 years, Fleming Law has helped our clients achieve positive results in and out of the courtroom. Our track record includes several multi-million-dollar victories for our personal injury clients. Several of our attorneys are board-certified specialists, which means they have demonstrated expertise in a specific subject matter by passing a rigorous exam, have documented trial experience, and received positive evaluations from fellow lawyers and judges.
The attorneys at Fleming Law have the experience, knowledge, and determination to skillfully represent you in your railroad accident claim. Contact us today for a free consultation about how we can help you.