Scarring and Disfigurement Injury Attorney in Houston, TX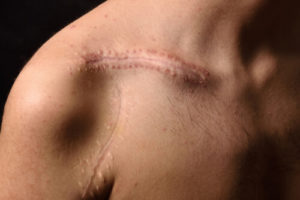 Personal injuries often result in permanent disfigurements such as scarring, amputation, surgical repair, or burns.
Disfigurement is any type of permanent physical change to a person's body that impairs their appearance and is often a result of a car crash, explosion, heavy equipment accident, or dog attack. In Texas, disfigurement is a compensable component of a personal injury claim for which a separate monetary value may be assigned or awarded. Contact the scaring and disfigurement injury lawyers at Fleming Law for a free consultation 1-832-529-4812.
What is Scarring & Disfigurement?
With scarring and disfigurement, sometimes the emotional pain inflicted upon the victim is not physical pain but rather the anguish that comes with knowing that others can see your injuries and limitations. Scarring is obvious – scars that are visible are worse than others because the victim is more self-conscious of their existence. Facial scars can cause the worst distress because they are the most visible and the accident victim is the most aware and embarrassed about them.
Disfigurement can include scarring or any physical limitation caused by the injury. In addition to scarring, disfigurement can include amputations, broken bones, joint issues, facial fractures and basically any injury that changes the way we look or feel.
Non-visible pain caused by scars
Unfortunately, a victim of a disfiguring injury isn't just left with the lasting physical scars. Humiliation, embarrassment, depression, and other psychological problems are often experienced by victims as a direct result of their disfigurement.
Corrective plastic surgery or scar revision surgery is expensive and can result in additional recovery time. You have the right to seek compensation against the negligent party for the physical and mental damages you have sustained including past and future medical expenses, physical impairment, and mental and physical pain and suffering.
If you have been in an accident in Houston or anywhere in Texas that has left you scarred or disfigured, even if feel you have fully recovered, you should seek the advice of a personal injury lawyer if you are left with any of the following personal injuries:
Scars anywhere on your body
Broken bones
Burns
Limitations of use of any hands, limbs or other body parts
Eyesight problems
Hearing problems
Any permanent change to your physical appearance or lifestyle.
Compensation for disfigurement injuries our Houston scar and disfigurement lawyer can help
In personal injury litigation, damages for scars and other disfiguring injuries are often awarded by juries. This is especially true involving facial injuries and scars – or any scarring that is on a part of the body that is visible to the public. Moreover, when the injury was caused by a very traumatic event such as a dog bite, the victim is constantly reminded of the horrific events.
If you or a loved one has been involved in a car accident and received disfiguring injuries, it is imperative that you contact an attorney as soon as possible. The car accident lawyers at Fleming Law in Houston, Texas are well-versed in pursuing compensation for disfigurement or scarring suffered by our clients. We understand the physical and emotional strain these injuries inflict. Contact Fleming Law right now for a free consultation to find out more information on how we can help you. Click here to see our scar and disfigurement lawyer's office.