Our Car Accident Attorneys Can Help With Your Passenger Injury Claim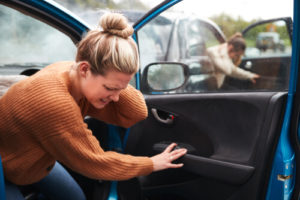 As a passenger in a car, you really have no control over what happens on the road. So, if you suffer injuries in a car accident, you should not share any fault. Instead, you should be entitled to receive full and fair compensation for the physical, emotional and financial harm that you have suffered as a result of the crash.
The process of recovering compensation can be complex. It may involve filing claims with multiple insurance companies, including your own. Of course, the insurance companies will try to pay the least amount possible and may try to avoid paying you anything at all. For this reason, you will need an experienced and determined Houston car accident lawyer on your side.
If you suffered injuries as a passenger in a car accident in Houston or elsewhere in Texas, the attorneys of Fleming Law will protect your rights and fight for what you deserve. To discuss the specific facts of your case and learn more about how we can put more than 30 years of legal experience in your corner, call or reach us online today. We will provide a free consultation and help you to explore all of your options.
What Should You Do If You Are Hurt as a Passenger in a Car Accident?
Before you meet with us about your passenger injury claim, you should try to take as many of the following steps as possible:
Get medical attention. If you wait to see a doctor, an insurance company may try to argue that your injuries are not as severe as you claim or that the accident did not cause your injuries. See a doctor as soon as you can.
Order a copy of your crash report. The report will provide basic information about your crash, including the names, contact and insurance information about every driver involved in your accident.
Keep everything. Hold on to your medical bills and receipts from other crash-related expenses. You should also keep any letters or e-mails that you receive from insurance companies.
Report the accident to your insurer. In order to preserve your right to file a claim with your auto insurance provider – if one is necessary – you should comply with any reporting requirements in your policy.
Talk with a lawyer before you talk with the insurance company. You should speak with an attorney from Fleming Law before you give a statement to an insurance company or accept a settlement offer.
You will not pay for a consultation with our law firm, and you will have no obligation to work with us. By contacting us about your case, you should gain a much better understanding of your legal rights and options. If we work together, you will pay no costs or legal fees unless we secure a financial recovery for you.
Who Is Liable If You Suffer Injuries in a Car Accident?
At Fleming Law we will thoroughly investigate your auto accident and determine who was at fault for it. By doing so, we can identify all potentially liable parties and legal options available to you. As an injured passenger in a car accident, you may be eligible to file claims against:
The driver of another car – If the driver of another car was at fault, you can file a claim through that driver's auto insurance liability coverage.
The driver of the car you were in – You can also file a claim against the driver of the car that you were in when the accident happened if that driver was at fault. If you are hesitant about filing a claim against a friend, keep in mind: You would not seek compensation from the friend, directly. Instead, you would seek compensation through the friend's liability auto insurance coverage.
Both drivers – In many cases, injured passengers file claims against both the driver of the car they were in and the driver of another car. If both drivers share fault for your accident, then they can both be held liable for your damages. Under Texas law, each driver would pay an amount equal to their percentage of fault. However, if one driver is more than 50 percent at fault, that driver could be made to pay the full amount of your damages.
To maximize the amount of your recovery, it is important to identify all potential sources of compensation. For instance, the drivers many not be the only ones who are responsible for your injuries as a passenger. Under certain circumstances, a negligent driver's employer could be liable, or a vendor or social host who provided alcohol to a drunk driver who hit you.
In some cases, an automotive defect can cause the injuries that a passenger suffers in a crash. Many passengers suffer injuries due to issues such as blown tires, faulty brakes or defective steering columns. Safety features may also fail to operate properly. For example, in recent years, many passengers have suffered shrapnel wounds due to defective inflators in airbags.
Can I make an insurance claim without suing my friend?
Can Injured Passengers File Claims With Their Own Insurance Companies?
As a passenger who suffers injuries in a crash, your options are not limited to filing claims against other parties, or "third-party liability claims." Depending on the facts of your case, you may also be entitled to file a claim with your own insurance company, or a "first-party" claim. Our law firm can help you to explore those options, which may include:
Uninsured/underinsured (UM/UIM) – You should have this coverage available to you unless you rejected it in writing. You can file a UM claim if the at-fault driver lacks any liability insurance, or if a hit-and-run driver caused your injuries. You can file a UIM claim if the at-fault driver's insurance fails to fully cover your damages. It will pay the difference between what the other driver's insurance covers and your damages (up to your policy's limits).
Personal injury protection (PIP) – You should also have this coverage unless you rejected it in writing. It can cover your medical bills as well as up to 80 percent of the income you have lost due to your injuries (again, up to your policy limits).
Medical payments (MedPay) – This insurance can cover your medical bills. With both PIP and MedPay, you do not need to establish that someone else was at fault in order to recover benefits.
Even though it is your own insurance company, you should not expect the claims process to go smoothly. Your own insurer – like another driver's insurer – may challenge your claim and make it difficult for you to recover the compensation you are due. However, having an experienced car accident attorney on your side will give you leverage.
What Damages Are Available For Injured Passengers, After a Car Accident?
Fleming Law will pursue all damages that you are entitled to receive. Those damages may include:
Special damages – These are economic losses that you sustain as an injured passenger such as past and future medical expenses, lost income, diminishment of your future earning ability and other accident-related costs.
General damages – Texas law recognizes that people suffer non-economic harm due to the negligence of others such as pain and suffering, emotional anxiety and loss of consortium.
Exemplary damages – The purpose of these damages is to punish and deter gross negligence such as drunk driving or reckless driving.
How Can an Accident Lawyer Help with Your Passenger Injury Claim?
If someone else's negligence caused you to suffer injuries as a passenger in an auto accident, Fleming Law will provide the skilled and experienced legal representation that you need. When you work with our law firm, we will:
Thoroughly investigate your accident, including reviewing your medical records and consulting with experts in fields such as accident reconstruction and life-care planning.
Determine the damages that you deserve for the physical, emotional and financial harm that you have suffered.
Review all available insurance coverage, including the other drivers' insurance policies and your own.
Negotiate with all insurance companies involved in your case in order to secure one or more settlements that provide you with maximum compensation.
If necessary, take your case to trial in order to pursue the financial recovery that you deserve.
Our Houston Passenger Injury Attorneys Can Help You Today
You deserve quality legal representation if you have been hurt in an accident as a passenger in Houston. With so much on the line, you should choose a law firm with the right experience and qualifications to seek results for you.
When you need help, turn to us to pursue the answers, justice and compensation you deserve.
Fleming Law represents injured passengers throughout the greater Houston area. Call or contact us online today to receive a free consultation. We will review the details of your accident and discuss all of your legal options.