Hit and Run Accidents in Houston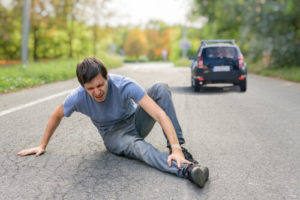 In October, a 23-year-old woman was killed while walking with her six-year-old daughter across the street. According to reports, a car traveling northbound turned west out of an apartment complex and drove approximately 50 feet before the woman and her child were struck. Although the young mother lost her life, her child was fortunately saved from any major injuries.
Last month, another hit-and-run occurred when someone driving a Honda SUV crashed into a family's home in Montrose around 1:00 a.m. The impact ended up costing the homeowners around $25,000 in structural damage. Unfortunately, the suspect drove away before he or she could be identified. Believing that the individual was most likely inebriated, the couple has issued a reward for the driver's arrest. If you were involved in this type of accident, it is critical to speak with an experienced hit and run Houston auto accident attorney who can represent your interests in court.
Hit and Run Investigations
Hit-and-runs are often difficult to try in court because in many cases, a defendant cannot be produced. Obtaining a judgment, however, is not impossible, as long as the victim can identify the responsible party. The police are usually involved in all investigations and will take the following steps:
Record the testimonies of eyewitnesses who may have seen the accident or recorded it with their smartphones;
Interview anyone who has a description of the car; and
Look for street cameras, or business or apartment complex security cameras in the area that may have captured the accident.
Unfortunately, even those who are able to identify the vehicle that hit them will have a difficult time trying to prove who was driving at the time unless a video recording of the accident exists. Often, it is necessary for an investigator to speak with the owner of the car, as well as his or her family members and friends to discover who was driving. The descriptions of eyewitnesses can also be crucial in identifying the at-fault party.
The driver who hit me fled after the accident. What can I do?
How can You Get Compensation for Your Injuries in a Hit and Run Accident?
Victims of hit and runs should seek medical attention immediately, even if they do not believe they are injured, as many injuries, such as concussions and whiplash do not manifest right away. The injured party will also need to keep track of all medical care received, including information about where and when they were treated. Even if the person who caused the crash has not been identified, hit and run victims should contact an attorney who can help them seek coverage under their uninsured motorist insurance. However, if the at-fault party has been found, the injured party's attorney can file a claim with the other driver's insurer. Finally, if the police are only able to locate the car and its owner, but the owner says he or she was not driving it when the accident occurred, an attorney can help the injured party file a claim against the owner. Eventually, a diligent attorney may be able to determine whether the owner allowed a family member or friend to drive the car on the day in question, in which case, he or she can be held liable for negligent entrustment.
Call a Dedicated Houston Hit and Run Attorney
If you were injured or your car was damaged in a hit-and-run accident, retaining an attorney is often critical to discovering the identity of the at-fault party and holding him or her accountable. Please call Fleming Law at 737-201-0543 to learn more about your legal options from an experienced hit-and-run attorney today.