Houston Head-on Collision Lawyers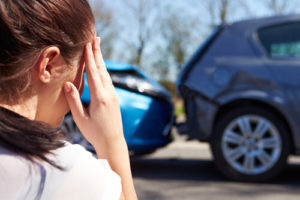 Head-on collisions are often some of the most serious car accidents we see in our work advocating for victims of personal injury. According to the National Safety Council (NSC), head-on crashes resulted in 5,000 deaths and accounted for over 28 percent of all fatal collisions in one recent year alone. When they survive this kind of collision, crash victims are often left catastrophically injured.
If you or a loved one were injured in a head-on collision, the best thing to do after seeking medical attention is to consult with an experienced attorney. At Fleming Law, our team is ready to make sure you know your rights and get you started on the road toward legal compensation. Contact us today for a free consultation with an experienced personal injury attorney in Houston.
What Are the Most Common Causes of Head-On Collisions?
As the name suggests, head-on collisions occur when two vehicles traveling in opposite directions crash directly into each other. These collisions can be extremely deadly. In most cases, they are caused by some form of driver error. Some of the most common causes of head-on collisions include:
Speeding – Speeding is a contributing factor in a large number of accidents, including in head-on collisions. When drivers exceed posted speed limits or drive too fast for conditions, they can lose control of their vehicle or not give themselves enough time to avoid a head-on crash when another vehicle suddenly appears ahead.
Intoxicated driving – As we all know, alcohol significantly impairs judgment and slows reaction time, making it harder to maneuver safely on the road. Impaired drivers are more likely to stray out of their lane and drift into the path of oncoming traffic.
Distracted driving – Things like texting, phone calls, GPS navigators, eating, adjusting the radio, and other passengers can distract drivers, causing them to take their eyes off the road. If they drift out of their lane or fail to see oncoming traffic, they may cause a head-on collision.
Driver fatigue – Exhaustion can dull the senses in the same way as alcohol. In fact, driving for more than 20 hours without sleeping is the functional equivalent of driving with a blood-alcohol content (BAC) of 0.08 percent, the legal limit. An exhausted driver will struggle more to focus and detect hazards on the road. In extreme situations, they may even nod off for a second or two — just enough time to drift out of their lane and cause a head-on collision.
Poor weather conditions – Things like heavy rain, snow, fog, and icy roads, make it difficult to navigate safely. They may reduce visibility, raising the risk of crashing into an oncoming vehicle. They may also reduce traction, which may cause a car to hydroplane beyond its lane and into the path of traffic traveling in the opposite direction.
Common Injuries Sustained in Head-On Collisions
Again, head-on collisions are among the most dangerous types of car accidents. In effect, the vehicles involved each contribute all the kinetic energy of their trajectories into a single crash, multiplying the total force of the collision. The results can be catastrophic for vehicle occupants. Common injuries sustained in head-on collisions include:
Broken and fractured bones
Internal bleeding and organ damage
Burns and abrasions
Neck and back injuries
Facial and dental injuries
Spinal cord injuries, including paralysis
Traumatic brain injuries (TBIs)
Lost limbs and permanent disfigurement
Cuts and puncture wounds
Sprains, strains, and bruises
Wrongful death
How Do You Prove Liability for a Head-On Collision?
To establish liability for a head-on collision, injured plaintiffs must normally show that the defendant's negligence caused the accident. In law, negligence simply refers to a failure to take reasonable precautions to avoid harming others. What "reasonable precaution" looks like will vary widely based on context. However, common examples of negligence include:
Speeding
Failure to obey traffic signals and signs
Driving under the influence of alcohol or drugs
Failure to yield the right of way
Texting while driving
Failure to adjust to road conditions
No matter the specifics of a case, plaintiffs must always prove fault for an accident beyond a reasonable doubt, which is simply lawyerly jargon meaning that the evidence must show that the defendant more likely than not caused the accident. Your attorney will pull together all available evidence in your case to satisfy this requirement, including things like:
Police accident reports
Pictures and videos from the accident scene
Footage from traffic and surveillance cameras
Cellphone and GPS records
Testimony from eyewitnesses
Testimony from reliable experts, such as traffic engineers and accident reconstruction specialists
What Compensation Can I Receive Through a Head-On Collision Lawsuit?
If you successfully prove that the defendant in your case caused your injuries, they will be ordered to pay you monetary compensation, which should reflect both the financial and nonfinancial impact your injuries have on your life. Our attorneys can help you seek compensation for things like:
Medical costs incurred treating your injuries
Lost wages from time missed at work
Lowered earning capacity if the accident leaves you with a long-term disability
Physical pain and suffering
Emotional distress
Cost of repairing or replacing personal property
How Long Do I Have to File a Head-On Collision Lawsuit in Texas?
In Texas, the statute of limitations governing personal injuries normally gives victims two years from the date of a crash to file a lawsuit seeking compensation from the at-fault party. If you fail to file your lawsuit before the two-year window closes, the presiding judge will most likely be forced to dismiss your case for untimeliness. This will eliminate your right to sue for compensation in court.
In turn, this will also destroy your upper hand when negotiating a settlement with the at-fault party and their insurers. To avoid this, you should contact a skilled personal injury attorney as soon as possible after your accident. This is the best way to protect your right to recovery.
Contact a Houston Head-On Collision Accident Lawyer
If you were injured in a head-on collision, Fleming Law is here to help. We understand the complexities of head-on collision claims and are committed to getting the best results for our clients. We have recovered millions of dollars on behalf of injury victims throughout Texas and are ready to put our experience to work on your behalf. Contact us today to get started with a free consultation with a Houston head-on collision accident lawyer.
If you were injured in a head-on collision, contact board-certified personal injury trial lawyer Fleming Law, P.C.